Black Agate & Diamond: ARY D'PO Black Jewel Collection
Inspired by the striking and decadent Palace of Versailles, the ARY D'PO Black Jewel Collection is an iconic set of jewelry featuring deep black agate as a centerpiece surrounded by tendrils of 18 karat yellow gold plated .925 sterling silver with 0.9mm clear diamonds set beautifully as droplets.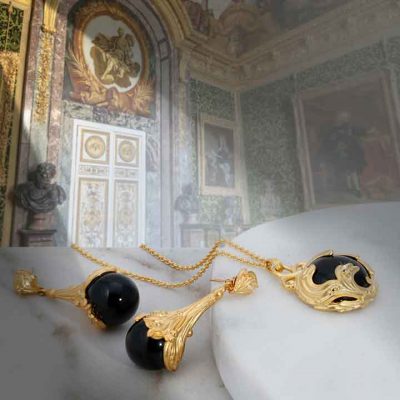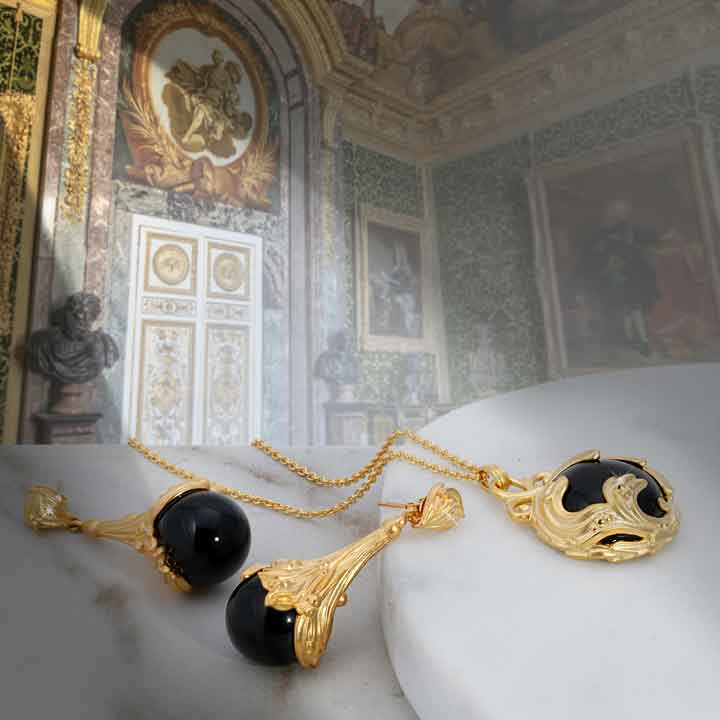 The palace is well known for the exceptional gold and marble highlights embellishing of the 2,300 rooms. The palace is set among Europeanstyled gardens, and inside lies a myriad of spaces such as the Salons of Hercules, Diane, Mars, Mercury, Apollo, Jupiter, Saturn and Venus, each named such to celebrate Roman gods.
The most famous room is the unique Hall of Mirrors, which is more than 230 feet long and features 17 huge mirrored arches paralleling the room's windows. This room is embellished by the enormous glass chandeliers hanging from the ceiling, which is intricately painted with Italian mural style scenes glorifying the early years of the king's reign.
The palace's artistic director strived to incorporate the works of "painters, master weavers, founders, engravers, gem-cutters, joiners in oak and other woods, dyers, and other skilled workers in all sorts of arts and crafts." Therefore, the furniture is curved, scrolled, and studded with antiques. The rooms are decorated with indulgent carpets, paintings and tapestries, many enriched with gold and silver detailings. This beautiful building has paved the way for artists and designers for centuries since.
In line with its breathtaking features, dramatic color schemes, and opulent materials, ARY D'PO's Black Jewel collection celebrates and draws inspiration from the stunning designs of the Palace of Versailles.