Most jewelry lovers would agree that shopping for a new piece can often be more thrilling than owning and wearing it. There's something so exciting about wandering around a local market or popping into your favorite boutique. Catching a glimpse of the perfect piece, trying it on to see how it looks…the process can be so fun! However, each of the types of jewelry customer finds joy in different parts of the experience. Have you ever stopped to really think about what aspects of jewelry shopping you find most rewarding? When you reflect on this, it can help you find the perfect piece, and get as much enjoyment out of shopping as possible.
People buy jewelry for all kinds of reasons. Some people only buy it for practical reasons, such as when they're looking for gifts for their loved ones. Others view jewelry as tiny pieces of art to add to their collection. And, of course, some people just love bling!
Why not reflect on yourself and figure out what type of jewelry buyer you are? This will help you to enjoy the jewelry shopping experience. If your main priority is getting a good deal, you may want to check out some online auction sites. Or, if you're someone who loves buying your jewelry when on vacation, it will remind you to set aside shopping time when you're on your next trip.
Which of the types of jewelry customer do you relate to?
These eight types represent some of the most common ways that people find joy in jewelry shopping. Of course, this is not a complete list – people may buy jewelry for any reason you can think of! You should also keep in mind that you may be more than one of these types. Or, you might be one type one day, and another the next, depending on your purpose and mood.
1.   The Fashionista
This jewelry buyer loves trendy and fun pieces. They tend to be on the younger side, and aren't afraid to have a big and bold jewelry collection. You might be a Fashionista if you:
Wear jewelry every day (or almost every day).
Are happy to stand out from the crowd.
Love trying out new trends, even if you only wear them once or twice.
Tend to buy more affordable pieces over timeless ones.
Go shopping for new jewelry pretty often – once every couple of months or more.
If you're this type of jewelry customer, why not subscribe to a few fashion magazines, podcasts, and blogs? Social media sites like Instagram and TikTok are also full of great ideas. It's always fun to get new inspiration for your trendy jewelry looks.
Also, you should remember that your jewelry may go out of style fairly fast. There's nothing wrong with wearing trendy pieces, but be wary of spending too much money on earrings that you'll only wear for a few months. And most importantly of all, have fun!
2.   The Elegant Lady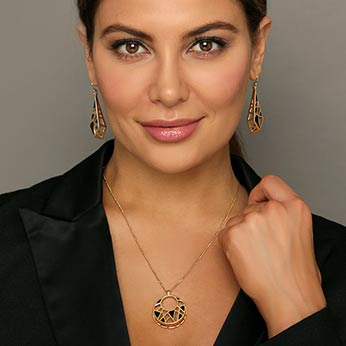 With a focus on timeless, high quality pieces, this jewelry shopper is always looking for a gorgeous addition to her next dinner party look. She tends to:
Love glamorous jewelry: think gold, silver, diamonds, and pearls.
Be drawn toward classic styles, like tennis bracelets or drop earrings.
Be a little flashy in her jewelry choices – but never tacky or over the top.
If this is you, you might enjoy heading to auctions or estate sales and finding classy, timeless pieces. If you prefer a more modern look, designer stores are the place for you. It's also important to ensure you look after your precious necklaces, earrings, and bracelets. Don't forget to polish your jewelry regularly so it really sparkles and shines.
3.   The Explorer
This type of jewelry buyer may not even be a big fan of jewelry! They're just someone who loves checking things out and seeing what they come across. You're likely to be an Explorer if you:
Could happily spend all day looking at the stalls at a market or pop-up shop.
Find yourself drawn to jewelry stores that are busy, or that look mysterious and interesting.
Prefer in-person over shopping online.
Love interesting, one of a kind pieces.
If that's you, it's often a good idea to stay away from chain stores. The necklaces and bracelets you find there simply won't bring you that satisfying rush of accomplishment that you feel when you find something really unique. Instead, look for your jewelry finds at markets, thrift shops, boutiques, or even local art galleries.
4.   The Artisan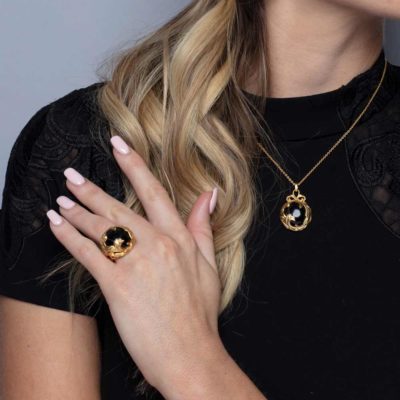 This sophisticated jewelry buyer views jewelry as a tiny piece of art. They often pride themselves on having the most unique pieces. You might be an Artisan if you:
Are always interested in knowing the story behind each necklace, bracelet, or ring that you buy.
Own at least one or two pieces that you consider too precious to wear.
Love vintage, handmade, or pieces that are in some way one-of-a-kind.
To get the most joy out of your jewelry buying experience, make sure to take your time and do your research before buying a new piece. Like the Explorer, you're not likely to find many pieces that you love at high street stores. Instead, check out the works of local artists and boutiques for something a little more special.
5.   The Achiever
We all know that a big purchase feels better when we've earned it in some way. These people are those who tend to buy themselves jewelry once they've accomplished something. Achievers tend to:
Only buy jewelry for themselves after they're met a goal that they've been working toward. This could be getting a new job, graduating, or meeting a fitness goal.
Carefully consider the jewelry they buy. They're not likely to buy new pieces on a whim.
Buy timeless jewelry made from high quality materials, like gold or rhodium, so they can treasure the piece for years.
If you think you're an Achiever, you'll probably benefit from deciding what type of piece you'll buy months in advance. Maybe you'll decide it's going to be a bracelet, maybe you'll know what style you want, maybe you'll even decide on the brand.
Whatever it is, you can use your upcoming jewelry purchase as motivation to push you towards your goals. Some people even put a photo of the piece they'll reward themselves with on their desk, or treadmill, or fridge – for that extra boost.
6.   The Traveler
The Traveler loves to commemorate their vacation by buying a special piece of jewelry. If you're this type of jewelry customer, you probably:
Own jewelry from many different cultures and in many different styles.
Love finding out how jewelry is made and what gemstones and metals are revered around the world.
If you think you lean towards this type, make sure you always make time for a jewelry shopping outing when you're on vacation. Some people like to get pieces that clearly look like they're from the place they're visiting. Others prefer something more subtle. That's just a matter of personal taste! But whatever you choose, be sure to take your time and get the story behind the piece or find out about its cultural significance.
7.   The Gift-Giver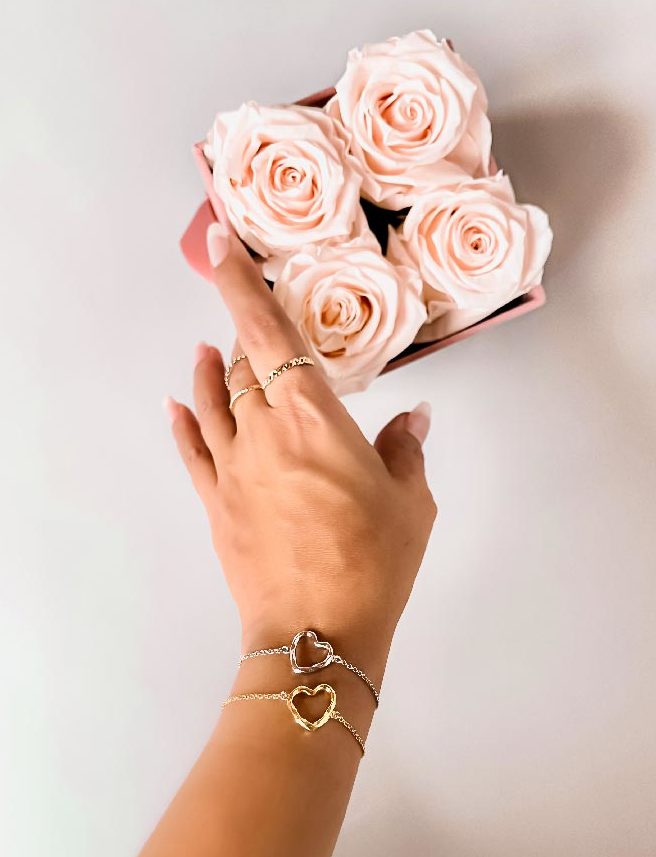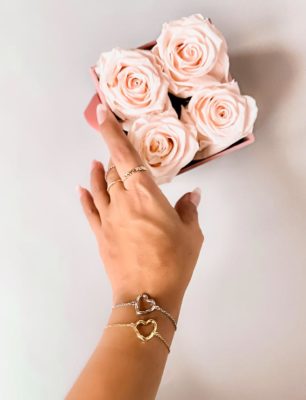 Jewelry is a great gift, and no one knows that better than the Gift-Giver. This person:
Always takes note of their family and friends' personal style and jewelry preferences.
Does most of their jewelry shopping around the holiday season.
Shops for high quality pieces that can be cherished for years.
Loves seeing their loved one's face light up as they open their gift.
The Gift-Giver will love knowing they've found the perfect gift. That's why, if this is you, it's important not to rush when you're shopping. Take the time to find a piece that really represents the recipient, or the relationship you share with them. It's also nice to get the piece engraved with a special meaning. Knowing that thought and effort went into the jewelry gift will take the piece to a whole new level when your loved one unwraps it.
8.   The Bargain Hunter
Finally, some people just love getting a good deal. And why not? It often feels great to know you made some savings! You might be part of this group if:
The first thing you look at is the price tag.
If you're somewhere such as a market, you're not afraid to talk to the vendor and try to negotiate a better deal.
You love the thrill of bidding on something.
If you're a bargain-hunter, auctions are likely to be the place for you! Don't forget to check out online auction sites – there's often great antique pieces to be found. However, don't let your love of a good deal cloud your judgment. Ask yourself "do I actually like this necklace, or do I just think it's worth more than I'm getting it for?". Also, don't forget to ask questions and make sure that the piece is of good quality before making an offer.
Do you see yourself on the above list?
Most people fit one, two, or even more of the above types. Of course, figuring out the types of jewelry customer that you align with is just a bit of fun. But if you reflect on the reasons that drive you to buy jewelry, you can ensure you're looking for it in the right places and with the right mindset – helping you find pieces you truly cherish.