The COVID-19 pandemic created a lot of social change – from the way we work to how we socialize. Global lockdowns have also had a big impact on the world of fashion – in terms of both design and consumer behavior. Many 2020 fashion shows were heavy on leisurewear, and largely presented online.
You might be wondering how this year's shows and events will differ from what we saw last year.
Here is a guide to the fashion events key trends and permanent shifts you should expect to see in 2021.
Digital fashion events and shows are here to stay
Due to social distancing requirements, all 2020 fashion shows had to be presented digitally. It was a big change from the runway shows we're used to. However, brands got creative and embraced these changes.
For their fall show, Dior created a short surrealist film called Le Mythe Dior, which showed tiny versions of the fashion house's 37 newest designs. Balengiaga's AW21 collection was done via virtual reality using Oculus headsets through a video game called Afterworld: The Age of Tomorrow.
These are just two examples of how fashion houses adapted to the challenges of the times. Both brands, and many others, were able to put an artistic and modern spin on the requirements. These ended up being some of the most iconic shows of recent times, and it looks like video fashion shows may be here to stay.
In May, Belgian designer Dries Van Noten wrote an open letter to the fashion industry. He asked them to rethink how they approach fashion shows, and view 2020 as "an opportunity for a fundamental and welcome change that will simplify our businesses, making them more environmentally and socially sustainable." He got signatures of support from big names, including Marine Serre, Gabriella Hearst, and Tory Burch.
It's important to note that, for most people, fashion has always been online. Going to runway shows is something only the very wealthy and elite were ever able to do. The pandemic has actually improved the fashion show experience for many people, who were used to watching shows online.
Now, fashion shows are more immersive and enjoyable to a wider audience. It is likely that at least some brands will embrace this new normal. Online shows are a great way to make fashion more accessible to all.
Social media is crucial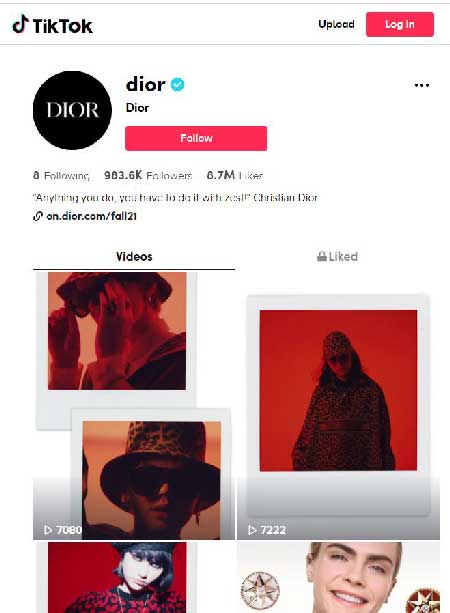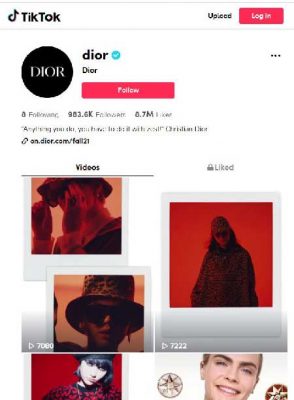 TikTok is an app which became very popular at the beginning of the pandemic. Many businesses, including luxury brands such as Fendi, YSL, Gucci, Dior and more, have jumped on board. The widespread usage of the app makes this a great way to show off fashion trends, ideas and events.
Balmain chose to livestream their 2020 fall collection on TikTok. A 50-person dance troupe and the French singer Yseult were there along with the models, who wore pieces from the Balmain couture archives.
Livestreams in general are more popular than ever, and not just on TikTok. Many brands are using Instagram Live and their own websites to show off their creations. In September 2020, Burberry even broadcast their spring/summer show on Twitch.
Partnerships with influencers and e-retailers are also becoming key aspects of marketing. Some brands, such as Alexander McQueen and Jimmy Choo are also using social media to boost their brands' image. Thoughtful online content is making it easier for high end brands to reach out to and engage with the masses.
Buying online is the way of the future
Digital retail is continuing to grow and this isn't expected to slow down any time soon. Buying clothing and jewelry online has been popular for a while, but the pandemic has sped up these changes. A 2021 report by Business of Fashion suggests that 71% of fashion executives predict that their online business will grow by 20% or more in 2021.
Fashion is moving beyond the world of physical retail. To stand out from the crowd, it's no longer enough for a brand to simply have an online store. They must compete with each other by creating beautiful, seamless digital interactions. Expect 2021 fashion events and buying experiences to develop a stunning user experience, unlike anything we've ever seen before.
Comfort is king
And what about the actual looks we should expect to see in 2021? It's no secret that with the shift to working from home, comfort is on the rise. The loungewear industry saw a 13% increase in 2020. Many jobs have permanently moved online, so this change is expected to stick around. No one's going to wear a blazer and suit while working from home, but we still want to look good and come across as professional.
Many designers are creating loungewear looks that are still stylish and help us feel like our best selves when we're at home. High waisted sweatpants, leggings, sweatshirts, bike shorts, and co-ord sets have all been pandemic staples. These all look great when dressed up with some cute jewelry, such as gold hoop earrings or a simple chain bracelet.
But don't forget about the glamour
Dressing up is often a key way for women to express themselves and have fun. Shopping for a dress and accessories, and then putting together a stunning outfit is a key part of the weekend for women all over the world. A lack of social events and social distancing restrictions has taken this away, and many people have struggled with this change.
But now, it looks like the end is in sight. Fashion houses are predicting this and showing off some highly extravagant clothing. All over the recent runways, we've seen sequins, bright and vibrant colors, and floor-sweeping gowns. Jewelry such as dangle earrings and cuff bracelets are adding to the glam.
Very soon, many women will be able to head out again and we're all getting ready for it. As usual, this year's runways will start many trends. However, it's likely we can break them down into these two main categories. There's the work from home comfort looks, and then hyper-glam, fun outfits for when we're done with the day's Zoom calls.
The pandemic's push for ethical brands
Another major shift for fashion in 2021 will be around ethics. 86% of consumers have stated that they expect brands to cast more of a focus on "ethical labor practices and/or sustainability".
The Business of Fashion report found that 55% of consumers now expect fashion brands to care for their workers' health during times of crisis. The BoF report states "With garment workers, sales assistants and other lower-paid workers operating at the sharp end of the crisis, consumers have become more aware of the plight of vulnerable employees in the fashion value chain."
Consumers hold a lot of power. The pandemic has imprinted on them how at risk workers across all lines of work are. Now, they are likely to be demanding more from their favorite brands. They are likely to do much more research than ever before about which brands are ethical. Brands that take action to ensure good practices are likely to be favored by buyers.
Moving towards sustainable fashion
Having good labor practices is only one piece of the puzzle when it comes to ethical fashion. A new study, published by Wovn and reported on by the Sourcing Journal indicates that sustainability is now a big priority for buyers. 69% of people said they are "trying to buy less fast fashion". 84% also said they are willing to pay more for their fashion if it's sustainable.
People have become far more conscious of their environmental impact over the last few years. The pandemic has simply catalyzed its importance. More people want products and clothes that are doing good, not damaging the earth. People want products that will last a long time and don't take up too many resources to create.
In the last year, brands including Gucci, Louis Vuitton and Burberry have launched recycled collections. Other top brands have built a business around their sustainability. For instance, Stella McCartney is known for using repurposed cashmere, ethically sourced wool, organic cotton, and recycled textiles.
As sustainable fashion becomes more common and easy to access, many brands will need to take action to avoid being left behind. Customer demand is rising, and we're likely to see a huge increase in recycled fabrics at upcoming fashion events.
Fashion events are taking on a new shape
Fashion houses are doing all they can to adapt to our rapidly changing world. Expect to see a much bigger and better online presence from all your favorite top brands. Both comfy at-home clothes and highly glamorous pieces are likely to dominate the runways this year. They will also be a key part of celebrity fashion.
Finally, don't be afraid to prioritize ethical, sustainable brands. As the world adapts to this new post-COVID state, many people are more aware of our planet's health. It's an exciting time for fashion, and it's just one area of our lives in which we're seeing extensive change.