Any woman knows how huge the impact of a hairstyle is on her look. The right style can conceal or highlight features, make us look younger (or older), and change how people perceive us. Your haircut and style can be a reliable way to influence what kind of person people assume you are: serious, vivacious, girly, rebellious, or professional. However, your haircut isn't the only aspect of your look. It combines with all other aspects of your personal expression, so it's vital that you choose jewelry to match your hairstyle.
Just as your hairstyle is a great way to express yourself, so is your jewelry. The necklaces, earrings, bracelets and rings you wear all tell a story about who you are and what's important to you. Every part of your style, including your hairstyle, clothing, jewelry and makeup, adds a layer to how others perceive you. If you put them together carefully, the story they tell will be cohesive and make you feel like your most confident self.
Choosing jewelry to match your hairstyle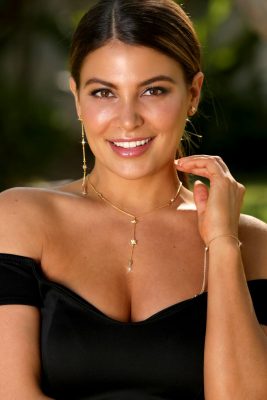 When it comes to choosing the right jewelry to match with your hairstyle, earrings are probably the most important aspect to consider. While necklaces and bracelets are important too, your earrings will be viewed in combination with your hairstyle, so they definitely need to look natural with your hair.
When selecting the earrings and other jewelry you'll wear, it helps to think about how you want people to perceive you. What are your goals for this look? Who will you be seeing today? The hairstyle and jewelry you wear each day will depend on if you're going to a picnic with friends, or an important job interview. However, with just a little planning, you'll surely be able to choose the very best jewelry for your look and make an absolutely amazing first impression.
Short and cropped pixie hairstyles are almost always in style. This youthful look is a great way to make a statement, and can be accessorized in a huge range of ways. This hairstyle is so versatile – what's not to love?
Dainty stud earrings add a minimalist and girly touch to the look. Many feminine celebrities have been known for their pixie cuts, including Halsey, Rowan Blanchard, and Bella Hadid. Okay, Bella Hadid's pixie cut was just a wig for the 2019 Met Gala, but she still made her dark brown pixie look so elegant with her bejewelled gown and Messika green crystal drop earrings.
On the other hand, big and bold earrings will increase the edginess factor and make this look very eye-catching. Amber Rose's signature hairstyle is a bit shorter than a pixie – she's known for her blonde shaved head. She almost always pairs this look with big earrings, whether it's bold hoops or head-turning studs, and often adds a statement necklace to finish the outfit.
Low bun: gold hoops create an effortlessly chic style
Is there any 2021 hairstyle more iconic than the low bun? This low maintenance style probably gained popularity in lockdown, as it's a classic stay-at-home messy bun look. However, the overall effect is still elegant.
To get the look, simply part your hair in the middle and smooth behind your ears and tie into a bun of your choice. You may want to start with a ponytail and carefully twist for a more elegant look, or simply pile your hair into your favorite scrunchie.
When choosing jewelry to match your hairstyle, go for something equally low maintenance and feminine. Medium sized hoop earrings are your best friend, particularly if they're a little bold. Warm gold is great, but silver's quickly coming back into style too, so you've got options.
Some other great additions include pearl barrettes, a chain necklace, or stacked rings. To fully get the 2020/2021 effect, pair this look with a cute and comfy lounge set.
Half up: feminine pearl earrings
The half up hairstyle is one of the most feminine looks, making it perfect for a beach day or brunch with friends. There's so many variations on this look: try the half-up bun, half-up ponytail, add curls, twists, or hair accessories like beads and bows. The possibilities are endless, but YouTube and TikTok tutorials will have all the ideas you need for a trendy look.
To lean into your feminine side, pearl earrings are the perfect accessory. Of course, they exude class and daintiness, and will never really go out of style. Simple pearl stud earrings are great, but you can go for pearl drop earrings or even thin hoops in silver or gold, and adorned with pearls.
If pearls aren't quite your thing, gemstones are a fantastic alternative. Diamond earrings or other jewelry are a perfect choice. The shape of a pendant necklace creates a very feminine line across the chest, which will pair beautifully with your hairstyle.
Many women with very curly hair struggle with their jewelry getting caught on their unruly locks. Hoop earrings can be a great option, as the curve of the hoops will be easier to untangle than drop earrings or other types. Plus, the hoop shape will compliment the hair, creating a lovely and cohesive look.
Stud earrings are also a great choice, although many curly haired women find that the effect of the jewelry is diminished. When your hair already has so much movement and effect, stud earrings can get lost. Nonetheless, for a more formal or professional event, classic gold, silver or diamond studs are a lovely option.
Because curly hair does come with unique challenges, this can be one type of hairstyle where other types of jewelry may be best. A necklace or bracelet that really matches your personal style won't get lost like small earrings might, and will be a lovely way to express yourself.
Beach waves: you can't go wrong with modern chic jewelry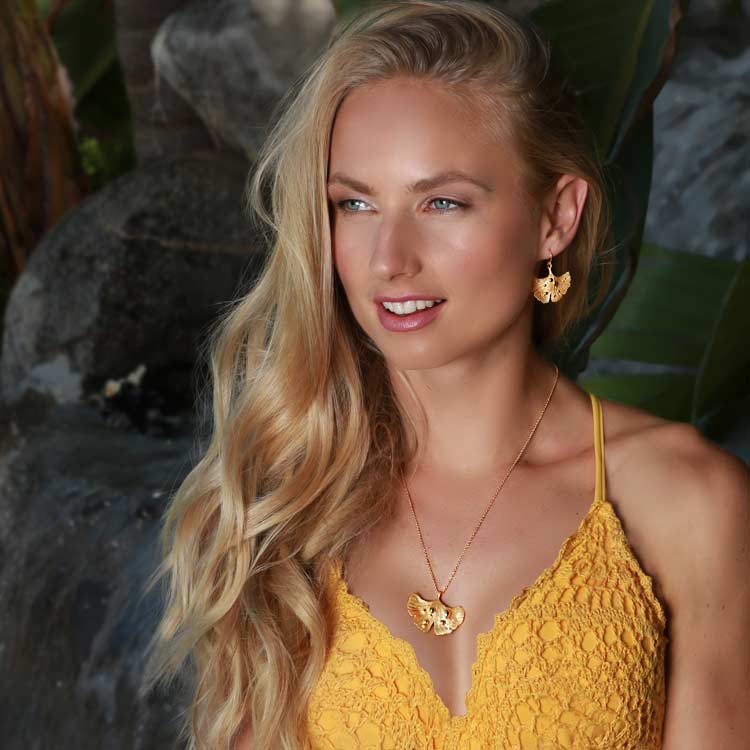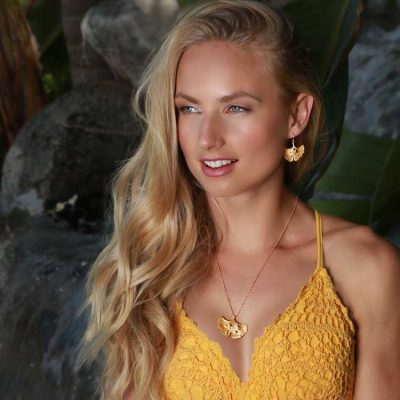 Beach waves are never going out of style. It's expected that in 2021, they'll be more casual than ever. The look has the chill vibes of second day hair, but with the right jewelry it still looks put together. This perfect balance is a win-win, and we've seen this look on celebrities including Zendaya, Rihanna, Emily Ratajkowski, and many more.
There are several ways to get this look. An easy and heat-free method is to spray damp hair with wave spray and fold into duckbill clips. Then, let the hair air dry over the clips, remove the clips, and scrunch for perfect waves. A faster technique is to blow dry the hair and add wave spray. Then, take sections of hair that are one inch thick and three inches wide. Gently clamp with a straightener, then rock back and forth with your wrist as you pull down the hair.
However you decide to get your beach waves, you need to choose jewelry to match your hairstyle. To play into the natural and effortless look, minimal metal options are often a great choice. Plain stud earrings are great, but why not get a little more creative than that? Nature inspired metal earrings, with leaves or stars, are gorgeous. Or, twisted earrings, geometric shapes, and bold variations on a classic hoop all look classic, but never boring.
High ponytail: a bold and powerful look
A high ponytail is one of the ultimate 2021 red carpet looks. Tight and sleek, the look gives off a powerful energy. Some of the most hardworking and confident celebrity women, like Serena Williams, Kim Kardashian and Jennifer Lopez are known for this look. Professional yet still sexy, this hairstyle shows the world who's boss.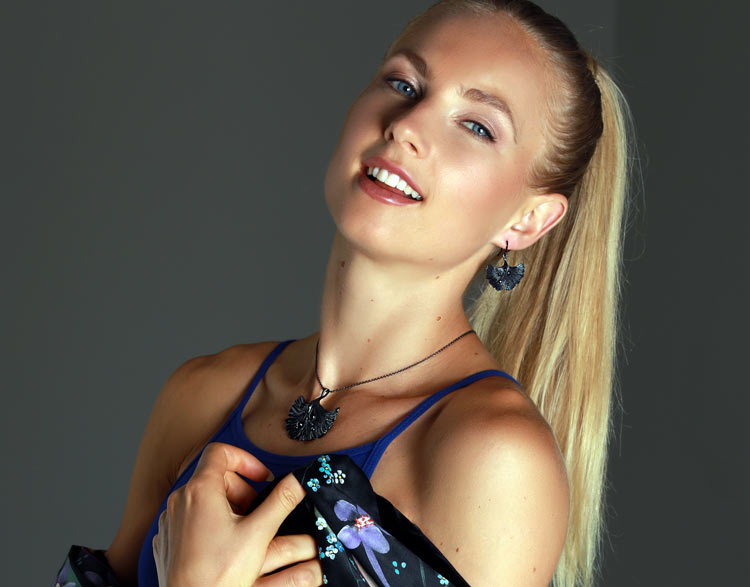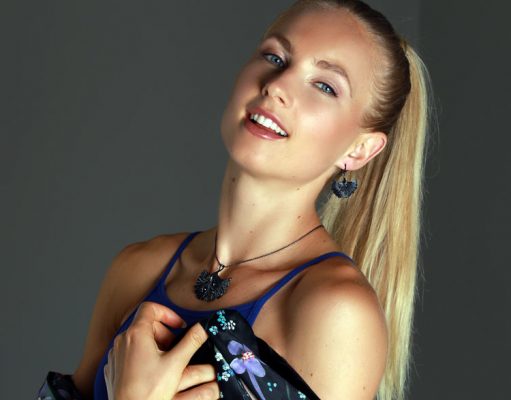 This hairstyle is great for a job interview or professional networking event. If that's where you're wearing it, keep things corporate with elegant stud earrings. Diamonds or a precious metal like rhodium, gold or silver will be perfect. You can add some subtle yet expensive-looking accessories to finish the look, like a gold bangle or classy necklace.
If you're wearing this hairstyle to a party or other more casual evening event, reach for the artistic statement jewelry. With your hair slicked back off your face, this is the perfect time to let your boldest earrings shine. Creative designs and materials like uncommon gemstones, enamel, or glass will steal the show.
Final tips to make sure your jewelry matches your hairstyle
Don't forget to make sure that your jewelry matches your hair color and skin tone. For pale women with blonde or light hair, lean towards silver and light colored gemstones. For warm toned women, lean into balmy gold and dark, mysterious gemstones.
Although it can be hard to choose jewelry to match your hairstyle, the main thing is to make sure you feel confident. Before leaving the house, look in the mirror and notice the confidence you exude. With your hair, makeup, jewelry and outfit, you should be feeling unstoppable – no matter where you're going.