Earrings are a beautiful and popular way to spruce up a look. You might be drawn in by delicate pieces which add femininity to an outfit. Or, if you're headed to a formal event, perhaps you're considering something a little more bold. No matter the event or your personal style, there are earrings perfect for you.
In this article, we've got four popular and stunning types of earrings that you should try.
1. Types of Earrings – Studs: Small, Dainty, But Powerful
Stud earrings may be small, but they add a beautiful detail to an outfit. This dainty piece of jewelry is a subtle but powerful way to add an elegant final touch to your look.
Stud earrings are for any woman
No matter your personal style, you'll be able to find stud earrings that flatter you. From tiny studs almost too small to see to bold floral-shaped pieces, you'll be able to find studs that align with your wardrobe.
Stud earrings come in a wide variety of shapes, colors, sizes and styles. Look for studs in shades that suit your skin tone and complement the colors and lines of your day to day outfits.
Stud earrings are practical and versatile
Sometimes jewelry that is too bold draws attention away from the rest of your look. However, studs are small and dainty enough that they will enhance any outfit without dominating it.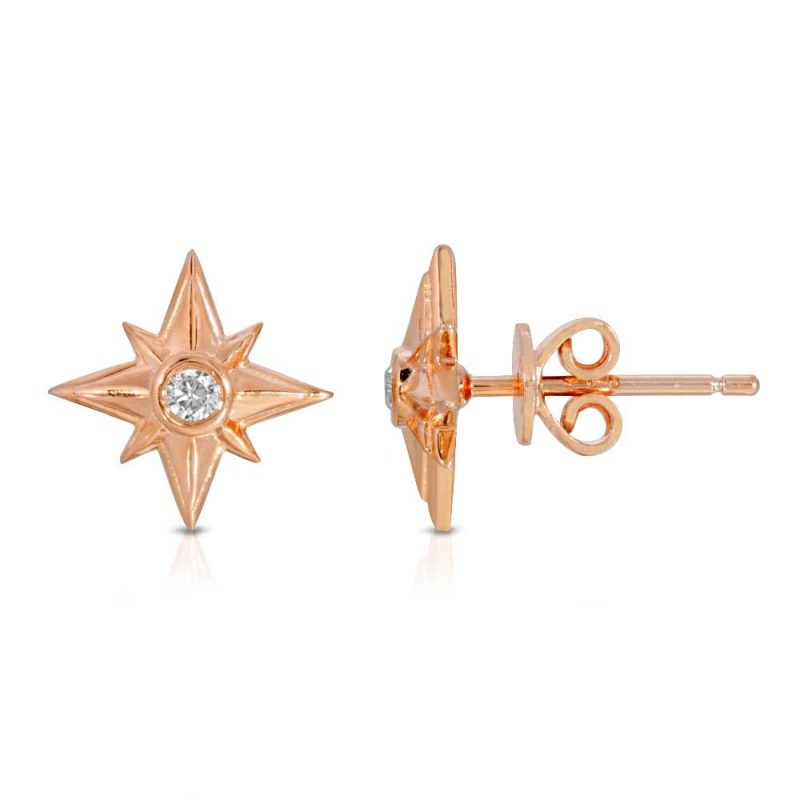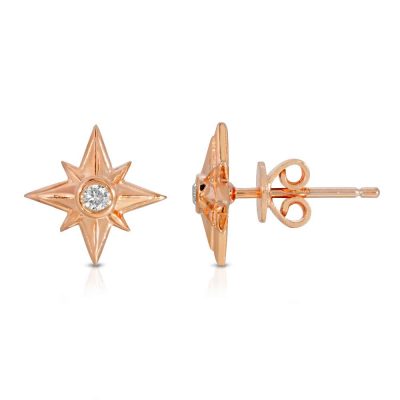 Plain metal or even single-jewel studs are a great way to add a little feminine flair to a professional work outfit. Small studs are also so comfortable that many women sleep with them in.
Stud earrings are appropriate and comfortable for almost any occasion – to the office, on a date, or even at the gym.
What to consider when choosing stud earrings
Not usually a big statement piece, stud earrings tend to be jewelry that you can rely on and wear often. If you wear studs most days, you should ensure that you only buy earrings of the highest quality.
Make sure you purchase stud earrings of an excellent material, preferably silver or gold. It is also important to make sure they have secure backing, so they don't fall off and get lost. Buying ARY D'PO or designer jewelry will ensure you buy studs that will be with you long-term.
2. Types of Earrings – Ear Cuffs: Edgy, Yet Elegant
If you're looking for a unique type of earring to add a sophisticated flair to your evening look, look no further than ear cuffs. This jewelry style is modern, even futuristic, yet pretty and unique.
Ear cuffs are designed to sit along the outside edge of the ear. They come in many shapes, sizes, and designs. They require no extra holes on the ear, but give the illusion of an upper ear piercing. These chic earrings walk the difficult line between formal and edgy.
Celebrity influences
Ear cuffs have picked up traction as a unique style of jewelry for the red carpet. Fierce celebrities such as the singer Jessie J and the model Cara Delevingne have been seen rocking ear cuffs.
Celebrity women who are a little less bold have also worn ear cuffs on the red carpet. Actresses such as Sandra Bullock and Emma Stone chose elegant ear cuff designs to build on their stunning formal outfits. Opting for simple silver and diamonds kept these ladies looking classic and gorgeous.
What to think about when buying an ear cuff
Think about which materials look good against your skin tone. Silver, gold and rose gold are always classic choices.
It is also great to consider your personal style. If you usually wear simple and classic pieces, a bold and intricately designed ear cuff may not look natural on you.
Small and petite people should usually opt for a more dainty and delicate piece that aligns with their fine features. If you have more striking features and a curvier figure, you may look best wearing a bold style.
3. Types of Earrings – Hoops: A Revival We Love
Hoop earrings are one of the oldest types of jewelry. These earrings were worn by almost all ancient societies including Greeks, Romans, Asians, and Egyptians. Within these groups, hoops became a symbol of power and prestige. They remain a key symbol of womanhood in Spanish and Latin culture.
Their popularity has lasted into the modern world, picking up during the 1960s. Hoops in crazy and vibrant designs were popular during the disco era. They were worn by Diana Ross, Cher and other divas.
Hoops used to have a bit of a trashy reputation, but those days are over. They were revived over the past few years as '90s fashion has come back into the limelight. Chokers, fishnets, and T-shirts are all hallmarks of this grungy style, and hoops are a great addition to the look.
Dress an outfit up or down with hoops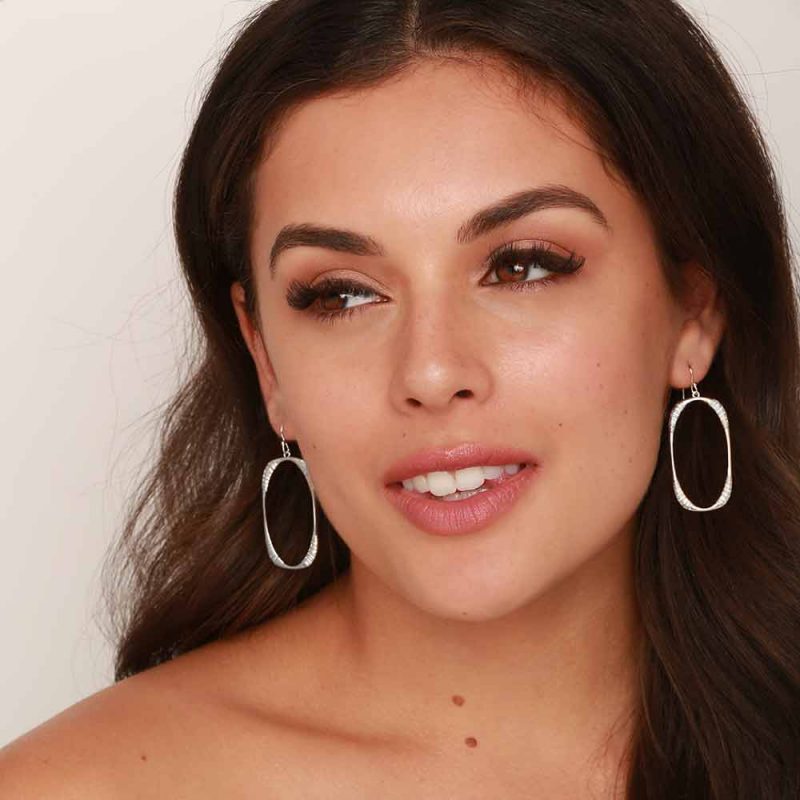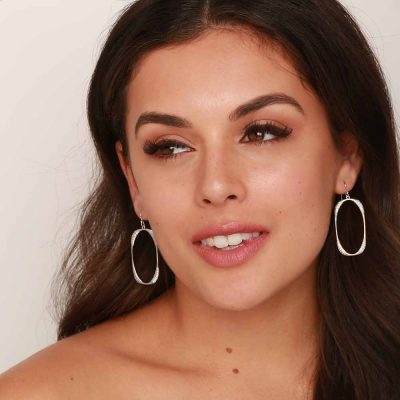 Hoops are a beautiful and classic way to embellish a formal look. Try dressing up a dinner date or ball outfit with stunning hoops in gold or sterling silver. You can elevate the earrings with diamonds or other precious gems.
However, hoop earrings aren't limited to evening glamour. Hoops are a great way to add a sexy flair to a casual jeans and t-shirt look.
No matter the event, hoops are great for framing your face. The round shape is very feminine, and pleasing to the eye. These classic earrings flatter the jaw and cheekbones. Hoops make it look like your face is contoured, without a drop of makeup.
Celebrities love hoops
Cardi B, Khloe Kardashian, Beyonce, Jennifer Lopez and countless others have also been seen in hoops of varying sizes. Hoops appear in music videos, on the runway, the red carpet, or as celebrities go about their casual lives. No matter the occasion, there's a hoop to be seen in Hollywood.
Even the former first lady of the USA, Michelle Obama, is a big fan of hoops. She often adds detail to her bold, bright, office-friendly looks with sleek hoops in pale colors.
What to consider when choosing hoops
Choose hoops in a material that matches your personal style. You can find simple, thin hoops in silver and gold for a classic, minimalist look. However, there are many bold, tribal and animal printed hoops out there too. There's a hoop to express you in every way.
4. Types of Earrings – Statement: Look Drop Dead Gorgeous In Drops and Dangles
When it comes to statement earrings for sprucing up an evening look, there are two classic styles. These are drops and dangles. These are very similar types of earrings, and each will perfectly embellish an outfit for a formal event or a classy night out.
What is the difference between drop and dangle earrings?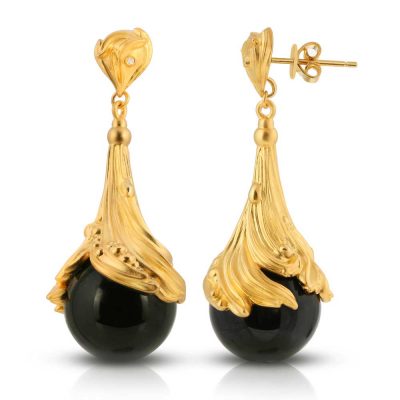 Drop earrings are simple yet sophisticated. They usually feature a charm or gem hanging from the base of the earring and mostly are not too long.
Dangle earrings are usually longer, and are sometimes even long enough to brush against the shoulder. These earrings dangle and swing as the wearer moves, drawing the attention of others to the piece.
Popular And Modern Styles
As usual, there was a range of gem-encrusted drop and dangle earrings at this year's Golden Globes. Nicole Kidman stole the show in Hanut Singh dangle earrings. Greta Gerwig opted for small diamond drops.
Trendy and popular statement earrings vary each year. On the 2020 runways, we saw many bold, 1980s inspired styles. Large floral, tortoiseshell, and pearl pieces have been turning heads this season.
Shopping For Drops And Dangles
Like with any piece of jewelry, it is important to buy high quality or designer drop and dangle earrings. This ensures the piece will last as long as it should, and be a key part of your wardrobe for many years.
At ARY D'PO we have a large range of beautiful drop and dangle earrings. These pieces are always made of the highest quality materials, perfect for adding to any formal outfit.