Checking out red carpet looks and designer jewelry is always a fun part of the annual fashion calendar. Stars hire talented stylists to help them show off their personal looks and work the freshest trends of the season into their outfits.
Artistic statement jewelry choices are always a talking point of the night. The most recent award ceremonies were no exception. The Hollywood events season ended in February 2020. During the Golden Globes, Grammys and Academy Awards we saw a huge range of creative and glamorous looks.
Covid-19 was barely a thought back then. The next season of fashion events is likely to be socially distanced and quite different. Key gatherings such as fashion week shows and film premieres have been presented online this year. Parties such as the 2020 Met Gala have been indefinitely postponed. It's hard to predict what the future of red carpet events will look like. For now, we can enjoy looking back on the fantastic outfits and jewelry we saw during the most recent award ceremony season.
And so, here are the most incredible celebrity looks from the 2020 Red Carpet events.
Golden Globe Awards – January 5 2020
Ricky Gervais hosted the 77th Golden Globe Awards, celebrating the top film and television performers of 2019. We know the Golden Globe its fun and party-like vibe.
We saw feature necklaces take center stage this year, with a strong focus on diamonds. This is a change from statement earrings, which ruled the red carpet for years. Earrings were smaller than usual this season, and multiple or mismatched earring looks made multiple appearances. Charlize Theron and Cynthia Erivo made strong impressions with their elegant outfits.
Charlize Theron
The elegant 'Bombshell' nominee wore Tiffany & Co this year. She turned heads in an $885,000 platinum necklace. Sapphires, diamonds and emerald adorned the necklace. She completed her look with multiple gemstone rings and earrings. Undeniably, this maximalist jewelry look was the perfect addition to Theron's sleek, green, Dior gown.
Cynthia Erivo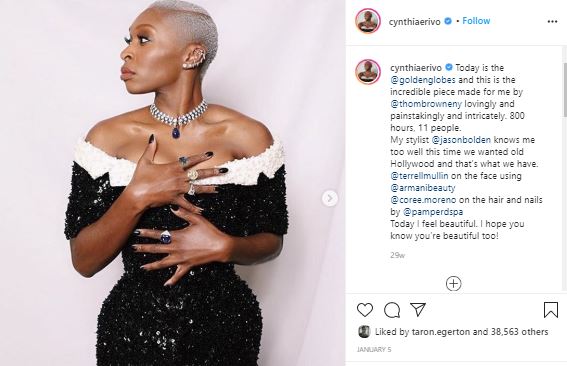 British-Nigerian actress Cynthia Erivo wore a Tom Browne tuxedo-inspired sequinned gown. To add to the monochrome look, she opted for a spiky Bulgari choker, decorated with sapphires. She topped it off with half a dozen diamond earrings in each ear. The bold jewelry stood out against her bleached and shaved hair. Erivo struck the balance between old Hollywood glam and super fresh.
Grammy Awards – January 26 2020
The biggest musical event in Hollywood, the 62nd Grammy Awards celebrated the best musical artists of 2019. The 15-time winner Alicia Keys hosted this year's ceremony.
As a ceremony for creatives, the Grammys is known for artistic and experimental looks. It gives artists a chance to showcase their creativity and personal styles. In fact, outfit changes are a hallmark of the Grammy awards. This year, we saw Ariana Grande in a huge gray princess gown. Lil Nas X turned heads in a bright pink Versace suit. Billie Eilish looked edgy and cool in a Gucci suit with her classic long nails. Some of the best jewelry looks of the night included:
Gwen Stefani
The pop singer embraced this season's pearl trend. She chose delicate diamond and pearl Mateo pieces. With her white minidress, thigh high boots and famous blonde hair, the effect was go-go dancer meets angel. To perform, Stefani switched to striking ruby and diamond Karen Suen dangle earrings. These were the perfect detail to her Dolce & Gabbana gown.
FKA Twigs
The R&B artist FKA Twigs wore a Victorian Bentley & Skinner opal and diamond necklace, paired with tulip shaped diamond set earrings. Both were made in 1890. These amazing antique pieces added detail to her catsuit and pink cape combo, which was detailed with vintage lacework. This creative look was luxurious and stunning.
Academy Awards – February 9 2020
The Academy Awards, also known as the Oscars, is a formal event to mark the end of awards season. Although they've been serving red-carpet looks all season, the stars always save their best pieces for Oscars night.
And of course, the 92nd Academy Awards did not disappoint, with stylish Hollywood glamour all over the red carpet. Like other 2020 award season events, many stars went for diamonds on the night. Several celebrities also used their time in the spotlight to promote fashion sustainability. Many guests wore eco-friendly, recycled, or second-hand pieces. This allowed them to spark conversations about the importance of minimizing waste in the high fashion world.
Brie Larson
Brie Larson, of Captain Marvel, was literally shining on the red carpet this year. She went for a dusky pink cape dress by Celine, adorned with svelte lines of 120,000 sequins, 110,000 glass beads, 13,000 Swarovski crystals and 6,500 jewels. The custom made gown required over 1,200 hours of hand stitching. Moreover, Larson added Bulgari earrings in white gold and diamonds, two Serpenti rings in pink gold and diamonds, and a matching bracelet. As a result, the outfit was both eye-catching and decadent.
Saoirse Ronan
The 'Little Women' actress went for a dramatic Gucci ensemble this year. Her stunning gown featured a black bodice with plunging neckline and cream peplum waist over a lilac skirt. The dress was made from leftover fabric, which sparked talk about sustainable fashion on the red carpet. She topped off her look with Gucci earrings and emerald bee-shaped brooch, which she chose to place in her updo.
Florence Pugh
The actress, also nominated for 'Little Women', arrived at her first Oscars in style. She went for a Louis Vuitton custom made teal gown with a tiered skirt. She topped off the look with a unique 20-carat pear cut Imperial Topaz necklace. This rare variety of gemstone was discovered in the 19th century, and Russian royalty quickly claimed sole rights to it. However, this aristocratic piece was the perfect detail for Pugh's unique look. Her outfit was youthful yet sophisticated – gorgeous for the 24 year old actress.
The 2020 awards season boasted many incredible looks. We at ARY D'PO look forward to seeing what the future of Hollywood fashion holds.