Jewelry and Art
Jewelry and art have an undeniable connection. In both these creative fields, creators carefully craft precious and valuable pieces which evoke a particular emotional  reaction in the viewer or wearer. However, for a long time many connoisseurs of the art world turned up their noses at the idea of jewelry having a place in a gallery or museum.
It took until the 20th century for renowned artists to begin to experiment with jewelry as a form of expression. Figures such as Picasso and Dali broke into the medium as a means of expressing love or commitment to their girlfriends and wives. As these works picked up traction, this idea blossomed into a means for artists to present and express their work in a previously unexplored way.
Creating jewelry allows artists a way to branch out and use materials they may not have used before. It gives an opportunity to have a different purpose for art and to create pieces in unique sizes and styles. It allows to create a new platform for the display of their pieces. Creating wearable art gives the artist a new role in their clientele's lives, and a constant presence on their body.
This experimentation has been hugely influential for both the art and fashion worlds. In the 21st century, art and fashion have become even more entwined. As art becomes more mainstream.
Artists frequently collaborate with clothing brands, and their work appears on garments and as prints for affordable decorations. Artist designed jewelry is now much easier to produce than in the past, and has become a popular hallmark of the fashion industry.
To show the connection between jewelry and art, here we selected the work of some of the most famous artists/jewelers around the world.
Salvador Dali
Perhaps the king of artistic statements, one of the most well-known and influential artists/jewelers of the 20th century is the Catalonian artist Salvador Dali. He is famous for his surrealist works, depicting unexpectedly melting and warped objects found either in households or the natural world.
When living in New York, Dali partnered with the detail-oriented Argentine jeweler Carlos Alemany. Together they created 40 unique jewelry designs between 1941 and 1970. They created high quality jewelry that could realistically be wearable as provocative and intriguing feature pieces. Although Dali used a lot of symbolic and precious gems, both him and Alemany agreed that the artistic value of the pieces came second to the construction.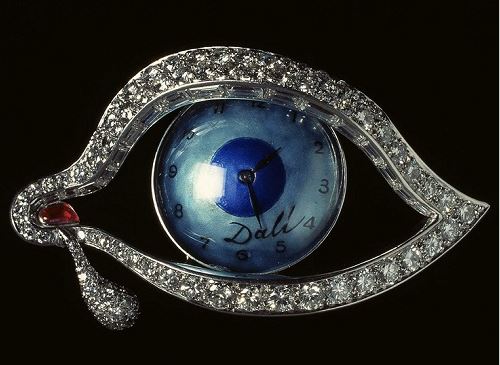 His best known piece was created as a gift for his wife Gala. This was a brooch called The Eye of Time, a stunning platinum, ruby, and diamond eye set in blue enamel. The brooch has a functioning watch face set on the eye's pupil, adding to the surrealist energy of the piece.
Another well known and slightly less bizarre design is the gold earrings shaped like telephones, decorated with rubies and emeralds. Regarding this creation, Dali said that "they connote the speed of modern means of communication; the hope and the danger of an instantaneous change of thought."
Further works included a brooch shaped like a mouth consisting of ruby lips divided by two lines of pearl teeth. Also worth mentioning a mechanical flower that slowly opens and closes its petals. A bold corset-inspired ring with pearls eyelets laced with threads is yet another unique piece. The "Tree of Life" necklace is also well-known. It consists of dense metallic foliage studded with diamonds. A pendant face featuring two bold sapphires as the eyes sits at the center of this piece.
In all of his creative jewelry work that Dali created throughout his career, he has truly gained a reputation for enthusiastically blurring the lines between fashion, jewelry and art.
Alexander Calder
This influential sculptor, often credited with the invention of the wire mobile, is also famous for his collection of jewelry. He created around 2500 pieces from 1930 and throughout the 20th century.
Calder used materials such as brass, aiming to make his jewelry fairly affordable. He was charging prices as low as $25 per brooch. So, the work became very popular among high class New Yorkers including Peggy Guggenheim. She boasted she was the only woman in the world to wear his wire mobile earrings. Other women such as Mary Rockefeller and Anjelica Huston were also proud to wear his pieces.
Georgia O'Keeffe, an artist friend, received a personalized brooch with her initials on it. Other friends also received personalized jewelry gifts from Calder, saying he would sometimes dip away at a dinner party to make a brooch for a friend and rejoin the party, giving it to them.
The woman who got to wear the most Calder jewelry was his muse and wife Louisa. She was the recipient of his first jewelry creation: a gold, spiraling engagement ring he crafted for her in the 1920s. Another early piece was a gift to his mother for her 64th birthday: a necklace made from shards of ancient pottery he found on the ground in Corsica and wired into place.
He incorporated modernist and surrealistic styles into his pieces, using bold, curvy, flowing lines. These features made his work a hallmark of the bohemian style movement. However, the weight and intense ornamental style also made Calder well known for how uncomfortable and impractical his pieces were to wear.
Alexander Calder's reputation as an artist and jeweler has grown throughout the years. $25 per brooch no more, many of his pieces are now worth closer to $100,000.
Pablo and Paloma Picasso
Pablo Picasso, the art revolutionary who defined Cubism, is extremely famous for his unique paintings, sculptures, and ceramics. However, he also dabbled in jewelry design. Many of Pablo Picasso's jewelry designs were personal gifts for his lovers. His girlfriend, Dora Maar, received a ring featuring a tiny surrealist portrait of her.
Later, Picasso was together with his wife, Jacqueline Roque, for the last 20 years of his life and only depicted her for the final 17 years of his career. With her as his muse, Pablo created a jewelry such as a gold medallion featuring a side profile etching of her, and a ceramic necklace composed of tiny sculptures of her face.
While Pablo Picasso's jewelry ventures were largely just personal gifts for the women in his life, his youngest daughter Paloma Picasso grew up to become a key name in the jewelry industry.
Paloma has designed many gorgeous pieces for Tiffany and Co, after entering into an exclusive relationship with the New York brand in 1980. She began her jewelry career with a line called "Graffiti" inspired by spray paint and tags on the subway. She took these street designs and turned them into something "beautiful and covetable."
After creating several more striking collections for Tiffany and Co, Paloma Picasso's work has been acquired by Smithsonian Institution's National Museum of Natural History and Chicago's Field Museum of Natural History. She has been featured in several more exhibitions around the world.
Man Ray
Man Ray, primarily a photographer, was a big name in the surrealist and Dada movements. In the 1960s he collaborated with the Italian jewelry manufacturer Gem Montebello and created several pieces aligning with his avant-garde style.
With a background in fashion photography and appreciation for art depicting the female form, his foray into jewelry design seemed a natural career progression and he ended up creating eight stunning designs, all in gold.
Of the pieces, Man Ray is famous for his eye-catching Optic-Topic gold masks, of which he made 100. This piece continues his previous artistic explorations of voyeurism and consists of a large plate of gold, preventing the wearer from seeing except through two spirals of hundreds of tiny holes over the eyes.
While the mask is not very practical, Ray also made more conventional and wearable pieces such as various spiraling earrings and striking necklaces. Several celebrities, including Catherine Deneuve, wore his pieces. For instance, he photographed Catherine Deneuve, in a pair of spiraled "Pendantif-Pendant" earrings in 1968.
Claude Lalanne
Claude Lalanne was born in France in 1925, and is well known for the detailed and surrealist sculptures she created with her husband, commissioned by many impressive clients including Yves Saint Laurent and the city of Paris.
Her intricate jewelry was cast in copper. The pieces frequently drew inspiration from the natural world, depicting delicate flowers and dainty animals. She would often use real elements such as leaves, butterflies, berries, blossoms, twigs, or other objects from the natural world. Then, she would electroplate them in copper sulfate, creating a perfect jewelry replica of the real thing.
Much of her jewelry work has been featured at high fashion events. The events organized by the designers including Christian Dior, Givenchy, and Karl Lagerfield. Lalanne's work often pushed the boundaries between art and high fashion.
Claude Lalanne passed away at 93 in April 2019. She continued creating stunning and artful jewelry in her Paris apartment right up until her death.
Lucio Fontana
The Italian-Argentine artist is famous for being a pioneer of the spatialist movement. Most of his art consists of slashed canvases and other materials. The pieces are rejecting the one-dimensional constraints of the canvas and quite literally breaking through it.
Much of his jewelry continues celebrating spatialist ideas. He asked his craftsmen (The Pomodoro Brothers) to pierce and slash holes in orbs of gold when creating his rings. In the 1960s, he collaborated with Gem Montebello and created a series of silver and lacquer rings and bracelets. Each of these featured a slash through the white lacquer like a miniature version of one of his canvases.
Perhaps Fontana created his most famous jewelry piece in 1967. This striking piece, Gold Bracelet, branches out from his spatialist work. It consists of two delicate gold rings suspending a perforated gold rod along the top of the wearer's forearm.
Jewelry and art – honorable mentions:
• Francesca Vitali is known for her origami inspired, deeply intricate jewelry constructed from paper. In her artist statement, Vitali claims her work seeks to "achieve body adornment through folded and woven paper rather than relying on gemstones or precious materials." With this idea, Vitali pushes the boundaries of what materials constitute jewelry, and our definitions of preciousness.
• Jeff Koons, a contemporary artist in the late 20th and early 21st century, is famous for his provocative installations. He collaborated with designer Stella McCartney in 2005 to create necklace pendant versions of his quintessential puffy silver rabbit design.
• Mariko Kusumoto. A Japanese artist known for her fiber, resin and metal pieces that are big, soft, and reminiscent of candyfloss. Her pieces being too large to wear makes an interesting statement about the scale and practicality of jewelry.
• Keith Haring, contemporary artist, created graffiti-inspired enamel and gold jewelry designs featuring cartoonish faces and animals. These designs include a sharply angled and blocky dog, a motif the artist is famous for. Necklace pendants featuring Haring's cheeky, smiling love heart shaped face are also popular.
• Kenny Scharf, primarily a street artist, is popular for his gold jewelry pieces. Particularly his somewhat menacing personified heart shaped lockets produced by ACME Studio.

At ARY D'PO we celebrate the work of creative minds who blur the lines between art and jewelry. Interesting pieces acknowledging the world or making bold, emotional statements about life and love are infinitely precious.
In our pieces, we always strive to continue in the footsteps of such respected jewelers and artists.