Necklaces are a popular and eye-catching piece of jewelry.
Depending on your preference, you'll find that there are many stunning types of necklaces to choose from. You should consider how the necklace pairs with your face shape, the colors of your skin and hair, and how the piece fits into your personal style. You want your necklace to represent who you are and be a means of expressing yourself! From bold bibs to dainty little chains, there is a type of necklace for everyone. No matter your look, make sure to go for high quality or designer jewelry. Here are some beautiful styles of necklace to consider adding to your wardrobe.
Choker
Chokers are close-fitting necklaces that sit flush with the neck. You can find chokers in a variety of materials including metal, fabric, or beads. The earliest chokers were made of gold, and crafted by the ancient Sumerians as early 2500 BC. This style picked up contemporary popularity in the 1990s, and have now seen a recent comeback, being worn by celebrities such as Katy Perry, Gigi Hadid, and more. Because they sit so high, chokers are a great option if you're wearing something with an unusual or high neckline.
Lariat
Lariat necklaces are unique because instead of a standard clasp, one end threads through a circle on the other end at the front of the necklace. The remaining tail hangs down, creating a Y shape on the wearer's chest, earning it the alternate name of Y necklace. The design means that a lariat necklace's length is adjustable. You have the added bonus of being able to style this necklace in different ways depending on personal style or your top's neckline. The material used impacts the mood of the lariat necklace. Leather or thread enhances an alternative or bohemian look. Alternatively, a silver or gold lariat necklace can be a very delicate and flattering style.
Riviere
Named after the French word for river, riviere necklaces are made of one or two rows of gemstones. This necklace usually sits quite high, but a little looser than a choker. Often, the links of the stones are close together to give the serene effect of a sparkling, gently flowing river. Many riviere necklaces consist of stones the same size all the way around, but some necklaces have the stones gradually increase in size toward the front of the necklace. Because of all the packed together shining gems, riviere necklaces are usually very formal and best for events such as balls or award ceremonies. For instance, Nicole Kidman wore a stunning 19th century diamond riviere to the 2011 Oscars.
Locket
Lockets are very traditional, and have been around for centuries. A small compartment hangs from the necklace, to be filled with a memento such as a lock of hair, a dried flower, or a picture. They were invented in the 1400s, and were a way to show loyalty to the crown,as citizens would wear them with a photo of the king and queen inside. However, the romantic tone of lockets was established in the Victorian era after King Albert died, and the queen wore a locket with a photo of him inside. The ability to customize these necklaces with a personal item means that many lockets have special significance to the owner.
Lockets are often passed through generations as a family heirloom. In modern times, lockets make a unique romantic gift. Lockets can be charming and sophisticated, and as they are fundamentally a simple pendant, they pair easily with many casual and formal outfits.
Bib
Bib necklaces are named this because they consist of a plate that traditionally covers up the entire breastbone area. In modern years, more delicate variations of this type of necklace have gained popularity. Compared to other designs, bib necklaces are still often very bold. Elegant celebrities such as Heidi Klum and Scarlett Johannson have been known to wear a feature bib necklace on the red carpet. They make a fantastic statement piece and are best paired with deep neck tops or blouses and fairly simple outfits.
Lavalier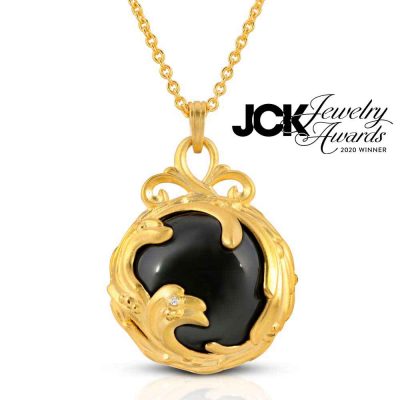 Lavalier necklaces are believed to have been named after the Duchess Louise de La Vallière in the 17th Century. They consist of a slender chain, connected to a small pendant which is decorated with gems or other materials. Often, the lavalier's pendant will have another feature pendant hanging off of it, creating a Y shape. "Lavaliering" is also a term in fraternity culture. This refers to when a guy gives a lavalier necklace with his fraternity's Greek letters as a gift to his sorority love interest.
Chain
Chains are popular with men, as a symbol of wealth and status. However, for women, a chain necklace is a simple yet sophisticated piece that harmonizes well with any outfit. Depending on your skin tone, you should wear a chain necklace in gold, silver, or rose gold. It is also important to consider how the weight of the chain will look against your body type. If you have strong features, a heavier weight will look great. However, if your features are more delicate, a thin and dainty chain could be the way to go. Being a solid color shade and the same shape all the way around, a chain necklace is very easy to pair with your clothes and other jewelry. Try layering your chain with other necklaces for a modern look.