You know what they say: "new year, new me". After the pandemic and its resulting restrictions and stress, you probably want to step into 2021 feeling and looking fresh. However, appearing stylish isn't about having the most expensive clothing and jewelry, or wearing the latest trends. So, how to look stylish?
When you look at the best celebrity fashion inspiration, you'll notice that even the most simple tricks can elevate outfits from basic to stunning "off duty model" chic. All you need is your favorite pieces, a few solid styling techniques and, most important of all, self confidence!
Here are seven easy outfit ideas that will help you look just a little bit more stylish every day.
Some of these techniques are timeless tips that will never go out of fashion. Some are modern, fresh and bold – to help you look up to date stylish and amazing in the latest trends. No matter which of these pieces of fashion advice you choose to use, they will help make sure your outfits and jewelry are on point as you step into the new year.
1. Wear timeless clothes with trendy jewelry and accessories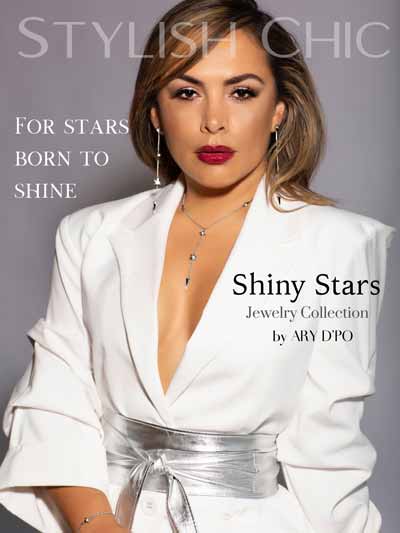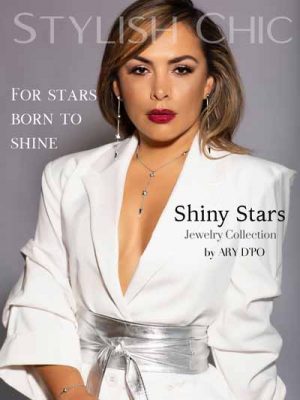 You've probably heard the advice before that it's best to invest in timeless pieces of clothing that you really love. A perfectly fitting wool coat, a gorgeous cashmere sweater. This helps you look expensive – but it can make getting dressed a little boring. You can stay looking fresh by pairing your high quality clothes with fun and trendy jewelry.
When selecting trendy jewelry for the first half of 2021, look to the spring runways. We saw a whole lot of florals (typical for the season, of course), bold beads, and layered necklaces are still on trend. Collar necklaces are also having a moment. These look great on their own as an artistic statement but, being a short necklace, are also great for layering.
Another major jewelry trend for 2021 is statement pendants. Pendant necklaces are timeless, but an oversized pendant is a unique twist on this classic style. Victoria Beckham, Fendi, and many other major designers featured this look in their collections.
2. Play with proportions
This technique is something we see on the high fashion runways year after year. Many models and celebrities, such as Billie Eilish and the Kardashians, also use this trend in their casual outfits. Being creative with contrast and the proportions of your outfit is a simple way to look original and stylish.
An example of this would be wearing a tiny tank top with a bulky puffer jacket. Oversized jumpers, hoodies, and t-shirts with skin tight shorts is also a popular rendition of this trend. It's not all about the size of the item. You can also contrast textures, moods and weights – such as a thin, floaty chiffon minidress paired with a bold chain necklace and chunky boots.
3. Try out the 16-point rule
If you're the type of girl who likes a logical and analytical approach to styling, try the 16 point rule. For each outfit you put together, assign each item of it a value of either one or two.
A piece will be a one if it's small, subtle, solid colored or otherwise plain. For instance, a neutral colored top, simple eyeshadow, or gold or silver stud earrings are all examples of an item that would receive a score of one.
A piece is assigned a two if it's bold, patterned, brightly colored or in any other way eye-catching. Some pieces that might be a two-point item could be a patterned dress, brightly colored nail polish or an artistic statement necklace.
Of course, it's somewhat subjective which pieces get a one or a two, but the general idea is that an outfit should add up to 16 points. Many less and the outfit won't look polished and detailed, but many more and it will look busy and loud. 16 is the magic number for your outfit looking perfectly balanced. Try it yourself – you'll be surprised what a difference you'll see!
4. Dress in three colors at a time
Another mathematical strategy for looking put together is dressing in three colors at a time. A pattern or print counts as one color. This simple method means that even if you mix colors or prints, keeping the different ones to a simple three will stop the outfit from looking too busy. This is also a great way to reduce your time spent getting ready.
Under this rule, you could combine black pants and shoes with a red top and a zebra print jacket. However, if you added a yellow handbag to this look, it might start to look a bit much. However, sticking to black, red or zebra accessories is a great way to keep the outfit looking cohesive and stylish.
5. Embrace stylish loungewear
You won't be surprised to hear that fashionable loungewear is expected to be a major trend for 2021. With global lockdowns forcing millions of people to work from home, sweats definitely got more popular in 2020. However, wearing comfy clothes doesn't have to mean dressing down.
On the runways for spring fashion week, many major labels came up with creative takes on classic loungewear. Burberry featured monochrome gray jersey fits, Fendi showed off floral pajama-inspired ensembles, and we saw many other breezy, comfortable pieces on the catwalk.
When done right, loungewear looks cool and chic. Matching sets are a great way to look put together. Try elevating your casual sweats with stacks of gold or silver bangle bracelets or layer up some shiny chain necklaces. The right shoes, such as crisp white sneakers, will also make a big difference.
6. When in doubt, reach for the sunglasses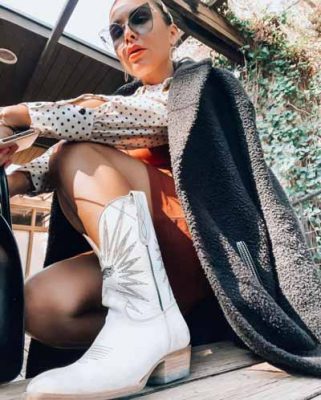 Sunglasses are an accessory that always boost your confidence and make an outfit look laid back and glamorous. Adding a cool pair of sunglasses to a look is a fashion tip that will never go out of style. This is a great way to pull an outfit together like Jackie Kennedy and besides, it's far easier than spending time on eye makeup!
When it comes to sunglasses trends for 2020 and 2021, it looks like skinny sunglasses are on the way out and classic oversized frames are returning. Many fashion week runway shows included futuristic styles and bold round or rectangular frames. We also saw many flat tops on the spring 2020 runways, from big names such as Gucci and Alexander McQueen.
7. Be bold with your footwear
There's a very simple way to look stylish, like one of the chic street-style girls you see on Pinterest and Instagram: switch up your shoes. You'll notice that in a lot of these modern street fashion outfits, the shoes are a big feature.
A simple way to pull this off is to get dressed, think about what shoes you think would go with the outfit, and then try on the exact opposite. The more wrong it feels, the better it probably is.
If you're wearing a formal outfit that you'd normally put heels with, opt for flat boots. If you're in a floaty sundress you'd normally pair with summer sandals, put on your chunkiest sneakers. You'll be amazed at how easily fresh and original this looks when you're getting dressed for a casual day out in town.