Jewelry isn't exactly the easiest item to store. Most pieces are tiny and easily lost. Necklaces tangle, silver tarnishes, clasps break, and earrings seem to just disappear. Plus, jewelry can be one of those things that you always have more of than you think. Before you know it, your jewelry box has overflowed and is a total mess. However, your rings, bracelets and all your different types of earrings are precious and likely important to you.
It's worth taking the time to think about creative ways to store your pieces. With a little management, you'll be able to make sure all your cherished pieces stay in good condition and are always easy to find.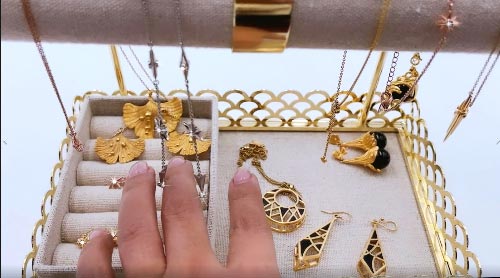 In this article, we have clever and stylish ways of storing your jewelry, so you can quickly locate your go-to staple pieces of fashion, ARY D'PO and other designer jewelry even as you're rushing out the door.
Tips on how to store each type of jewelry
Necklaces
Hang necklaces from hooks
Although you can lie necklaces down in trays or drawers, this makes it easy for them to tangle with each other. It's best to hang necklaces. You may already have hooks screwed onto the wall in your room or bathroom. If so, utilize these for storing your necklaces.
Use a keyholder
Keyholders are a small plaque with a row of hooks to hang keys from. These small hooks, designed for keyrings, are the perfect size for necklaces. As the hooks are already there, all you need to do is buy a keyholder and place it somewhere convenient for you.
Try a jewelry tree
It's not too hard to construct your own jewelry tree and these have a lovely, rustic look. You can make one by arranging small branches in a large vase. Then, spray paint the branches a color such as silver, or leave them bare. You may need to put glass beads in the vase to weigh the branches down. Or, you can easily buy a jewelry tree from a craft or gift store. Then, simply hang your necklaces from the twigs.
Earrings
Store earrings on a stand
An earring stand is a versatile way to store all your types of earrings. Earring stands can be bought very cheaply and are usually made from wood or plastic overlaid with fabric. You could also easily DIY an earring stand from cardboard, or mesh and a picture frame.
Create an earring stand
This is an easy DIY that makes the perfect way to store your earrings. Simply take a pretty picture frame and remove the glass. Then, replace the glass with a sheet of wire mesh, such as chicken wire, which is cut to fit in the frame. The frame will look lovely and cohesive with your home decor, and the holes in the mesh will be the perfect place to hang pairs of earrings.
Hang earrings from a thin chain
This is a dainty and minimalist method for looking after your earrings. Find a small chain, with links of a size that would allow earrings to thread through them. Then, string the chain up in your bedroom, wardrobe or bathroom. You can hang all types of earrings from the chain, although dangle and drop earrings work best.
Rings
Store rings in a display case
Ring display cases, with rows of felt, are the classic way to store your rings. Your rings will fit neatly between the rows. This way, they will always stay organized and in great condition.
Recycle an egg tray
If you want a craftier option, you'll notice that the divets in an egg tray are often the perfect size for rings. This is likely the cheapest jewelry compartmentalizer you'll ever find, and it's always good to recycle. You can have fun adding stickers, glitter or paint to your egg tray if you want to jazz it up a little.
Bracelets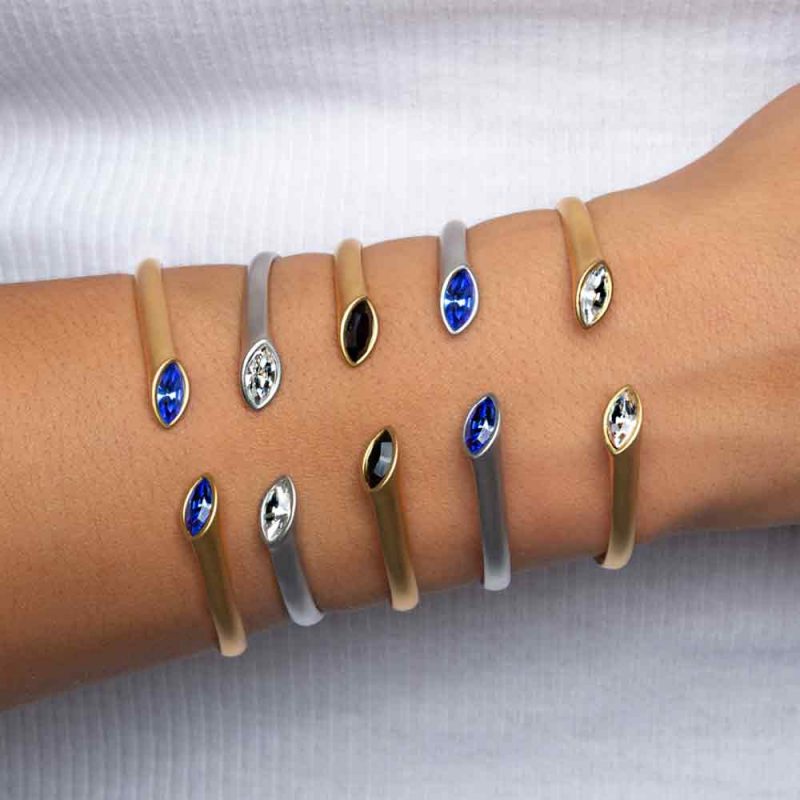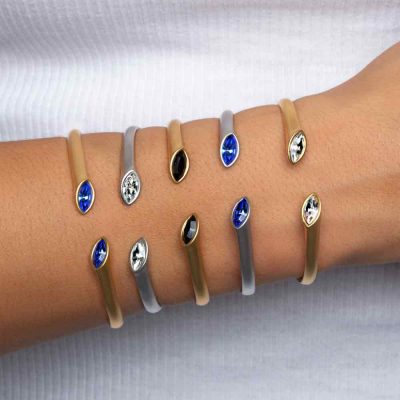 Stack bracelets on decorative vases
This is a fun, unique and cheap way to look after your bracelets. Head to a thrift shop and find some cute vases that match your home decor. These make great jewelry cones. Simply toss your bracelets on the neck of the vase. Then, you can also hang earrings by their hooks off the rim of the glass – making your vases a great dual purpose jewelry holder.
It's easy to make bracelet rolls
You can DIY your own bracelet roll with the cardboard inside of a paper towel roll. Simply take the cardboard tube and wrap it with fabric. Velvet or felt is a great choice for getting that luxurious feel and look. Then, you can store any type of bracelet on the roll – gold heart bracelet, chain bracelet, beaded or bangle.
Make sure you allocate enough space for your jewelry collection
Many people only allow a tiny box or dish for their jewelry. But is that really enough room for all your types of earrings, necklaces and rings? Designate a drawer and use cardboard or a store bought sectioned jewelry tray to break it up. This looks highly organized but in reality requires little management!
You don't need to spend a fortune on a jewelry box
Get in the habit of holding onto pretty boxes which come into your life. Received some lovely chocolates in a pretty tin? Sunglasses in a funky patterned case? This packaging can be easily upcycled into gorgeous jewelry boxes. You could take some time to add compartments and perhaps other decorations, or just start using it as is. This will save you money, and recycling is good for the environment.
Do up clasps, and put backs on earrings
Many people simply take off their jewelry and toss them into their box or dish. However, it's worth taking the time to do up bracelet and necklace clasps. Otherwise, charms will fall off and chains will get tangled. Likewise, remember to put earring backs onto their posts to avoid losing them.
Other helpful tips for storing your jewelry
Store your silver with chalk
Silver tarnishes very easily, and many people find this annoying. The main culprit is moisture and, in humid environments, looking after your silver can feel like an unwinnable battle. A simple fix is to keep one or two pieces of chalk in the box or bag with your silver jewelry. This will absorb any excess moisture and keep your silver looking gorgeous. Be sure to wrap silver in a clean cloth first, to avoid chalk marks.
Hold onto jewelry pouches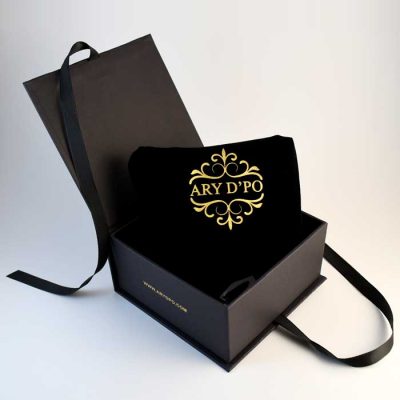 ARY D'PO jewelry, and most other designer jewelry, comes in a high quality felt pouch. These are perfect for keeping your jewelry separate, clean, and dry. Don't throw these away – use them for keeping your most precious pieces safe.
Keep a dish for your daily pieces
If you're wearing the same gold heart bracelet and pair of dainty stud earrings each and every day, there's no point taking the time to put them away and get them out all the time. For your staple pieces, it can be a good idea to toss them in a small, shallow tray. Then, they'll be easy to access next time you want to put them on. You can find so many gorgeous and unique little dishes, either at high end stores or simply your local thrift shop.