Jewelry is a classic and timeless gift. When you take the time to pick out meaningful and stunning jewelry for the special women in your life, they will feel recognized, loved and appreciated. There are many great times to give jewelry to a loved one. However, the best design, material and type of jewelry might differ somewhat depending on the occasion. In this article, we will be outlining the best times to give a gold heart bracelet, necklace or earrings to a special lady in your life.
Bracelets, necklaces, rings and earrings all make great gifts because they are small, yet still precious. Therefore, she will be able to pair them with her outfits, and always remember the meaning of the gift when she wears them. She will also appreciate how precious the materials are, and the intricacies of the design. This is particularly true if you choose a unique and amazing piece. Jewelry made of a timeless material such as gold, and in a meaningful shape, are the perfect designs for expressing your love.
The special significance of a gold heart bracelet, necklace, or earrings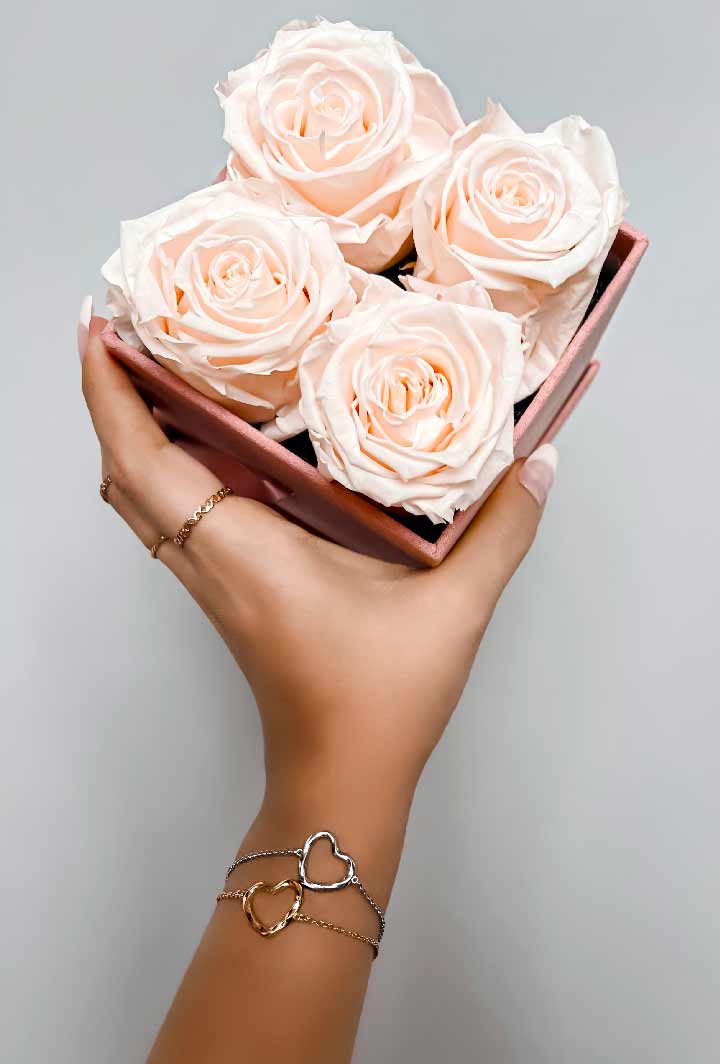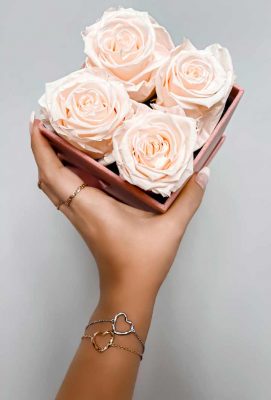 A gold heart bracelet, or other type of jewelry, is a wonderful gift for a woman who you are romantic with. Alternatively, a love heart shape can also be suitable for a close female family member such as your mom. The love-heart shape is a symbol which represents romance, love and affection.
This symbol has existed for a long time, and often appears in jewelry. Even people in the Indus Valley used heart-shaped peepal leaves in their artworks to represent love. A heart-shaped pendant necklace from the 5th century BC was found here. It can now be viewed in the Delhi national museum. Coming from a lover, boyfriend or husband, a woman will understand the depth and meaning of this romantic gift.
Gold is the perfect material for this special symbol to be cast in. This rare metal has been prized for centuries. This was originally because of its resemblance to sunlight, which made it useful as a meaningful symbol. Its brightness made gold a perfect representation of light, of god and the divine.
Gold is highly valued and has a warm and luminous hue. This mirrors the warmth of love between you and the woman you might be gifting the gold heart bracelet or other piece to. Silver, rhodium and other metals are also precious and lovely. However, there's something classic and quintessential about gold, as there is about the heart symbol. The love heart looks absolutely perfect when carefully crafted in the warm honey tones of gold.
Gold vs gold plated jewelry
Although gold is stunning and resistant to tarnishing, it is a very soft and very costly metal. When used in its pure form, it does not hold its shape well. Therefore, most gold jewelry is either an alloy, or a different type of metal plated with gold. Such other metals might include sterling silver, brass or nickel.
All ARY D'PO gold jewelry is gold plated over sterling silver or brass. This is an affordable take on gold jewelry, which offers the benefits of gold without the pliability or cost. Gold plated jewelry is tarnish resistant and has the warmth and lustre. At the same time, it can be purchased at a fraction of the price of solid gold. The sterling silver base material is high quality and hypoallergenic, making it suitable for women with sensitive skin or metal allergies. You might decide that gold plated jewelry is the best choice when you shop for a gold heart bracelet.
Best events for gifting a gold heart bracelet or other type of jewelry
There are many perfect times to give jewelry to a loved one. Each of these events often includes gift giving as a part of the celebrations. Of course, jewelry is an ideal romantic present for the key women in your life. For each of these events, consider if a gold heart bracelet, earrings, ring or necklace could be the right choice.
Valentine's Day
Valentine's Day takes place every year on February 14, ever since the year 496 in Roman times! Its origins are unclear, but this ancient celebration is popular in the United States, Canada, Britain, Oceania and, in modern times, parts of Asia. On this day, it's common for lovers to exchange small cards with loving messages. That way they acknowledge and celebrate the love between them. In addition to these notes, many couples exchange sweet gifts such as flowers, chocolates and jewelry. Due to the romantic nature of the holiday, heart shaped jewelry is an absolutely lovely choice for this event.
An anniversary
The annual date of your wedding, or simply the day you became official as a couple, is a perfect time to give your loved one a piece of beautiful jewelry. It's nice to take the time to reflect on where you were and the feelings you felt one year ago, five years ago, or twenty years ago – depending on how long you've been together! A piece of precious gold jewelry signifies that you still feel as much affection and love as you did back then, and that you want to symbolize your lasting commitment with a precious and tangible gift.
On Christmas
Christmas is traditionally a Christian holiday. However, in modern times it is often heralded as an event to spend with the people you love. The religious element is important for many, but the holiday season is simply a great time to come together with family and friends. Take the opportunity to think about how important they are to you. Thank them for being in your life with a thoughtful gift. How better to celebrate spending Christmas with your girlfriend or wife and acknowledge her role in your life than with a stunning gold heart bracelet?
When your loved one has achieved something amazing
When a woman in your life achieves something amazing she deserves recognition for her hard work. Maybe your girlfriend graduated from college, or your mom got an amazing new job. Giving jewelry to a loved one is a great way to show you are impressed by their dedication and what they've fought hard for. A carefully considered gift such as a bracelet or necklace is a solid and physical way to show your awe at what they've done. They'll feel no doubt about how proud you are of them.
Any time at all
Of course there are many great occasions to give a loved one a gold heart bracelet or any other type of jewelry. However, you could always consider giving your loved one a surprise gift. This is always an amazing thing to do, because it shows that your love doesn't revolve around anniversaries or holidays. No, your love is strong and independent of any sort of societal construct. Your love can't be contained, instead making constant and bold appearances throughout your lives. A surprise gold heart bracelet, for no reason other than your clear, pure love for her is a simply unforgettable gift which she will surely prize forever.