Spring is just around the corner, and that means we have a whole new range of seasonal fashion trends to enjoy. Of course, the way trends have emerged this year is a little different to what we're normally used to. Due to the Covid-19 pandemic, people haven't been able to get outside and show off their stylish hoop earrings and ornate chain necklaces. Therefore, you'll find that trends are staying in fashion for longer than they normally would. Many of 2020's jewelry trends will persist into the new year.
With that said, as restrictions gradually lift across the USA, many people want to make the most of their new found freedoms. Several of the pieces seen at the Spring 2021 fashion shows are the opposite of the loungewear we've been living in for months. Instead, we've seen sparkling sequin gowns, rhinestones, fishnets (and not just as tights but as mesh dresses, jackets and bodysuits) and bold prints.
So, what jewelry to wear this Spring?
On the runways, we saw big and boxy pieces: encompassing trench coats, wide trousers, billowing button downs, and floaty floor length dresses. Don't be afraid to rock these expansive garments in bright lolly shades – think hot pink, or sunny orange.  It doesn't have to be a solid color either. Stripes appeared in many shows, from Burberry to Christopher Kane. The colors and sizes of these stripes varied but one thing was clear: the bolder the better. Corsets have also made a return in a big way. This silhouette hugging garment featured in the shows of McQueen, Givenchy and Moschino.
It's expected that the millennial rendition of the Roaring '20s will soon be in full swing. Think maximalism, and don't be afraid to be vivacious with your outfits this season.
Jewelry ideas for spring 2021
This spring, designers are telling us in no uncertain terms: 2021 is about embracing life and living it to the fullest. We're sick of comfy sweats and we're bored of lying about home in our pajamas. Of course, this doesn't mean you have to wear an evening gown all the time. But, there are many ways to incorporate unapologetic silhouettes, fun textures, and vivid colors into your wardrobe this year.
As you accessorize your spring looks, don't be afraid to experiment. Layering necklaces, rings and bracelets is still trendy. So, be bold and don't be afraid to have fun. Here are some of the most beautiful types of jewelry we saw on the runway this season that you can work into your stylish outfits.
Beach beads
Beachy style beads are usually colorful and made of wood or crystals. On the runways, designers such as Versace, Jason Wu and Kenneth Ize proved to us that these are a perfect addition to a stack of layered necklaces. A tasteful string of beachy beads adds a bohemian vibe and welcome pop of color when paired with a chain, pendant or long lariat necklace.
These add a fresh springtime energy to a chiffon dress or any other casual look this season. Some of the most popular colors this season to consider for your beach beads? Think about sunshine yellow, soft pink, green (in many shades – from neon to mint), and burnt orange. Don't be afraid to combine hues by alternating colors on a string of beads. Then, complement them with a classy chain in gold or silver, or a pretty pendant.
Long necklaces
Over the past few fashion week seasons, '90s style choker necklaces have ruled the runway. While these are still a stylish choice perfect for layering, many designers have returned to the long necklace.
For instance, Dior embraced the long necklace layered with beach beads. The model also wore a tiger print bralette, shorts, Roman sandals, headscarf, and single feather earring. This look was flirtatious, summery, and "jungle-chic".
Tory Burch, Chloe, and many others also worked similar pieces into their shows. A flowy Y necklace or lariat necklace could be a great way to incorporate this style into your own spring outfits.
Bangle bracelets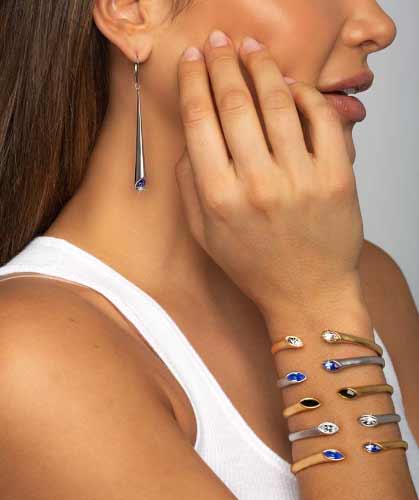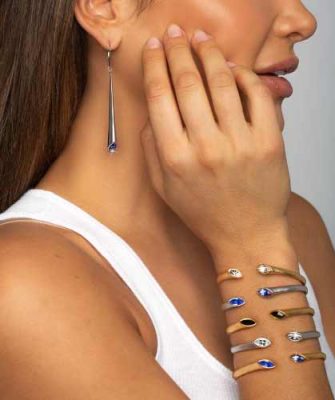 Stacked and beautiful bangle bracelets are definitely back in style for 2021. To be fair, these rigid bracelets could be called a timeless style, but they looked great on models from Chloe, Jacquemus and many other designers this year.
The beauty of bangles is that they can be made from metal, wood, glass or plastic. They can be bold statements on their own, or worn with many other bracelets for a maximalist look. They're incredibly versatile, and can be a part of almost any style of outfit, whether you're going out to a Michelin-starred restaurant, or to the beach.
Big earrings (or earring)
It definitely makes sense that big, face framing earrings would be the jewelry type of choice during the Zoom call era. It seems like with each fashion season, we see earrings bigger and bolder than ever before. The spring runways boasted pieces from Simone Rocha chandelier-esque pearl earrings to striking Dolce & Gabbana shoulder grazers made from a range of plastic flowers. There are so many ways to include big earrings into your look.
Don't forget that the single earring is a super simple and modern way to look chic. You can go for a minimalist style with a small solo pearl. But, don't be afraid to branch out. No matter if you opt for a massive gold hoop or a dainty diamond stud earring, one earring is an easy way to add a bit of high fashion factor to any look.
Textured metals
In 2020 and years past, our artistic statement jewelry was often made of smooth metal with an almost liquid-like appearance. This year, designers replaced the chrome-like finish with ridged, crushed metal styles. For instance, Acne shows featured gold earrings with a texture much like crumpled paper. This style of metal adds dimension to earrings or a large and bold bangle bracelet.
The warm and alluring hues of gold have been on trend for years now. It makes sense – this is a gorgeous metal and its softness is reminiscent of sunshine. This makes it a stunning jewelry material for warm weather days. However, silver is slowly and steadily working its way into the spotlight.
Silver has a very classic and timeless aesthetic, and evokes simple and minimal vibes. By the end of 2021, expect silver to have taken a stronghold in the fashion world. Mixing metals is certainly no longer a fashion faux pas, so try it out by adding a silver chain to a look, or stacking a silver ring on top of your gold ones.