An armful of bracelets is a jewelry trend that never truly goes out of style – and for good reason. Bracelet stacking means you don't have to spend time agonizing over which piece to wear with your outfit today…because you can just wear them all! Of course, there are still some dos and don'ts to keep in mind when wearing multiple bracelets. In this article, we have a few helpful bracelet stacking tips, so you can ensure that you're stylish, put together, and feeling like your most confident self when you experiment with this look.
Bracelet stacking tips: what to do
Decide on a theme
One of the best things about the bracelet stacking trend is its flexibility. An armful of earthy toned beads and oxidized metal will look great with a natural, bohemian outfit. At the other end of the spectrum, a stack of classy bangles and tennis bracelets is a gorgeous finishing touch for an evening look. Just look at Billie Eilish's Hollywood glam inspired outfit at the 2021 Met Gala, which she completed with an luxurious array of Cartier diamond bracelets, rings, and earrings.
While your bracelets don't need to be too similar to each other, it's usually a good idea to pick a theme for your look. Decide what you're trying to evoke. Are you going for a cute '90s inspired outfit? Are you getting dressed up for a romantic date night? Having a general theme in mind will help you ensure your look is cohesive.
Think about your body type
Bracelets draw the eyes to the arms, and this is particularly true when you're wearing many at the same time. It's usually agreed that smaller people look best in delicate, thin styles. Taller, bigger boned people tend to be able to pull off larger, more structured designs.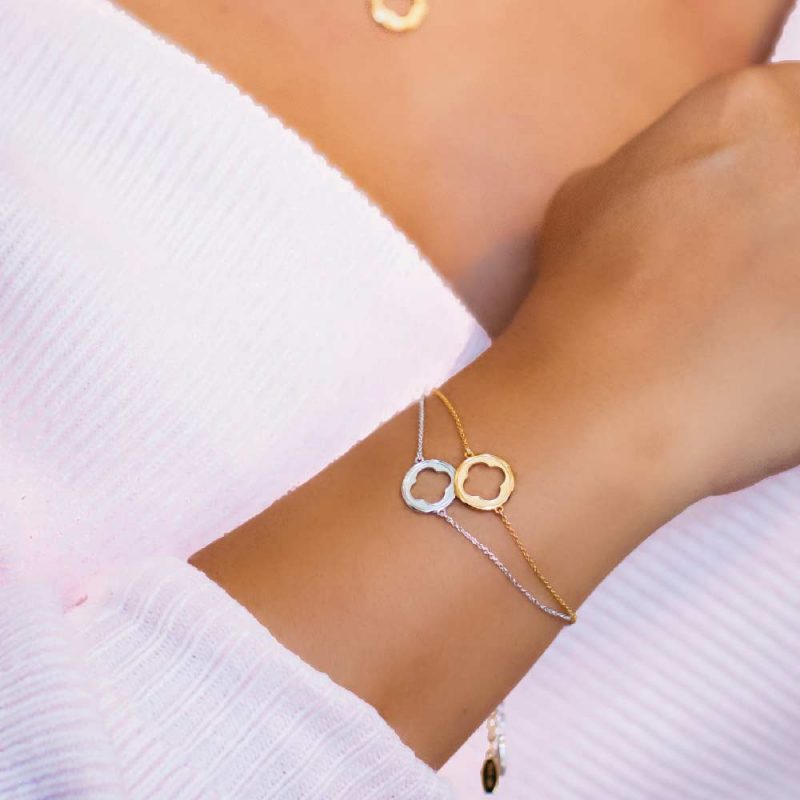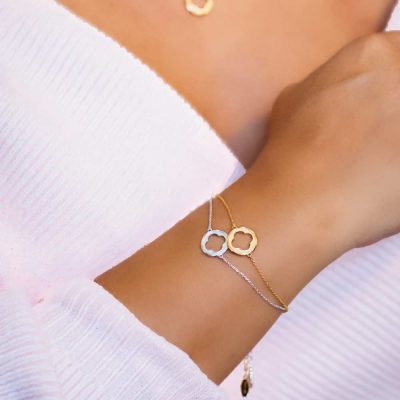 Taller people with long arms also tend to look best in rigid bangles, whereas those of smaller stature might better suit flexible chains. Have a think about your body type, and see if you can use this to inform the types of bracelets you choose for the look.
Consider how your bracelets fit
Make sure you think about bracelet fit just as much as you think about the style. A big bracelet can slide around and get distracting. On the other hand, a bracelet that's too tight can be uncomfortable.
You should just be able to slide the tip of your finger between the bracelet and your wrist. If you're buying jewelry online, look for a bracelet that's about one inch longer than your wrist circumference. If there's a bracelet you love, but it's the wrong size, you may want to take it to a jeweler to see if they can shorten or lengthen it for you.
Think about the order of the stack
Stacking bracelets isn't always as easy as simply throwing them on. Particularly if your bracelets are heavy or fit tightly, you need to think about the order you'll wear them in. It's usually a good idea to put a heavy, tight fitting bracelet closest to your hand, so that your other bracelets can rest on it.
It's also often a good idea to pick one piece to be the focal point of the stack. Pick a high quality bracelet that stands out among the other pieces. This could be a colorful piece of statement jewelry, an interesting material, or even a watch. Then, pick other bracelets that complement and draw attention to your focal piece.
Experiment with fall jewelry trends
Of course, the weather's starting to get a little colder. This means it's a perfect time to include a few fall jewelry trends in your stack of bracelets. A great thing about bracelet stacking is that you can keep most of them timeless, but simply add in one trendy piece to get a more modern effect.
So what are some of the best bracelet trends for fall? Designer Tom Ford has said that "fierce, powerful, and badass are words that resonated with me this season". In his collections, and others, we've seen big, bold metal pieces. Crumpled metal, such as twisted bangles, are particularly popular. This industrial style looks so modern and eye-catching.
On the other hand, bright and colorful pieces were very popular this summer and aren't expected to go out of style any time soon. Quirky charm bracelets, pops of color, and bold beads all create a fun look. If you worry that this will look a little too cheap, go for a charm bracelet that also includes high quality gemstones or metals, for a more elevated look.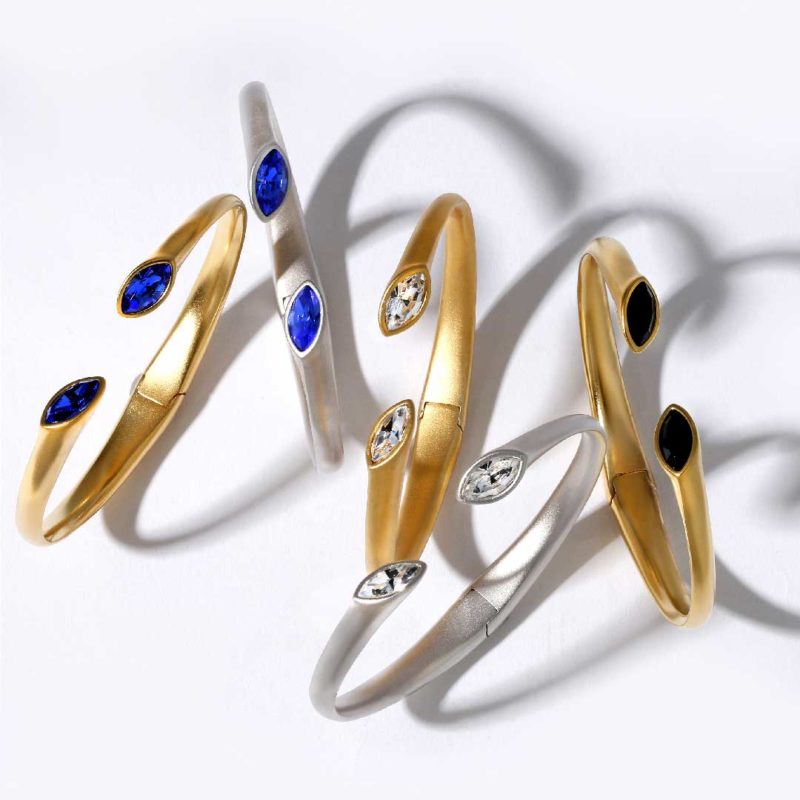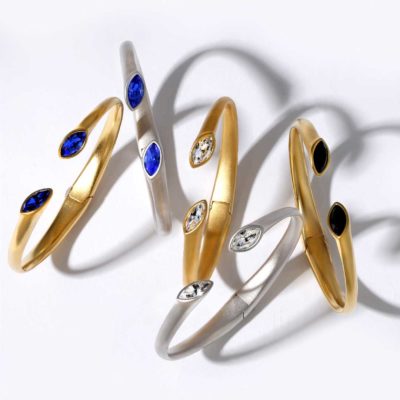 Bracelet stacking don'ts
Don't forget about practicality
It's usually a good idea to make sure your bracelets only take up about three to four inches of your arm. Any more, and it may start to look a little costume-y, and be impractical. When getting dressed, think about where you're heading that day. If you work in an office, the bracelets may hit your keyboard as you type, which will be distracting and uncomfortable.
Remember that stacks of metal bangles can clack against each other loudly, which may annoy you, and the people around you. To avoid this, make sure your bracelets fit properly and try to incorporate some quieter materials. It's also usually a good idea to wear your stack on your non-dominant hand.
Don't forget that most workplaces involving strong health and safety regulations, such as kitchens or factories, have strict limits on jewelry. If you work somewhere like this, you should probably leave your bracelets at home, until your day off.
Don't let your jewelry tarnish
One of the most overlooked bracelet stacking tips is to be careful about tarnishing. As you may already know, not all jewelry materials are compatible with each other. Diamonds are the hardest known substance in the world. So, if they have sharp edges, they can easily scratch soft metals, such as gold.
It's also a good idea to be careful with your softer gemstones. Turquoise and pearls are particularly prone to damage from metal. If you have a pearl bracelet that's particularly special to you, it may be a good idea to wear it on its own, so it stays safe.
Don't be afraid to mix metals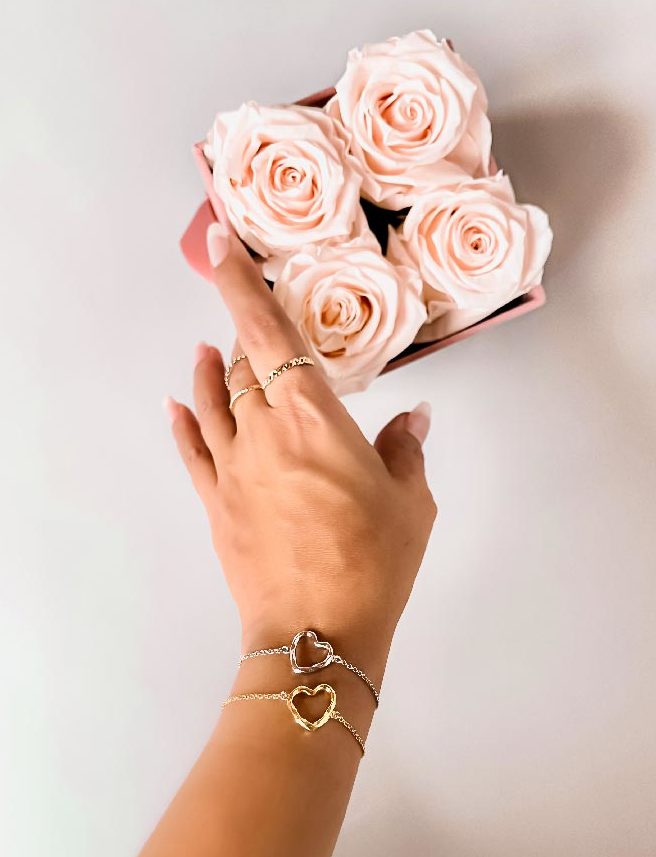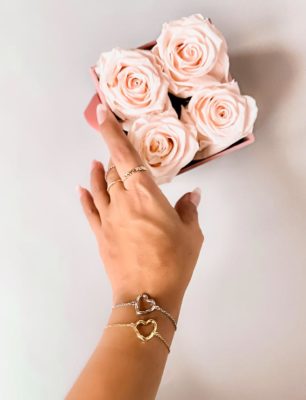 The advice to never mix metals is becoming increasingly outdated. Bottega Veneta, Jil Sander, and many other great designers have included mixed metal styles in their recent runway looks. When done right, mixed metals look youthful, fun, and effortlessly chic.
If you're concerned about making sure your look is still cohesive, try including one piece that contains all the metals you're mixing. For instance, you could go for a chain link bracelet that includes both gold and silver. Then, complete the look with a couple of gold bangles and a solid silver cuff.
Don't forget to express yourself and have fun
If these bracelet stacking tips seem like a lot of rules to you, don't worry! These are just some general guidelines for styling your bracelets but, at the end of the day, fashion is all about breaking rules. The main rule is to wear bracelets that make you feel like your most authentic self. When you're stacking bracelets, or choosing any aspect of your outfit, remember that your main goal is to express yourself and have fun!