If you're planning a wedding, first of all, congratulations! Getting married is one of the most exciting times in any woman's life. However, planning your nuptials is a huge task, and it seems like there's always something to do. While the Covid-19 pandemic has changed many aspects of wedding planning, there's one thing that hasn't changed: many brides' love of stunning, contemporary bridal jewelry.
Bridal jewelry trends in 2021
Research from the wedding planning app Bridebook suggests that dress budgets and big ceremonies are on the way out. On the other hand, bridal jewelry spending has remained very steady throughout the pandemic.
We live in a time of restrictions and quickly changing guest limits. This means that many modern couples are having to make compromises. They realize that fancy food and flowers are just temporary. So, it might not be worth going all out if these can only be enjoyed by a few people. It seems to make more sense to focus on photos, or special items like jewelry, that will last for years as a constant memory of the special day.
Bridebook's founder, Hamish Shephard, says that most brides are opting for minimalist dresses in 2021. However, many are using bright and modern jewelry to really make the look shine. On the other hand, others are going for toned down jewelry to align with their wedding's subtle vibe. No matter what style you decide is right for you, make sure you choose high quality pieces that you can treasure for decades to come.
Contemporary bridal jewelry ideas
Black gemstones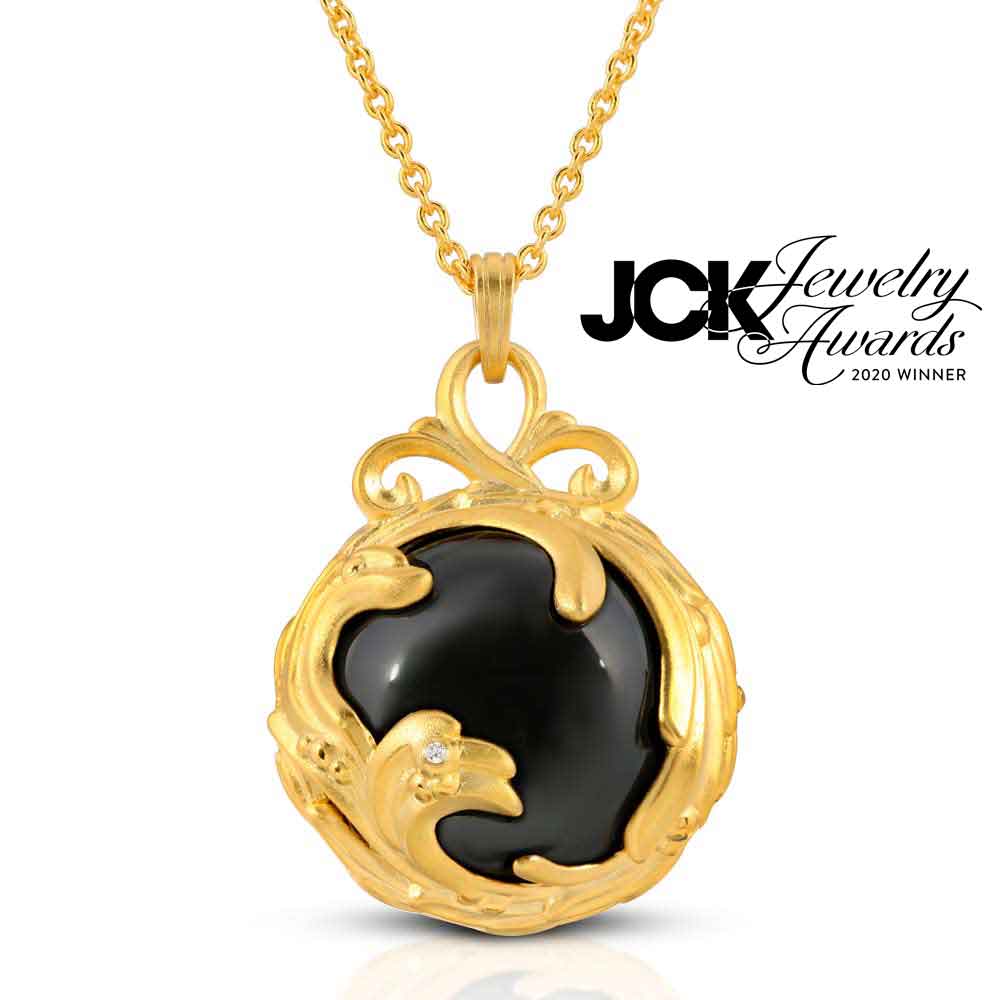 In the past, black gemstones were worn to signify feelings of sadness or mourning. But today, black gemstones make an elegant fashion statement. Stones such as black agate, onyx or obsidian make striking modern bridal jewelry.
Go for black gemstone jewelry that's set in a durable, gorgeous metal. Silver is a beautiful and modern contrast, but gold creates an unmatchable feeling of opulence. Against a white dress, black gemstones are a unique and lovely choice.
Sapphires
You surely know the old saying: "something old, something new, something borrowed, something blue." If you're looking to check off the "something blue" on the list, gorgeous gemstones such as sapphires are the perfect way to do it.
This timeless jewel is so elegant, and has seen a surge in popularity in 2021. As a cool-toned gem, sapphire tends to look best on a backdrop of silver. Look for sapphire drop earrings, or go for a teardrop pendant to get that classic, vintage look.
Pearls
Over the past year or two, pearls have definitely lost their reputation as "old lady jewelry". Pearls are now very trendy, and are an easy way to add some old-world elegance to your wedding look. Many stylish celebrities, such as Ariana Grande and Emma Stone, have incorporated pearls into their wedding jewelry.
To add a modern spin on your pearls, try incorporating other elements such as high quality metals. An ornate gold and pearl dangle earring is gorgeous, and so much more interesting than a plain, classic string of pearls. You may also like to consider a pearl necklace that alternates pearls with elegant metal elements or other gemstones.
Geometric styles
If you've decided on a fairly minimalist look for your wedding day, you may want to consider geometric jewelry. These art-deco inspired styles are unique and modern, but remain sleek and classy. Dangle earrings, unique pendants, and angular bangles all make excellent contemporary bridal jewelry.
For a formal event like a wedding, it's best to go for geometric earrings or other pieces that feature thin, intricate lines. Silver, gold, or even enamel styles are perfectly elegant for playing up your best features, without overshadowing them.
Symbolic jewelry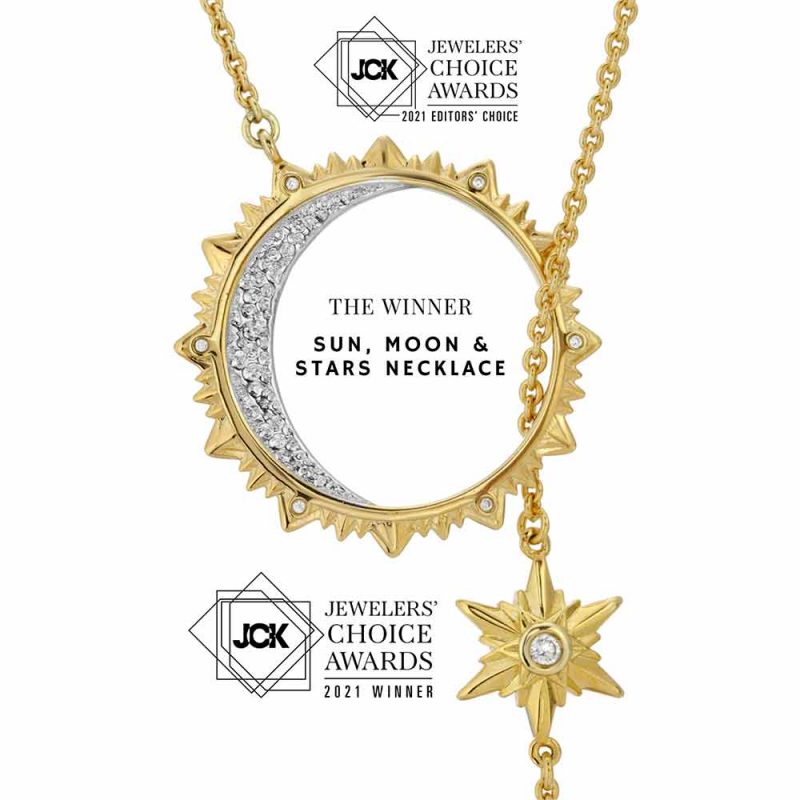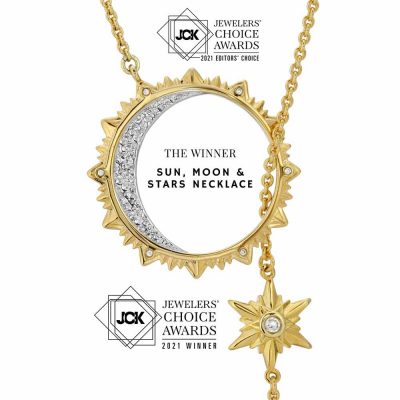 With so many types of jewelry on the market, it can be hard to know how to choose the right one for you. Jewelry has been used as a lucky charm or talisman for centuries. So rather than choosing a piece based on its material or style, why not choose your bridal jewelry based on its special meaning?
For instance, if you've always felt calmed by nature, you might choose a pendant featuring a leaf. If you want to remind yourself about the joy that your future holds, you could go for earrings in the shape of bright and shining stars. A symbol that holds special meaning to you will help you feel great on your day, and extra connected to the jewelry you choose.
Once you've decided on bridal jewelry for yourself, don't forget to get a little something for your bridesmaids too. For yourself, it's worth spending the money to get a piece that you'll treasure forever. However, for your bridal party, you don't need to buy anything too over the top. Nonetheless, getting them a little something is a good way to show your appreciation.
Many brides give monogrammed robes or pajamas to their bridesmaids, but jewelry is a great alternative. A necklace, earrings, or bracelet that they can wear every day is a small yet thoughtful gesture which will help them always treasure the memory of your wedding.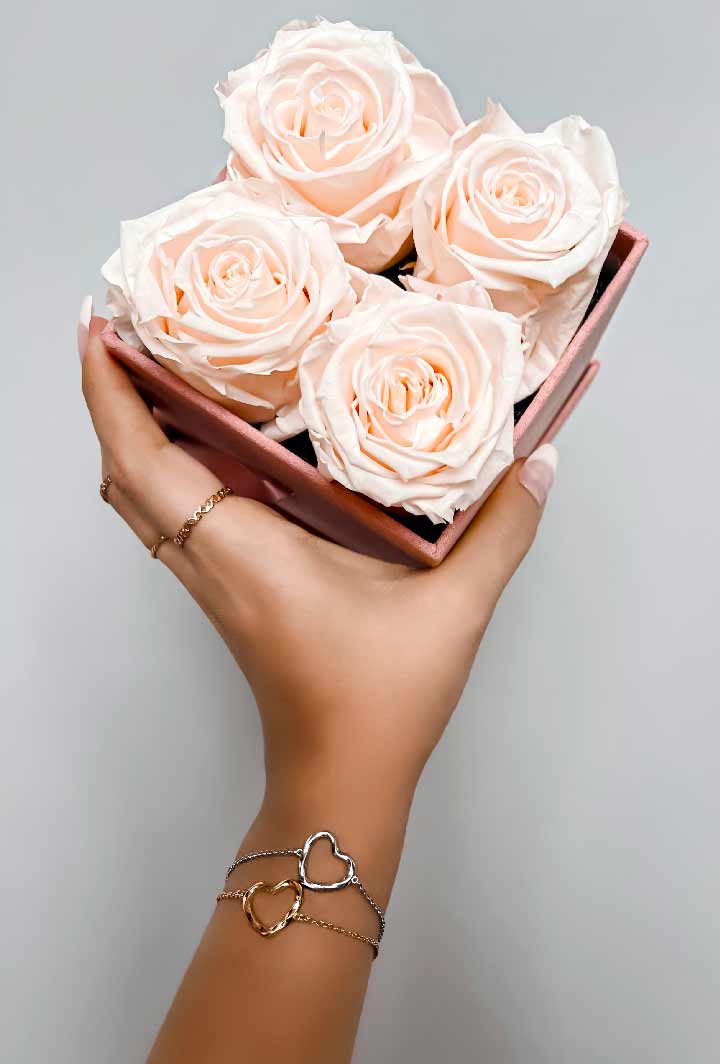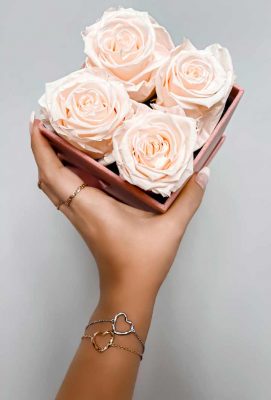 Because you're buying the jewelry for a few different women, make sure you go for something fairly neutral. Stick to styles and materials that would align with most people's personal taste. It also makes sense to choose something they can wear during your wedding, so try to pick a piece that looks great with their dresses.
A bracelet makes a perfect bridesmaid gift, as it's not too flashy and is easy to wear with any outfit. Thin, elongated chains are quite popular at the moment. These look subtle and classy, but are a little more interesting than a classic chain.
Of course, make sure you choose a chain bracelet in high quality materials. Gold, silver, or rhodium plated over sterling silver is perfect because it will have that high quality look, but will still be affordable. And by using a strong metal like sterling silver as the base, the chain will remain durable for years to come.
Bohemian anklet
If you're going for a lowkey, outdoor wedding, there's no reason to stick to high end jewelry.
An anklet is a fun idea as most of them likely haven't received an anklet as a bridesmaids gift before. This would be a beautiful and unexpected choice for a wedding on the beach or in a garden.
However, it's still bridal jewelry, so make sure you choose something classy. A thin chain anklet is nice. Alternatively, many handmade anklets include shells, colorful beads, and other eye-catching elements. Pick something that matches the vibe of your wedding day and that you think your bridesmaids would feel comfortable wearing.
Gemstone stud earrings
Who doesn't like stud earrings? Gemstone stud earrings are one of the most classic styles of jewelry. It's a staple choice as a bridesmaid gift, and most women would be happy to receive another pair.
Opt for gemstones that align with your wedding color palette. If your wedding features lush greens, go for emeralds. Or, if your ceremony is centered around pale yellow roses and other buttery shades, topaz would be perfect. This way, your bridesmaids can easily wear their matching gemstones at the wedding, but then keep them for the future.
When you're picking out contemporary bridal jewelry for yourself or your bridesmaids, just remember to be true to yourself. Buy pieces that align with your personality and the energy you want to capture for your wedding. This is an exciting time, so remember to enjoy it!