Wedding season (late spring to early fall) is quickly approaching! Love is in the air, and you may well have a friend or family member who will be tying the knot soon. With their nuptials quickly approaching, it's probably time to start planning your outfits and accessories!
You want to make sure you impress with jewelry at a wedding and look as stylish as possible – without outshining the bride, of course.
Depending on your style, you may want to go for a classic look. Or, perhaps you'd like to work some fun seasonal trends into your ensemble. In this article, we have some fresh ideas for each type of jewelry you can wear. However, it's also crucial to remember wedding etiquette when it comes to jewelry and outfits! Weddings are such exciting and special events. It's absolutely worth putting in a little effort to make sure you're dressed to impress.
Etiquette for wearing jewelry at a wedding
As you pick out your outfit and accessories for the big day, don't forget the golden rule: the couple getting married are the focus at all times! This doesn't mean you have to be minimalist. However, try not to wear anything too similar to what the bride might be wearing. The wedding invitation likely came with a dress code, and this should give you a good indication of what to wear.
And remember, no matter what you do, don't wear white or ivory. A little touch of white on your dress, or pearl earrings, should be fine, but don't show up in a full white outfit! This is a major wedding faux pas.
For a black tie dress code, you should be wearing a gown and heels. Stick to sophisticated, evening appropriate colors such as navy and deep red. For an event so elegant, it's best to wear high quality, designer jewelry. Antique gold earrings or a simple silver bracelet would look amazing.
For a semi-formal wedding, go for a dress that's classy, but not over the top. You have a lot of flexibility: a wrap dress, cocktail dress, or maxi dress are all lovely options. You could even wear an elegant jumpsuit. Accessorize with a cute handbag or clutch and heeled sandals. In most cases, you should be able to adorn the look with anything from tiny stud earrings to a bold enamel necklace.
What about for a beach or garden wedding? Again, it's flexible, but a pretty sundress or jumpsuit and flat or heeled sandals is likely a solid choice. For jewelry, beach beads are trendy, or you may feel more comfortable sticking to your everyday bangles and pendant combination. However, big diamond earrings or a Cartier bracelet might look a bit too flashy here.
Here are some pointers to keep in mind when choosing jewelry as a wedding guest:
Necklaces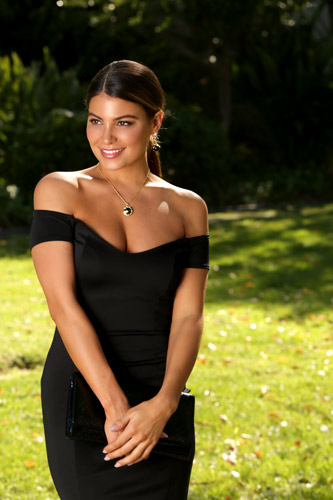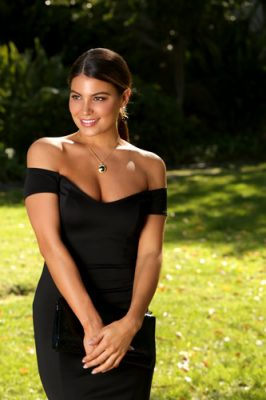 If you're wearing a plunging or strapless dress to the wedding, a necklace is a classic and stunning way to break up the outfit. There are so many varieties of necklace to choose from to impress with jewelry at a wedding. Here are some of the most popular types of necklace that you could use to accessorize your look.
Express yourself with a unique pendant necklace
Although they are a timeless piece of jewelry, pendant necklaces are definitely in fashion at the moment. A pendant is a popular style of necklace as the charm is a great means of self expression. This season, unexpected pendants are on trend: think antique coins, bright seashells, and chunks of shimmering glass. You can also opt for a timeless style such as a small gemstone, a pearl, or a classic shape in gold or silver such as a love heart. Choose a pendant which expresses your unique style! This classic style of necklace is a perfect and timeless choice.
Make a statement
You know you're not meant to upstage the bride – however, don't let this rule stop you from wearing your favorite statement necklace. Although statement pieces are generally attention-grabbing, it's a very different look to what the bride's likely to be wearing, so it's usually okay! Embrace color, patterns and unique materials. A bib necklace, metal choker or gorgeous handcrafted beads are all gorgeous ideas as jewelry for wedding guests. Just use your best judgment and make sure you aren't wearing anything that will steal attention from the bride.
Look classy with a silver choker or chain
Silver is a popular metal this season. Work it into your wedding guest jewelry in the form of a classic chain, choker – or both: you can definitely layer these types of necklace together for a stacked effect! Silver is such an elegant metal that looks cool and classy with most dresses and wedding outfits. However, if you still feel like gold suits your skin tone and personal style more than silver, don't worry! Gold is a timeless and stunning metal, so it won't look dated.
Earrings
You've likely put effort into your hair and makeup for the wedding, and earrings are a great way to draw attention to the face. For special occasions like this, you can put your daily stud earrings or small hoops aside and reach for something a little more special. Adorn your wedding outfit with dangle or drop earrings. Whether you opt for trendy enamel or crushed metal styles, or timeless gemstones, earrings are a classic detail.
Dramatic drop earrings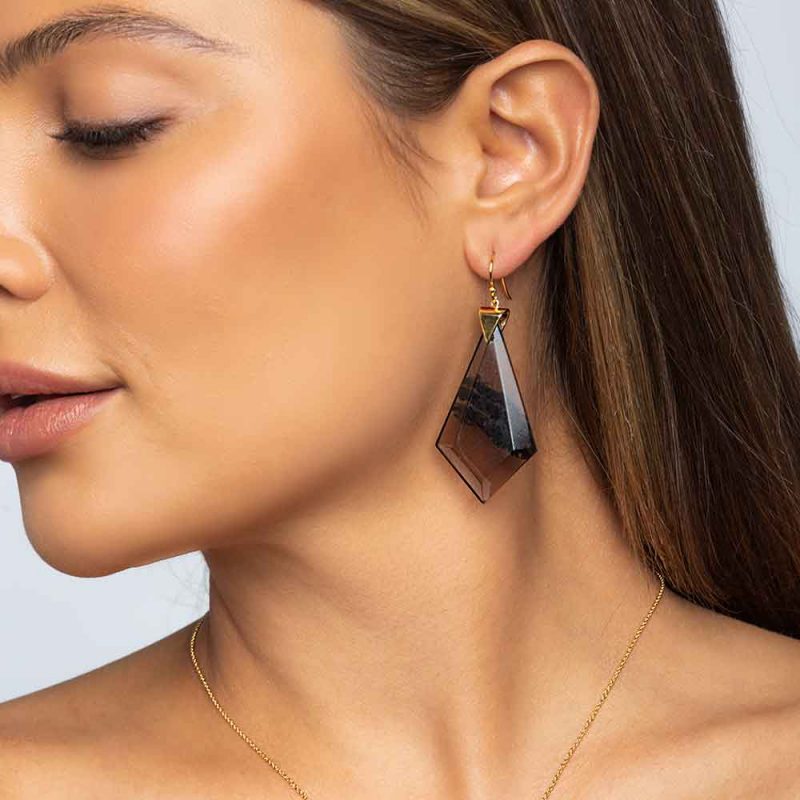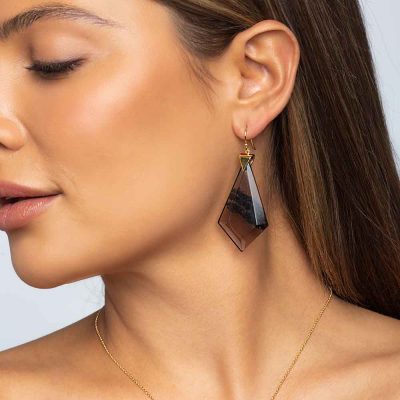 Weddings are the perfect time for artistic drop earrings. These look great with any semi-formal or formal outfit, particularly if you've chosen an off the shoulder or halter neck dress. On the spring/summer runways, we saw bold and colorful, often floral inspired, drop earrings. Have fun with textures such as tassels, sparkles, and gems. This would be such a modern and elegant look for a spring or summer wedding. Of course, you can also go for classic options, such as pearls, gold, and silver drop earrings. There are so many lengths and styles available, so there's something for every woman!
Pearl earrings
Pearls are one of the quintessential materials when it comes to jewelry for wedding guests. They look expensive and well-considered, yet won't steal the show from the bride. And if you thought pearls were just for your grandmother, then think again. Pearls have been popular on the runways over the last couple of years, so there are many trendy designs to choose from. Hoops adorned with pearls, minimalist pearl dangle earrings, or pearls combined with materials such as shells are all gorgeous and modern choices.
Bracelets
If you've chosen a dress with a high neckline, you might want to avoid necklaces and instead opt for an elegant bracelet. This type of jewelry is sometimes overlooked, but the slimming effect of a high quality bracelet on the arm is second to none.
Eye-catching cuff or bangle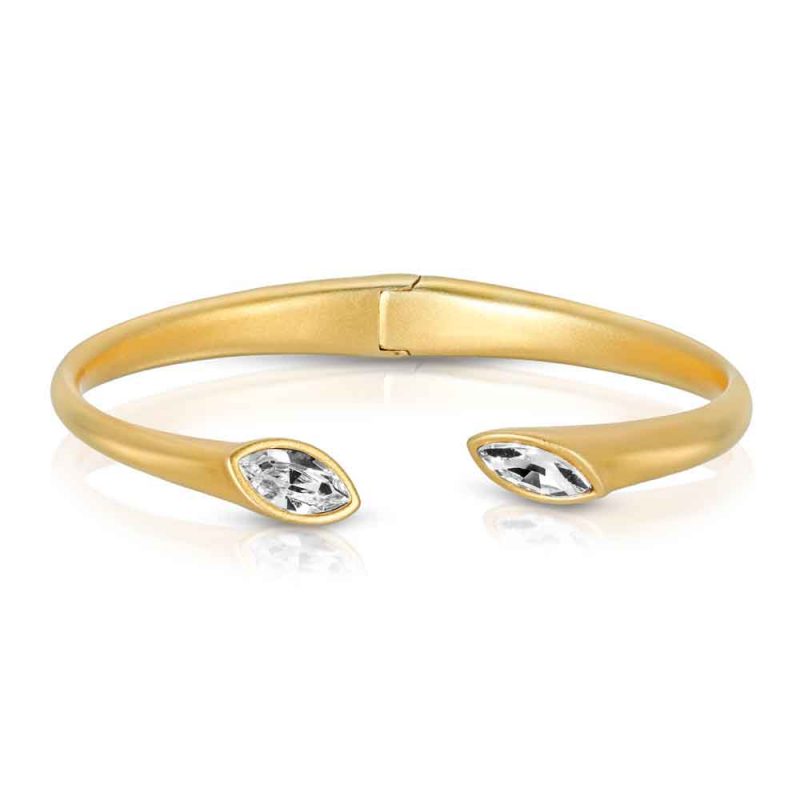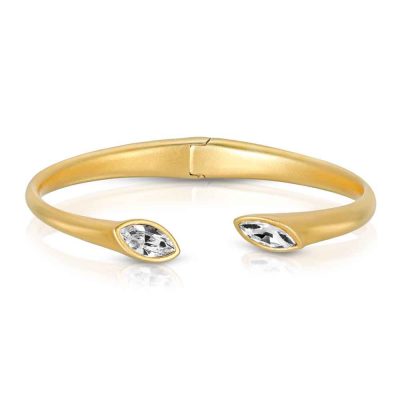 A cuff or bangle is a sure way to elevate any outfit to special occasion status. For a formal event, opt for a classic style. A single cuff or bangle bracelet in a high quality material such as gold, silver or rhodium is ideal. For a less formal wedding, you can stack your bangles for an on-trend effect. Alternatively, play around with artistic bracelets in a range of colors and materials. A wooden cuff with an intricate carved pattern or a translucent glass bangle are both unique choices for a casual or semi-formal wedding.
Tennis bracelet
If the wedding you're attending is a formal affair, a tennis bracelet is a great choice. Named after tennis player Chris Evert, this classy bracelet is a must-have in any jewelry collection. This type of bracelet consists of a line of gemstones set in metal. While these bracelets usually use diamonds, other stones are just as great to impress with jewelry at a wedding. Emerald, topaz, sapphire or ruby are all gorgeous choices that can harmonize with the hue of your evening gown.
Charm bracelet
A gorgeous silver or gold chain, adorned with personalized trinkets and charms, is lovely for any level of formality at the wedding you're attending. Once they get filled up, charm bracelets are often too heavy and jingle too much for daily wear. However, the precious charms make this a feminine and beautiful choice. The overall effect of a charm bracelet is decadent and the sentimental energy is perfect for a wedding.
Impress with jewelry at a wedding
There are so many beautiful jewelry options for you to wear at a wedding. Classy bracelets, necklaces and earrings are all amazing types of jewelry for wedding guests. However, don't stress too much about finding the perfect outfit. As we all know, the focus isn't on the guests.
Remember that weddings are made to be enjoyed by the happy couple and all the people they value enough to invite to witness their commitment. The best way to impress at any wedding is to enjoy the spirit of the day and the celebration of love!