Being stylish and on-trend is a huge boost for anyone's self confidence.
One of the simplest things you can do to boost your outfits is to make sure you're wearing the 2021 fashion colors.
Through fashion and artistic expression, many designers and individuals are creating feelings of hope.
Many of the key shades this year are warm and optimistic. From sunny yellows and tangerines to cool purples and grays, each color is perfectly stylish. Pair outfits in these colors with chic sunglasses and fresh jewelry trends to complete the look.
Enjoy this article, where we explore some of the most popular colors we've seen on the runways this year, and how to make them look great.
Pantone colors of 2021
If you're wondering about the top fashion color trends for 2021, the first place to turn to is The Pantone Color Institute.
Each year, their team of researchers carefully analyze trends and travel the world to seek out the official color of the year. Pantone's Color of the Year impacts design decisions for companies across hundreds of industries, from furniture stores to fashion houses.
This year, their team decided on not one but two colors for 2021. They are called Illuminating and Ultimate Gray.
Illuminating
The first color of the year is a bright yellow hue. The shade is warm and evokes sunshine, lemons, and a cheerful spirit. We have seen many other bright colors similar to Illuminating on the runways this year. This is likely due to the difficult year we've had: warm and sunny colors signal feelings of hope.
On the runways, colors such as Illuminating made their way into beach and boho inspired looks. This shade lends itself perfectly to sundresses and light blouses paired with a woven bag or light sandals. Lean into the sunny energy with gold hoop earrings, or get a little bohemian with the beach beads trend we've been seeing all over the catwalk.
Being so eye catching, Illuminating also makes a great statement color. A leather handbag in this hue or bright yellow sunglasses are great ways to liven up any outfit. You can also look for pieces such as sneakers or sweaters which feature just a little of this bold color as a fun accent.
Ultimate Gray
Pantone's second color of the year is a cool gray. This color represents values such as dependability and steadiness, which have been so vital in these hard times. A little utilitarian, Ultimate Gray is also a soothing shade, and makes one think of pebbles and clouds.
Ariana Grande's famous strapless ballgown at the 2020 Grammy Awards is a perfect example of this fashionable color. She looked absolutely elegant and timeless in this piece, which she paired with 30 karat diamond stud earrings.
Ultimate Gray is a modern yet timeless neutral, so it works well with many looks. A wool coat or chunky knit in this color would look great. Such classic hues tend to pair well with traditional accessories, such as gold or rhodium plated jewelry.
This color is also expected to be one of the workplace staples among the fashion color trends for 2021. Go for an Ultimate Gray blazer, paired with silver earrings to play up the ultra-modern metallic monochrome style.
Other 2021 fashion colors – and how to wear them
While Illuminating and Ultimate Gray are both expected to be some major fashion color trends for 2021, they aren't the only shades we've seen on the recent runways.
It's clear that many designers have seen the pandemic as a key time to work themes of hope and joy into their color palettes. Pining for the outdoors while stuck in lockdown, many designers have also drawn inspiration from the natural world.
Here are some of the key 2021 fashion colors that we expect to see all over the streets this year.
Sky blue
It makes sense that after months indoors due to lockdowns, designers would start longing for the sky's beauty. Azure garments have appeared on the runways of Boss, Fendi, Acne, Hermes, Tom Ford and more.
Blue is such a versatile color. It can be perfect on a floaty sundress paired with light sandals and as a summer look. On the other hand, a sky blue blazer or blouse is a key piece of a stunning professional outfit. No matter your personal style and taste, there's likely a space for sky blue in your wardrobe.
As a cool toned color, you'll find that sky blue looks best with jewelry in similar tones. Silver dangle earrings, bangle bracelets and chains are all great and trendy jewelry choices.
Bubblegum pink
Bright and popping pink has had a hold on the runways recently, and is definitely one of the key 2021 fashion colors. This eye catching hue comes in a range of tones – from fuchsia to hot pink to pastel.
This year, pink isn't just a girly color for expressing femininity through babydoll dresses and strappy tops. Bubblegum pink is all about boosting moods and having fun. For instance, Chanel had some popular fuschia jeans in their Spring 2021 show. Tom Ford, Versace and Valentino also had big and bold hot pink items in their collections, such as shirt dresses and suits.
This color was also a popular choice for celebrities at the Grammy Awards in March 2021. Dua Lipa, the top female artist in the world, was having fun with the color when she performed in two bright pink outfits. She went for a custom Atelier Versace gown in magenta. She then switched to a sequin two-piece by the same designer, paired with sparkly pink ankle boots.
If you're going for a full bubblegum pink look as we saw in many runway shows and in Dua Lipa's show, adorn it with jewelry that matches the same energy. Look for bold and confident pieces, such as a chunky chain necklace or cuff bracelet.
Tangerine
On the runways in past seasons, orange has appeared in fluorescent shades. This year, the color has cooled down to a more nature-inspired and gentle tone. The tangerine we have seen on the runways from top brands like Dior and Valentino is very earthy.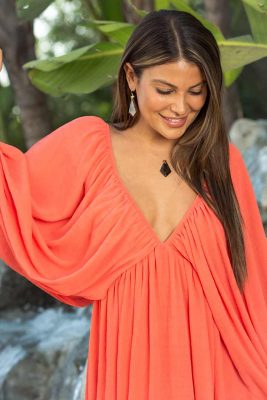 Tangerine will be perfect for fall and spring. It looks great as an interesting yet understated addition to a wardrobe full of neutrals. Try tangerine colored basics, including button ups and midi skirts. We have also seen this color appearing on long sleeved maxi dresses. With its autumnal, "pumpkin spice" evoking tones, try it as a cooler weather knit or cozy cardigan.
Being very earthy and warm, this shade of orange will look beautiful with gold jewelry. Anything too shiny may overpower the color, so opt for muted gold earrings or necklaces. Other outfit details could include brown leather shoes or bags and amber-toned sunglasses to add to the natural-themed palette.
Pale yellow
Just as 2019 and 2020's bright oranges have shifted into a warm and wearable tangerine, we've seen a similar thing happen for yellow. Yes, Illuminating is the color of the year, but it may be too bright for some. A pale, buttery yellow is a more subtle choice.
With pale yellow, we still get the fun and happy vibes yellow is associated with. However, buttercream shades make a highly elegant neutral. On the runways, many designers paired this color with crystals and gemstones. Diamonds, and even pearls, make this color even more glamorous.
Pale yellow looks great as a trench coat, a sweater or a semi-casual blazer. Try it as a layered basic, or go for a full monochrome look. Items in this color look great with bold jewelry, as they make the look more dynamic. Think striking charms, pearls, large pendant necklaces, and unique earrings.
Digital lavender
In April 2021, the trend forecasters of WGSN and Coloro sent out a press release for the 2023 Color of the Year. The color is Digital Lavender. Sure, 2023 is a bit ahead of the times, but we're also seeing this color appear as one of the fashion color trends of 2021 and it's definitely turning heads.
This gorgeous shade works nicely for people of all ages and skin tones. The press release claims that Digital Lavender is great for all genders and that younger people are already starting to wear it. They state that the color "signifies that stability, serenity, and digital escapism that so many of us have built into our recuperative rituals to both protect and improve our mental health in challenging times."
It's true that this powdery purple is a very calming and color. It's also surprisingly versatile. Try it as a color for a suit or as a refined slip dress. You'll also find that it layers nicely with other trendy pastel colors such as mint, and pale yellow.
As a cool toned color, it looks perfect with silver jewelry. Fine chains and pendant necklaces look great with this delicate shade. If you're really wanting to look ahead and be forward thinking with your 2021 fashion colors, look no further than Digital Lavender.