It's hard to believe that the holidays are already just around the corner. Thanksgiving, Christmas, Hanukkah, New Years, and all the other holidays are always a time to celebrate, but the 2021 holiday season is extra special. With relatively eased social distancing restrictions, we will enjoy the festive season with our friends and family. There's no better way to get in the spirit than with a great holiday party outfit.
What you decide to wear to a holiday party will depend on the type of event you're going to, the weather where you live, and your own personal style. In this article, we have a few great outfit ideas that will suit a range of occasions.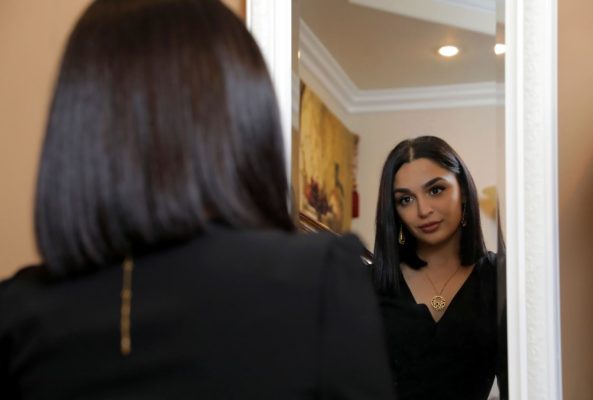 The office holiday party
Who doesn't love a good work Christmas party? When picking your office holiday party outfit, make sure you consider what your workplace is like. Retail staff doing a fun get together after hours is likely to be much more casual than an in-office Christmas lunch at a bank. Have a think about what your coworkers are likely to wear and, if in doubt, lean on the side of conservative.
Eye-catching shirt and sleek pants
For a work holiday party, you might choose to simply put a more festive spin on your classic work look. If you usually wear elegant trousers and a button-down to work, you could keep these items but switch out your standard top for something a little more fun. Go for a shirt in an interesting material, such as velvet or a shimmery fabric. Keep the look elegant with heels, a gold or silver pendant necklace, and a few bangle bracelets.
Classic jumpsuit
A long-legged jumpsuit in an interesting fabric like silk or lace is a great choice for a work Christmas party. These always look elegant, but aren't overly formal once paired with casual jewelry like stacked bracelets or simple hoop earrings. They're also super easy to style – all you need to do is throw on your favorite heels. If you're cold, a cropped blazer makes a great addition to this look.
Tartan or tweed
Bright red tartan is often associated with Christmas, and tweed is similar. Both tartan and tweed have a warm and cozy look that gives a festive vibe. Choose a bold focal point for your holiday party outfit, such as a tweed pencil skirt or tartan trousers. Add heeled ankle boots, a cute turtleneck, and throw on a blazer. Since these fabrics can often seem a bit conservative, you could add some more pizazz with some twinkling earrings or a few bangles.
The smart casual gathering
A lot of people enjoy getting together with friends or neighbors for an evening holiday party. These events can be a little tricky to dress for – you don't have to be as conservative as you might at work, but you still want to look classy. Here are some go-to ideas.
Cocktail dress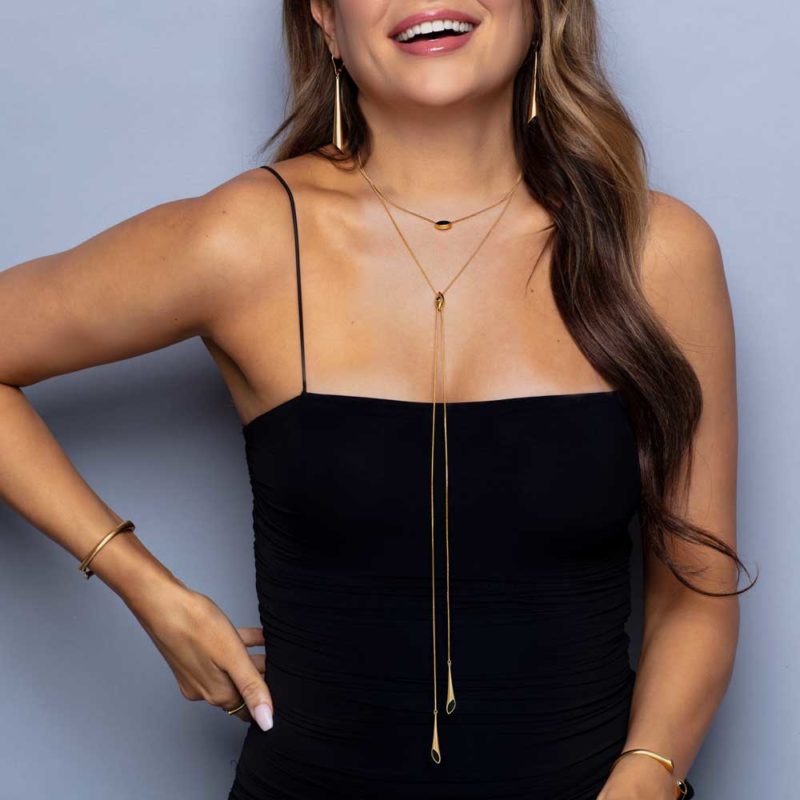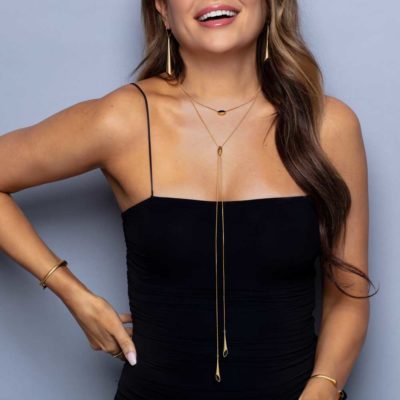 For a smart casual party, a cocktail dress is definitely a go-to. These dresses are a bit longer than a minidress, which means they're fairly casual, but also a bit dressed up. For a Christmas party, don't be afraid to get a little creative with the look. Go for sequins, puff sleeves, or bold prints. These dresses also look great with eye-catching statement jewelry, like enamel pieces or thick chain necklaces.
Wide leg pants
If you're just not feeling a dress, then why not opt for some nice wide leg pants? Wide leg pants have the flow of a dress, but many people find them more comfortable. Look for a high quality fabric that drapes nicely. You may also decide to go for a paper bag waist, belt, or tied waist, to create that flattering hourglass shape.
For an evening event, you should likely stick with a solid color. Patterns are cute, but on these pants they give more of a daytime vibe. Wide pants also often have a bit of bulk, so try to make your top half look a bit smaller to create contrast. Go for a crop top, tight fitting turtleneck, or a delicate blouse. Finish the outfit with a clutch, nude lipstick, and simple gold or silver jewelry to fully achieve the off-duty model look.
The daytime soiree
If you live in a warmer climate, you may find yourself getting invited to a daytime holiday party. If you're used to celebrating the holidays in the evening, you might feel a little confused about what to wear. Opt for Christmas-y colors (like white, red, and green) and don't be afraid to add some sparkly jewelry.
Classic summer dress
For a warm weather holiday event, you could simply wear a cute, printed sundress. Bold and abstract prints are very trendy this season, but if that's not your style, you can never go wrong with a cute floral. Pair this casual holiday party outfit with a trendy headscarf or bandana, layered necklaces, sandals, and a shoulder bag.
Knitted dress
Crocheted and knitted sundresses are one of the biggest trends this year. These dresses are great for the holidays, as they capture the Christmas sweater vibe, while still looking super cute. While sweater dresses have been popular in the past, they've typically been quite loose fitting. In 2021, we're all about the bodycon style.
Simply pick out a knitted dress in Christmas colors and top it off with jewelry and accessories in similar shades. These dresses look great with heels, sneakers, or boots, so feel free to get creative with your footwear.
The black-tie event
If you're heading to an elegant evening gathering, such as a dinner party, you need to make sure you put together an outfit that's very sophisticated. When the invitation says "black-tie" that means you should wear a gorgeous gown and add your most elegant accessories.
Monochrome elegance
Going for an outfit in a single shade is an easy way to give your holiday party outfit an air of luxury. A fully black outfit may be a little too sombre for the festive vibe of the holidays. Instead, lean towards elegant wintery shades such as navy, berry, or forest green.
Pair your gown with a few complementing accessories. For instance, a floor sweeping olive dress would look amazing with a green clutch and strappy heels. Finish the look with emerald jewelry, such as drop earrings and a matching pendant necklace.
Shimmering and shining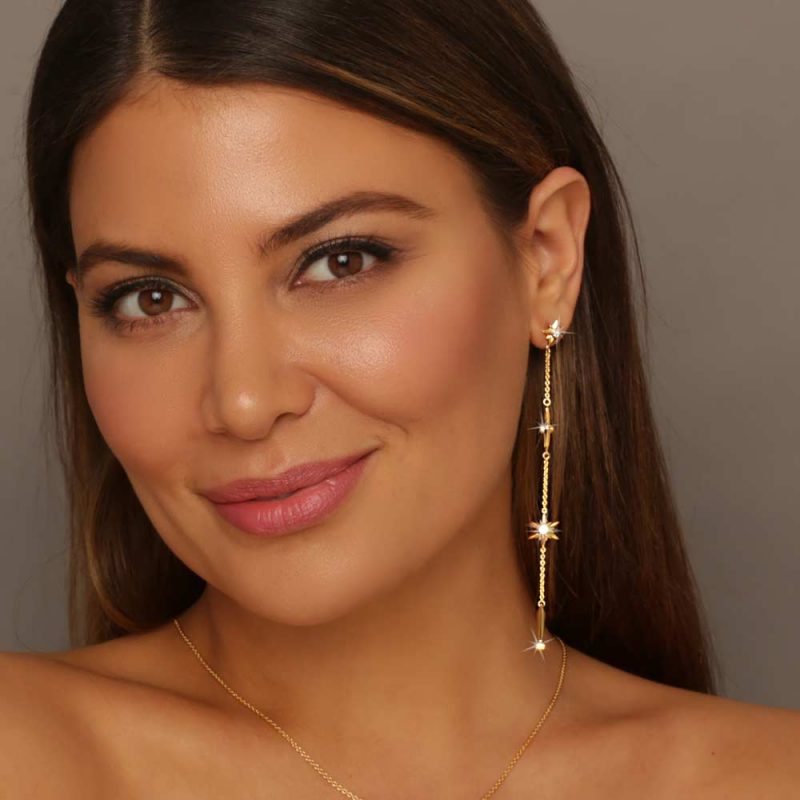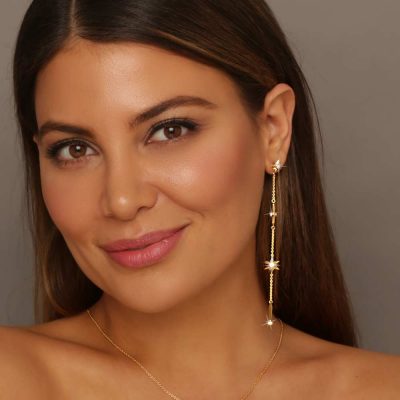 If you want to wear something a little special to your black tie Christmas party, you may decide that you want to base your look around your jewelry. Diamonds echo the exciting vibes of Christmas lights, while still being completely elegant.
If you have some bold, sparkling jewelry like dangle earrings, a tennis bracelet, or jewel encrusted necklace, be sure to keep your dress quite plain. A long-lined gown in a neutral shade is perfect – either flowing or skin tight. Don't be afraid to show a little skin: backless and strapless styles are a great way to draw more attention to your stunning jewelry.
The big and bold Christmas party
For most holiday parties, you can get away with wearing a nice outfit that you'd feel comfortable in year-round. However, if you receive an invitation that tells you to "wear something festive", that means it's time to get a little creative and have fun with your look. Finding the balance between elegant and merry can be a bit tough, but these ideas can help you get started in the right direction.
An all-red look
Of course, red is known as the classic color of the holidays. Round up all the red items in your closet and put together complementing pieces for a totally "jolly" effect. For instance, you could go for a little red cocktail dress with matching ankle boots, a clutch, and a bright red lip.
As for jewelry, gemstones such as rubies and garnets are the obvious choice. However, gold also has a warm and festive vibe, and a high quality metal like this can add a gorgeous pop of color to the look. You may decide to wear gold hoops or a bangle to add a little dimension.
Christmas sweater chic
Christmas sweaters aren't exactly known for being the most high fashion item, but they definitely have a place at fun and festive holiday parties. And you might be surprised with how cute you can make it look!
Pick a Christmas sweater in classic colors like red, white, or dark blue. For a more casual event, you could simply tuck it into jeans and wear sneakers. For a bolder look, a miniskirt and knee-high boots is perfect. Finish this Christmas outfit with a pom-pom beanie, a boldly colored lipstick, and hoop earrings.
Have fun with your holiday party outfit
The festive season is a time to spread joy and celebrate with the people we love most. Don't worry too much about putting together the perfect outfit. If you're in doubt about what to wear, simply reach for clothes and jewelry that make you happy – the best accessory for the holidays is a smile.