Every single day, thousands of women around the world stand in front of their mirror, getting ready to go on a first date. You probably know from experience that choosing your first date outfit, jewelry and accessories isn't easy. You want to look cute yet mature, and fun yet sophisticated. It can feel so hard to know exactly how to strike this balance.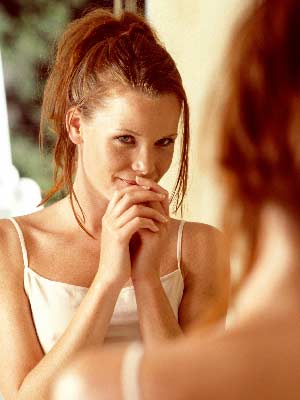 There's no one size fits all method for choosing how you present yourself on a first date. It really does come down to your personal style and the activity the date will involve. What you wear for bowling will be different to what you wear to a four star restaurant.
However, we have some tips to consider to make sure you're choosing jewelry that will help you look and feel your best – and impress your date.
What do you know about the activity and vibe?
Before deciding what jewelry to wear, consider where the date is located. Many dates involve going out to eat. So, if you're going to a restaurant you've never been to, you might want to look it up first to get a feel for the dress code.
If it's a high end place, you will likely feel most comfortable wearing a nice dress, skirt or tidy trousers. You could add dangle or drop earrings and some of your higher end jewelry pieces to add some elegance to this look. Or, you might find that you're headed to a more casual lunch spot. In this case, it's best to opt for a lowkey ensemble such as jeans, a funky top, stacked rings and hoop earrings.
A daytime, outdoors date will have a much more laid back dress code than a sit-down meal or even coffee dates. For a walk at the beach or on a picnic, you want to keep things casual and comfy. Lean away from heels, dresses, tight skirts, or artistic statement jewelry. Instead, go for something simple like a sundress and cute sneakers with simple stud earrings and a pendant necklace.
What do you know about him (or her)?
You might be able to identify some clues about what styles might impress your date based on what you already know about them. You can certainly use this information to your advantage and perhaps get inspiration for your outfit and accessories.
For example, if a friend set you up, she might let you know that he's an ambitious young professional working for a bank. Showing off some of your stylish and expensive jewelry in silver and gold could be a good way to spark this guy's attention. Or, maybe you know from his dating profile that he loves thrift shopping and alternative style. He might be interested in the antique mother of pearl earrings you found at a vintage store.
There's nothing wrong with doing some research about who you're meeting. Considering the little things like this can be the key to a great first impression and getting things off on the right foot.
Choose your earrings carefully
Rings, bracelets or a necklace are all optional for a first date. But, there's one item of jewelry that simply can't be overlooked, and that's earrings. Earrings are crucial for a first date because they frame the face. This will keep your companion looking at your gorgeous face and into your eyes, which is key for developing a romantic connection.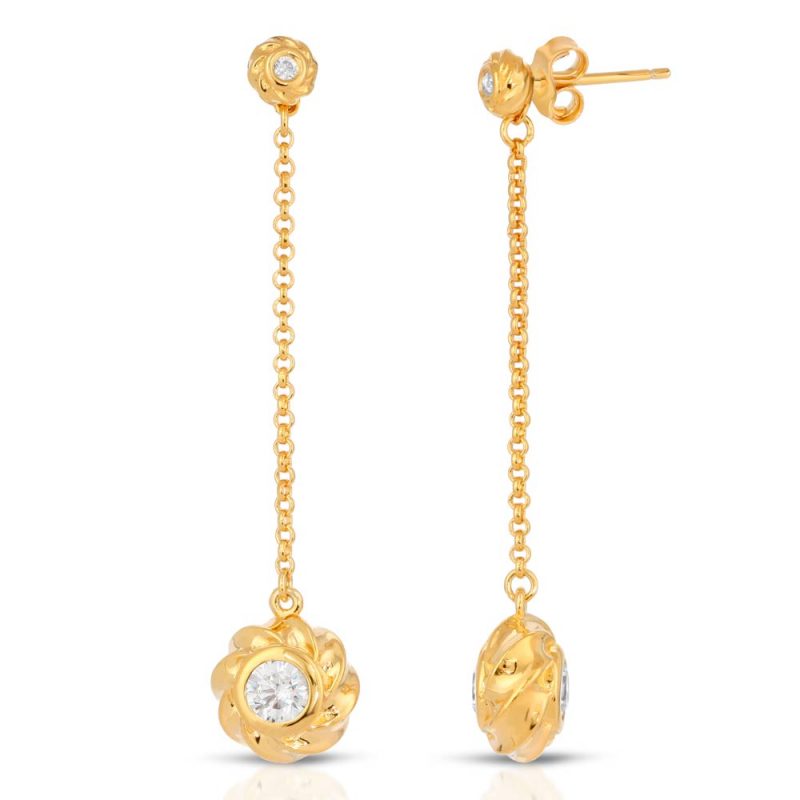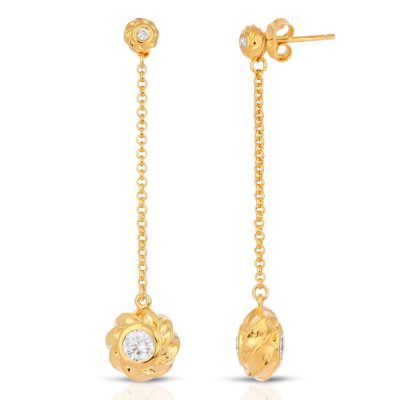 Choose earrings that aren't distracting but are attention grabbing enough to have them look at you. For instance, medium sized hoops are a great option. You could also go for a simple dangle earring made of an elegant material like gold, rhodium or silver.
If you're going on a casual picnic and feel most comfortable in studs, you might want to pick studs with a jewel or crystal. When the sunlight bounces off them, it will catch your date's eye and make you look positively radiant.
Play up your best features
Just as you can draw attention to your face with earrings, you can accentuate other things. You probably know yourself and know your best features. So, use this knowledge to your advantage. As you get ready, play around with your different types of jewelry and find pieces that draw the eyes to where you want them to be.
For instance, if you've had your nails done and you love your hands, draw attention to that part of your body with a ring. Bracelets are a very feminine type of jewelry, and bangles in particular are ideal for making the arm look slim and beautiful.
A short necklace will draw attention to your slender neck, whereas a longer necklace and plunging neckline can be a very sexy look. There are so many ways to highlight your best features, and doing this will also help you feel confident, which is great.
Jewelry to avoid for a first date
There's a few types of jewelry that you might want to avoid for a first date. This isn't because there's anything wrong with these types of jewelry, but when you're getting to know someone you want all the focus to be on you. Certain pieces that are too flashy and showy could distract from your looks or personality.
Too many colorful bracelets or rings isn't a good idea as you're probably going to be telling stories. If you get excited and animated, as you hopefully will, you're likely to talk with your hands a lot. You want your date to focus on what you're saying, not distracted by your jewelry.
In general, you should avoid wearing anything too big and bold, such as big pearls or strings of colorful beads. You want to look elegant and comfortable in your outfit. It's important that your jewelry and accessories simply support your natural beauty and personality, rather than overwhelm.
Wear jewelry that expresses who you are
Don't forget that at the end of the day, a first date is about getting to know someone and seeing if you two are compatible. The best way to do that is to express yourself honestly and openly through your outfit and jewelry. You don't need to try too hard. Choose the pieces of jewelry that you feel most comfortable and like yourself when you wear.
Because you want to feel genuine and at ease, it's often best to reach for your daily staple necklaces and earrings. With the right jewelry, he or she will be so impressed by your confidence and bubbly personality. If your first date jewelry makes you feel true to yourself, you've probably made the right choice. Good luck!