It's coming into summer, and we all know what that means: it's time for a much-needed holiday with your family and friends. Plus, the vaccine roll-out is finally making vacations a possibility again. If you're getting geared up for a big trip, there's a lot to plan.
One of the many things you'll need to consider is how to travel with expensive jewelry.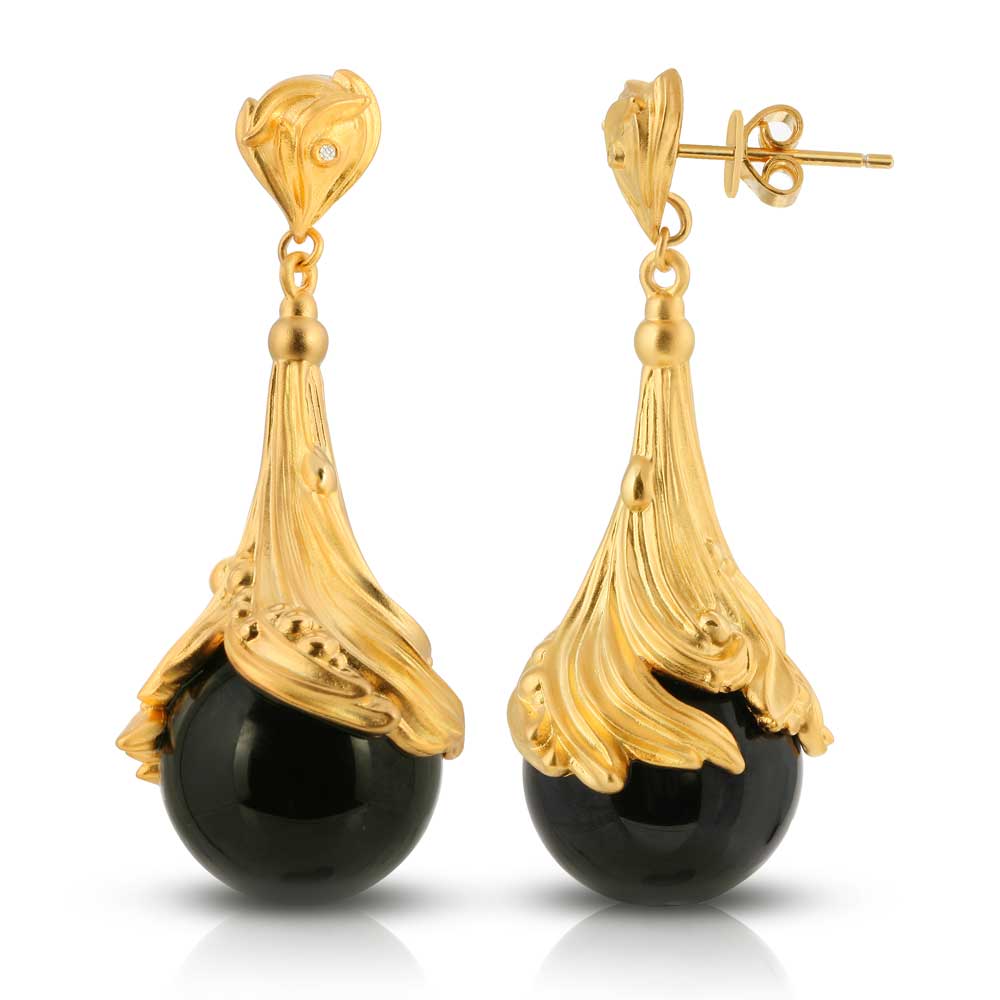 If you have expensive designer jewelry, you don't want to spend your whole flight or long drive worrying about your pieces. Even if your jewels aren't worth thousands, you probably have a strong emotional attachment to them. Therefore, it's vital that you take steps to make sure that your bracelets, earrings and necklaces are safe and secure. After all, taking a holiday is all about relaxing and leaving your troubles at home!
There are steps you can take both before and after you leave to make sure your jewelry stays totally intact on your journey. With a little planning, you'll never stress about traveling with your jewelry again.
Getting prepared before your trip
Carefully consider what pieces you'll bring
The pieces you decide to bring will depend on the purpose of your travel. For most short weekends away, it's probably simplest to leave most of your expensive jewelry at home.
For many people, one of the biggest dilemmas is about bringing their engagement ring with them. It's likely your most expensive piece, and many women wear theirs all the time and feel strange taking it off. But, depending on where you're going and what you'll be doing on the trip, it may be wise to leave it at home.
Dainty stud earrings, a chain necklace, or bangle bracelet are all great, neutral choices that you can wear with any outfit. Remember to add one or two artistic statements or trendy pieces of jewelry. You're on holiday – it's time to have fun.
However, if you're going away for a longer time or need a special piece for a certain outfit you've got planned, you may want to bring all or most of your jewelry with you. So long as you're careful about keeping it safe, then why not? Trips are a great opportunity to express yourself through your accessories!
Make an inventory
While you're packing, take photos of all the rings, earrings, necklaces and bracelets you're adding to your luggage. Or, you can make a note in your phone listing all the jewelry you're bringing with you.
Having an inventory of the pieces you brought means that as you get ready to come back home, you can make sure every piece is accounted for. It can also come in handy if you need to file a police report for any reason, as the inventory will count as proof of ownership.
Consider insurance
If you're traveling with pricier pieces, make sure your jewelry is insured. It's also best to check that your cover includes travel to the destination you're heading to, particularly if you're going overseas. You also may need to notify your insurance company of travel, so make a note to do that before you leave.
Put jewelry in your carry-on luggage
If you're traveling by plane, make sure you put your jewelry in your carry-on luggage. Checked bags are much more likely to get lost. Being able to see and easily access the bag containing your jewelry will also give you some peace of mind.
Keep the bag with your jewelry in sight at all times. The vast majority of airport staff, cab drivers, and porters are trustworthy, but you can never be too careful.
How to travel with expensive jewelry: tips and tricks for packing
Considering how you pack is a key way to make sure your jewelry stays safe and doesn't get tarnished. Whether you use a travel case or a DIY packing method, putting a little effort into its storage is a key way to make sure your pieces are safe. Here are some great options.
Travel jewelry case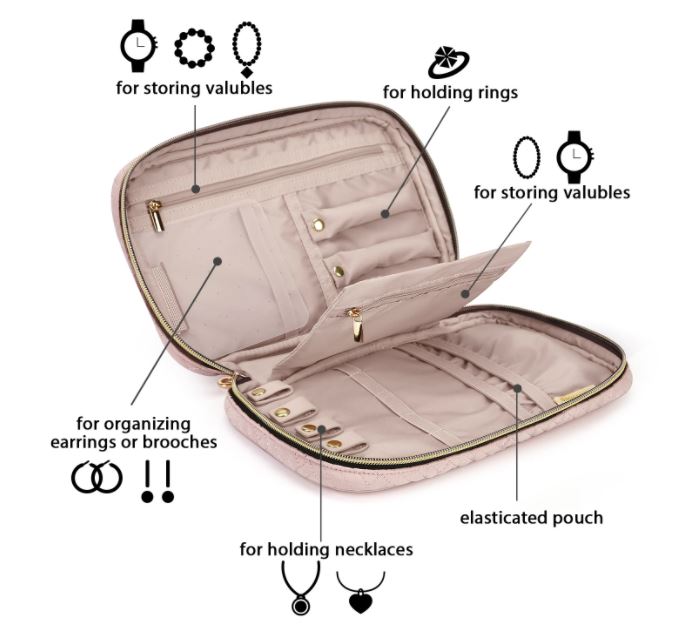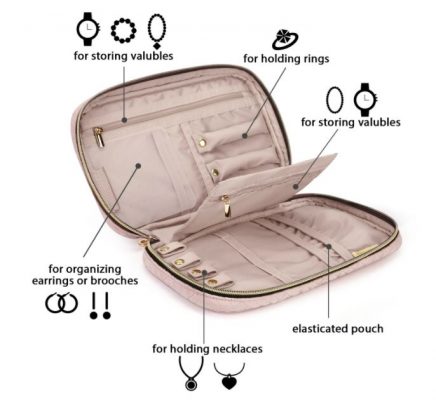 A travel jewelry case, sometimes called a travel jewelry organizer, is specifically designed for storing your pieces while you're on a trip. If you travel often, it may make sense to invest in one.
Look for a case with many compartments. Splitting up your pieces is a great way to keep necklaces free from tangles, and prevent your softer gemstones and metals from damage.
Jewelry roll
A jewelry roll is a fantastic alternative to a travel jewelry case. Made from a soft fabric such as silk, it packs down much smaller than a case. Simply lay out your chosen jewelry on the roll and then roll it all up into a compact package.
Jewelry rolls are often made from high quality fabrics and come in a range of gorgeous patterns and colors. It's often a good idea to choose a bright color. While neutrals are very sophisticated, a bold fuschia or orange is a great way to make sure this stands out in the depths of your bag.
Silk or felt jewelry pouches
If you don't have a case or roll, or just want to go the extra mile with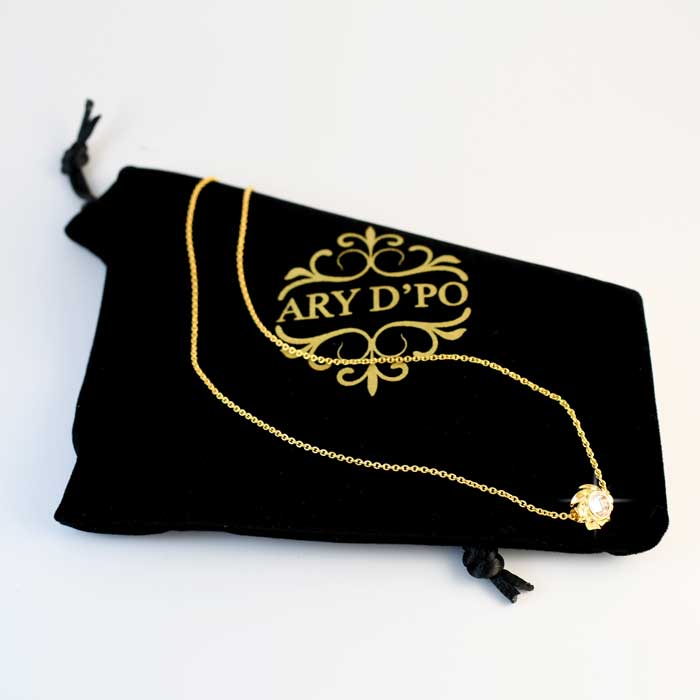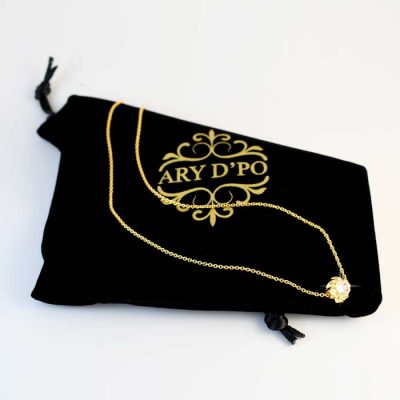 some of your individual pieces, there are many other great and creative options for keeping them safe.
A felt or silk jewelry pouch is specifically designed to keep your pieces free of moisture and prevent tarnishing. These little bags usually come when you buy a new necklace, bracelet or earrings. You may have some at home already that you can bring out for your trip.
Resealable plastic bags
If you don't have many fabric jewelry pouches on hand but have other pieces you want to bring, consider using small, resealable plastic bags.
Tiny ziplock bags aren't quite as luxurious as silk or felt, but are still a great way to keep your jewelry organized and tangle-free. Plus, as they're clear, they have the added perk that you can easily tell what's in them without opening them up.
If you decide to go down this route, put one necklace, bracelet or pair of earrings into each bag. Then, add all the little bags into one bigger bag, to keep them all together.
Cardboard for earrings
This is a great way to keep your earrings organized while you're traveling. Take a small piece of cardboard, such as a business card, and poke some holes in it using a needle or pin.
Then, you can insert your earrings into the holes and do up the backs. Simply wrap a piece of silk or other fabric around the card and add it to the rest of your jewelry collection.
Straws for necklaces
This is a great DIY packing hack for jewelry. Keep your necklaces free of tangles by putting one end of the chain through a plastic straw and then doing up the clasp. Stick to one necklace per straw.
Daily pill box
This is a creative but highly effective way to pack jewelry for your trip. Why buy a new travel jewelry case if you already have a seven-day pill box at home?
Simply take the box and add one necklace, bracelet or pair of earrings to each compartment. Being separated from each other, they'll never get tangled, but all your pieces will stay together.
Managing your pieces once you get there
You also can't just forget about your jewelry once you get off the plane. After arriving in your hotel, check everything is in order and hasn't been damaged. Then, throughout your trip, make sure you're doing all you can to keep your jewelry safe and secure. Here are some tips for looking after your jewelry once you've reached your destination.
Keep your jewelry in a safe
Never leave jewelry laying out in the open in your hotel room. Most hotel rooms will have a safe for your valuable items. If not, you might want to ask the hotel staff if there's a safe behind the desk you can use for your most valuable pieces.
If it comes to it, you can keep your jewelry in a few different places around the room. If it's not in a safe, it's best to split it up into two or three piles. Hide some of it under the mattress, or keep some tucked discreetly under or inside a cupboard.
Don't flaunt it
If you're in a slightly dangerous or unknown area, it's best to either leave jewelry in the hotel room or take steps to conceal it. This is particularly true when you're out on the street at night, or in any more vulnerable position.
Only wear jewelry when it's safe to do so
Theft isn't your only concern. There are activities during which you need to take your jewelry off. This includes anything outdoorsy and active, where it risks tarnish.
Traveling with jewelry
Traveling with expensive jewelry can be a source of anxiety for many people. However, if you follow these tips for before and during your trip, you'll be able to enjoy the stress-free break you deserve!