There are many reasons to incorporate jewelry into your daily look. Maybe you want to try a new trend, or simply want to add dimension to your outfit. Or, perhaps you want to use jewelry as a tool to draw attention to one of your best features. We all have that one feature we feel particularly confident about, so why not draw eyes to your effortlessly chic hair or that summery tan? In this article, we have all the information you need about how to wear jewelry to highlight your natural beauty to its fullest extent.
How would you wear jewelry to highlight your natural beauty?
Maybe people always tell you that you have gorgeous eyes, or express envy about your elegant long neck. You can use earrings or necklaces as tools to elevate these parts of your body, so they get the attention they really deserve. When you wear jewelry that draws attention to these parts of your body, you'll feel more confident. What part of your natural look would you want to highlight?
Your long and elegant neck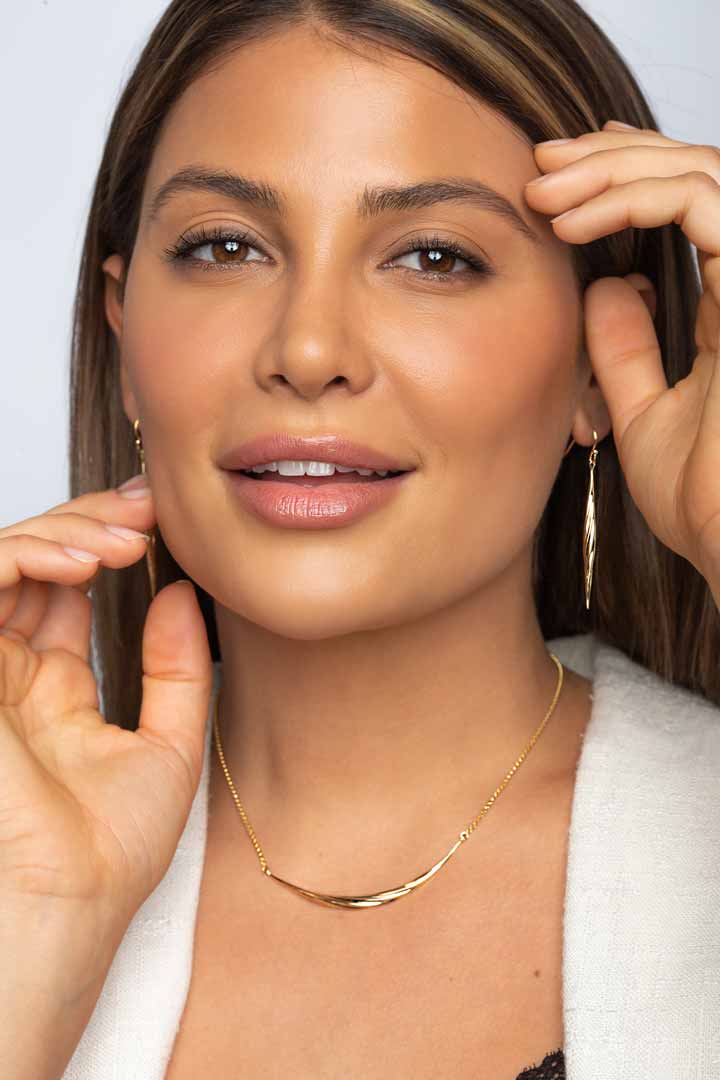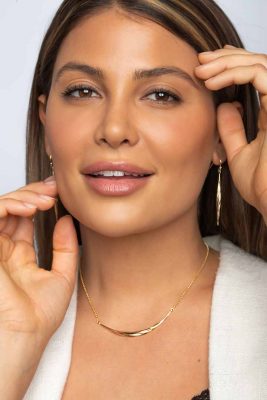 A long and lean neck is often considered a very elegant trait. It can even make you look taller or leaner. You may not be blessed with a naturally long neck, but luckily it's one of the easiest features to create an illusion of. It's all in the necklines – go for plunging necklines, off-the-shoulder tops, strapless dresses, or V-necks.
You can further create the illusion of a long neck with the right jewelry. A pendant necklace tends to fall in a "V" shape, creating an arrow leading toward the torso, which leads the eye down and makes the neck look longer. Dangle earrings can also be a great trick. This is because the long earrings create two straight and parallel lines on either side of your neck, streamlining the space between your head and shoulders.
Elegant hands and nails
If you have gorgeous fingers and want to show them off, then consider wearing jewelry that brings attention to the hands. Another reason you might want to draw the eyes to your hands is if you've recently gotten your nails done. If you're splashing out on gorgeous sets of acrylics, you want to make sure they get noticed.
Of course, rings and bracelets are the perfect choice for highlighting your hands. And there's no better time to do it, since eye-catching rings are such a major trend of 2021. Recently, brightly colored, chunky plastic rings have been all over the runways. A bold resin ring is the perfect way to highlight your gorgeous hands, and stay on trend while you do it.
Sparkling eyes
Eyes are widely considered to be one of the most attractive parts of a woman. They say that "the eyes are a window to the soul". Through her eyes, you can tell a lot about a person – her kindness, her passion, and her energy. If you're proud of your striking eyes, highlight them with gorgeous jewelry.
Bringing out your eyes with necklaces, bracelets, and earrings is more about color than the type of jewelry you choose. Gemstones are always a great choice, as their sparkly quality will parallel your eyes, giving you an all-over radiant effect. For blue eyes, sapphires are perfect. For green and hazel, a darker stone such as emerald could be the best choice.
Unfortunately, rings and bracelets are a little far away from the face, so they're not the best types of jewelry for highlighting this feature. For the fullest effect, it's recommended to wear earrings or even a necklace in a shade that will make your eyes pop.
Your summer glow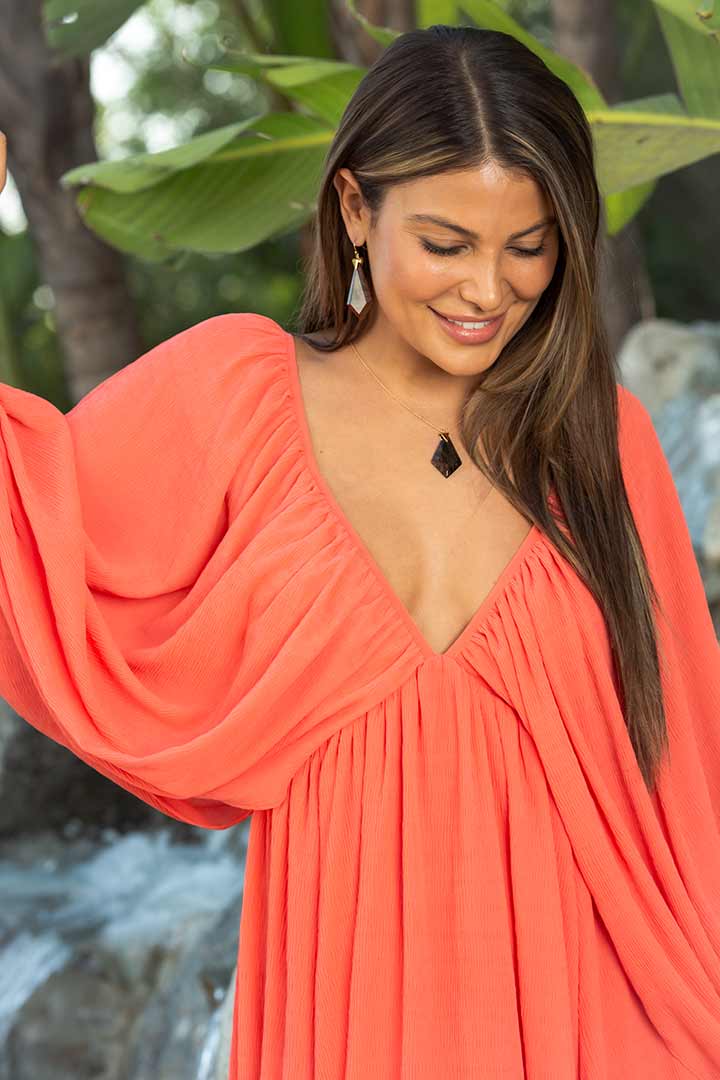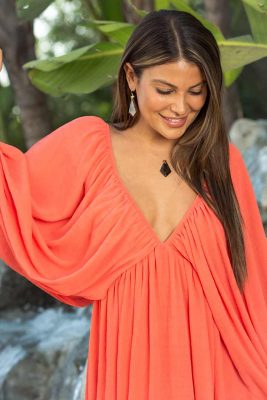 Everyone's been loving the beautiful sunny weather recently, and if you're lucky, you may have earned a gorgeous tan. To make the most of your sun-kissed skin, why not draw attention to it with the right jewelry?
It's a popular tip to use pale colors, such as white and soft pink, to create a contrast against the skin and make the tan really pop. Along with wearing pastel t-shirts and painting your nails white, use white and gemstone jewelry to the same effect. White gold and light colored gemstones such as diamonds are perfect. Beach beads have also been a popular trend recently, so grabbing a white string of beads is a perfect way to highlight the tan.
Your face
There are many reasons you may want to use jewelry to bring attention to your face. If you have plump red lips or a cute nose, you may want to highlight these facial features and look for jewelry that will bring attention to this area. Maybe you got your makeup done professionally for a special occasion, and want to get the most value out of the amazing look the artist created. Or, finally, maybe you're giving an important speech and want to make sure all eyes are on you.
Whatever the reason, rest assured – there are many ways to wear jewelry that brings attention to your face. A good rule of thumb is to wear earrings and a necklace, essentially creating three points of reference, which your face is the center of. We saw Lady Gaga do this at the 2019 Oscars with a Cartier set, and there have been recent similar looks from gorgeous celebrities such as Lily Collins and Miriam Odemba.
It's best to make sure that either the earrings or necklace are most eye-catching, and the other element is a bit more pared back. If they're all very big and loud, it can look a bit much. For instance, a bold and bejewelled necklace with complementing stud earrings is perfect.
You can also make use of makeup, in combination with jewelry, to draw attention to the face. A shimmery highlighter will lay a great foundation for the glint of your earrings. This way, when you catch the light, you'll be positively glowing. You could also try a lipstick that matches the gemstones of your jewelry. And if you're wearing crystals that match your eyes, choose an eyeshadow in a complementing shade, so you look even more striking.
Slender wrists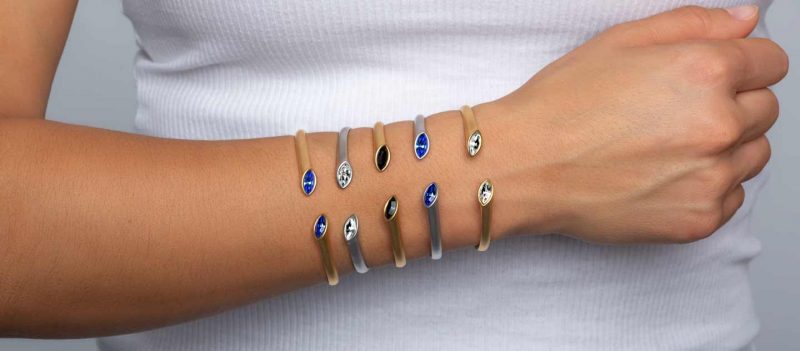 Bracelets are an often underrated type of jewelry. Depending on the style, they can change your appearance so drastically. Men often wear thick metal or leather cuffs to make them look strong and highlight their muscles. On the other hand, a subtle tennis bracelet or thin bangle can be the perfect feminine addition to your outfit.
Bracelets are often very flattering on women, as they bring the attention to the thinnest point of your arm. Like rings, they also draw the eye to your hands. So if you're wearing lovely rings and have your nails done, the bracelet can be the perfect finishing touch on your look.
When choosing a bracelet to make your wrists look lovely, keep your natural body in mind. A bold cuff will make any arm look bigger, but a bracelet that's too thin and dainty will look odd on an arm that's quite large. If you want to make your arms appear smaller, medium width bangles and bracelets are perfect – and don't be afraid to stack them up!
Your hair
Many women have amazing hair, so it's no wonder that they want to use their jewelry to highlight it. If you've got long and flowing locks, or a pile of bubbly curls, earrings can be a great way to maximize this amazing part of your appearance.
For certain types of hair, hoop earrings are a great way to balance your look. As they offer weight and curves, they add dimension to a look that may otherwise appear flat. Gold, rhodium or silver hoops are such a timeless style, and look perfect with a high ponytail or long straight locks.
For curly hair, hoops can get tangled easily. Stud earrings are often a tangle-free way to add a bit of sparkle, but keep things low maintenance. Just make sure the studs are large enough and have an eye-catching element, like a sparkling diamond. With a mass of curls, tiny, plain metal studs can get lost. However, if your hair is clipped back or tied up, hoops can complement the look perfectly!
And if you're rocking a short hair look, statement earrings are a great way to add femininity to the style. Eye-catching dangle earrings will also highlight your neck, and make you look so elegant.
Your natural beauty deserves to be seen
So much of the time, when we put on makeup, outfits and eye-catching jewelry, we just choose what's on trend. The dress, or necklace, or shoes are the focus – not your eyes, lips, or face. This is always fun and there's nothing wrong with experimenting with different styles, but all women have such natural beauty. It feels great to use jewelry as a way to play up your features, rather than hide or distract from them. When you wear jewelry to highlight your natural beauty, you'll be able to feel confident and joyful – like your most authentic and gorgeous self!