Layering a few necklaces together is one of the easiest ways to add a touch of effortless elegance to your look. However, although layered necklaces look as if they were just "thrown on", making sure they look great is more of an art than you may think. In this article, we have a few tips to help you wear layered necklaces like a true fashionista.
How to wear layered necklaces
Trying out a jewelry trend for the first time can be a bit daunting. Although there are no hard and fast rules for fashion, there are a few things you can keep in mind to make sure your layered jewelry looks chic and totally stylish.
Choose a focal point
Start with your favorite necklace, and choose other pieces based on this one. The most eye-catching necklace should usually be your focal point. For instance, maybe you want to wear your favorite pendant necklace. You could then use subtle metal and beaded necklaces in similar tones to complement the centerpiece.
Don't be afraid to mix and match
The layered necklace look is supposed to look effortless and thrown on, so it makes sense to pair necklaces you may not expect to go together. A bold chain looks great with a more subtle piece, as it adds contrast, and mixing metals is totally fine!
Add some color
It can be tempting to stick with metals for a classy look, but you don't always want things to be too monochromatic. Try to choose at least one necklace that contains a touch of color, such as a gemstone or enamel charm. It's often best to have your colorful necklace also be the shortest one, as this will help to draw people's eyes to your face.
Don't wear more than four necklaces
Layered necklaces look great, but can quickly start to dominate an outfit. To stop this from happening, three is usually the magic number. This lets you have one main piece, plus a couple of more subtle pieces to complement it. If you really need, you can go up to four, but be aware that this will look best for a casual daytime look.
Use a safety pin to stop your layered necklaces from tangling
Many women love the layered necklace look, but get frustrated with the necklaces tangling together. Using a safety pin to stop the necklaces from tangling is an easy way around this problem.
All you need to do is thread the clasp of each necklace through the safety pin, and then close it. This essentially turns the many pieces into one big necklace. If you use this trick, you may want to keep your hair done to cover the safety pin in the back.
What types of necklaces work best?
You can use any type of necklaces to achieve this look. Just make sure that they're of quite different lengths, as you don't want one necklace to be lying on top of another. About a one to two inch gap between necklaces usually works best. Here are some of the most popular types of necklace to try.
Choker
A choker necklace makes a great foundation layer for your look. These tightly fitting necklaces come in all kinds of styles and materials. A metal choker is classic, but you may choose to go for one in velvet, or even silk, for a more alternative style. Remember that the choker will be the closest necklace to your face, so make sure you choose one that flatters your colorings and aligns with your personal style.
Pendant
Pendants are one of the most feminine types of necklace, as they create a V-shape that draws the eye down the body. They work great for layering, as this shape adds dimension, and the charm creates a nice focal point for the overall look.
There are so many types of pendants that you could choose. Animal shaped pendants and zodiac symbols have been very on trend recently. Or, you may want to go for something a little more timeless, such as a vintage piece, a nature-inspired motif, or a simple gemstone.
Beach beads
Beach beads have been really trendy this summer. These fun and bright beads are a great way to express ourselves, and they add a great touch to a bohemian or earthy look. Beach beads work great as part of a layered necklace stack, as they add a pop of color and stop the look from being too one-dimensional.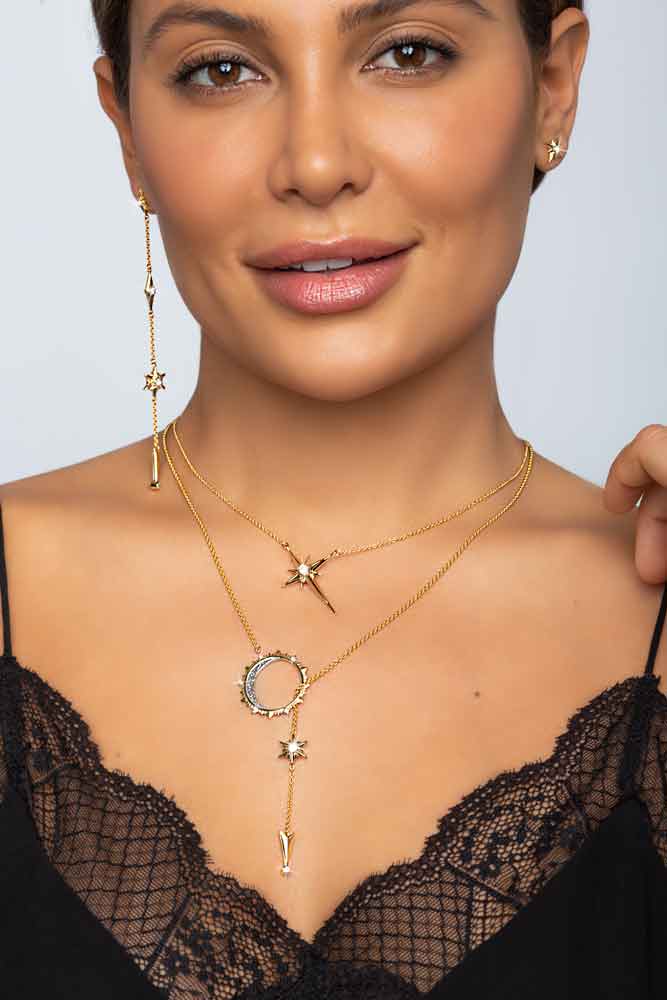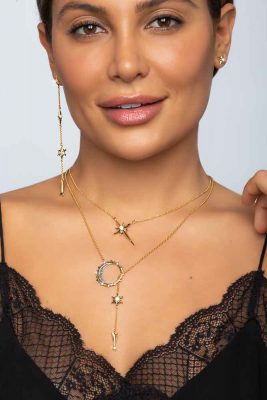 Lariat necklaces are so elegant, and make a great long layer. Pair this long piece with a couple of shorter chains, and wear the look with a plunging neckline top to get the full effect. Lariat necklaces tend to be quite dainty in style, which makes them the perfect addition to a classy evening outfit.
Chains
Chains are very popular and never seem to go out of style. If you're in doubt about what supporting necklaces to add to your look, remember that you can't go wrong with a chain. Get creative with different weights and lengths. Combine a dainty chain with a bolder piece, or even experiment with crushed metal styles.
While mixing metals is great for a layered necklace look, as it adds an effortless feel, getting the combinations right can be a bit challenging. Going for a necklace that includes more than one type of metal (in any length or style) is a great way to get around this issue.
For instance, you might choose to wear a gold chain, a silver choker, and a pendant necklace that includes a gold charm hanging from a silver chain. The pendant will "marry" the metals together, making the look far more cohesive.
What to wear with layered necklaces
So, you're confident putting your layered necklaces together. But what about the rest of your outfit? What you decide to wear will depend on what you're doing. The outfit you wear to work is likely to be different to what you would wear on a picnic. Here are some ideas.
For a classy work look
Layered necklaces add a lot of femininity to a look, so can be perfect for balancing out a corporate pantsuit. Try wearing simple gold or silver necklaces, such as chains and small pendants, with a button down shirt. If you have earrings in the same metal as your necklaces, this would make the look even more cohesive and professional. A boxy blazer, wide leg pants, and heels would make great additions.
In the evening
If you're trying to look extravagant at a dinner party or evening out, layered necklaces are the perfect eye-catching finishing touch for your outfit. Sparkling necklaces add a great focal point to a simple dress. You could use a diamond necklace as your main piece, and support it with a silver or gold choker and maybe a pendant. Finish up with strappy heels and a form-fitting gown in an elegant darker shade, such as navy or maroon.
For a casual style
Loungewear has been huge in 2021, thanks to the rise in working from home. Layered necklaces are the perfect way to add femininity and a "put together" vibe to your sweatpants. Simply add stud earrings, plus a few chains and pendants. This looks best with a crop top: looking cute and feminine on top but casual on the bottom helps you look totally effortless.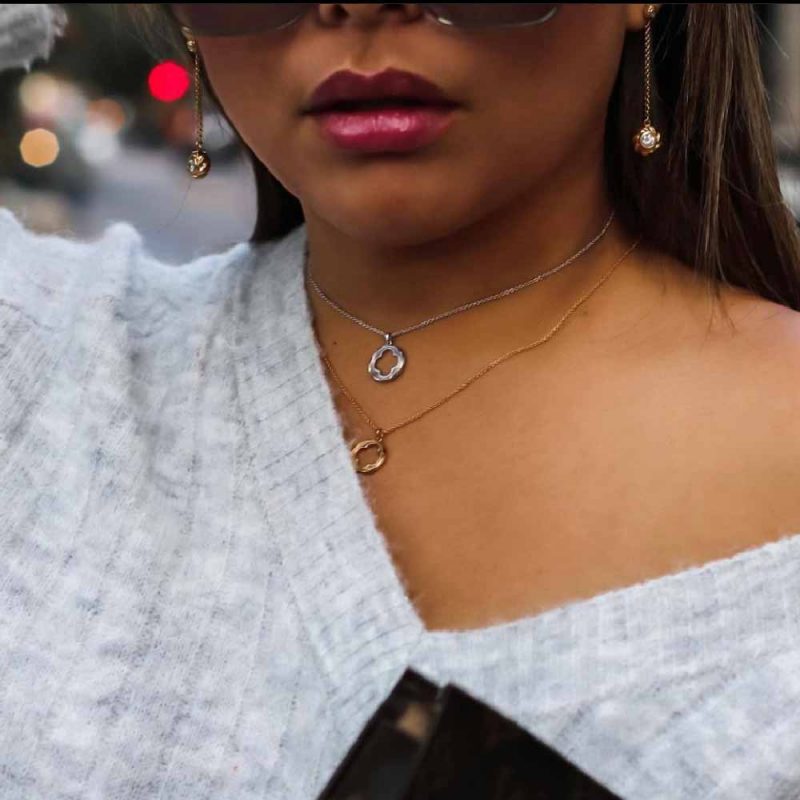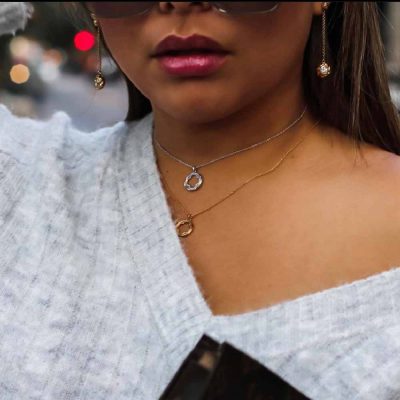 Simple and chic
It seems like the minimalist chic look will never go out of style. To achieve the look, simply pair clean-lined trousers with a crew neck t-shirt or linen button down. Make sure your clothes are all soft neutral colors, such as taupe or cream. Add small gold or silver hoops earrings and throw your hair up in a claw clip. Finally, add a few mixed metal necklaces in varying lengths to add a feminine, "thrown on" touch to your outfit.