High quality or designer jewelry is the perfect way to complement your features and express yourself. However, when you're shopping for pieces to add to your wardrobe, you want to make sure you pick the right pieces for you, personally. Your identity, taste, lifestyle, skin, and body type all have an impact on what jewelry will look most natural and stunning.
There are many different styles of necklaces, bracelets and earrings to choose from. But first and foremost, you should think about what jewelry material is right for you. Knowing what shades suit you can help guide you in all your stylistic choices.
What jewelry material is right for you?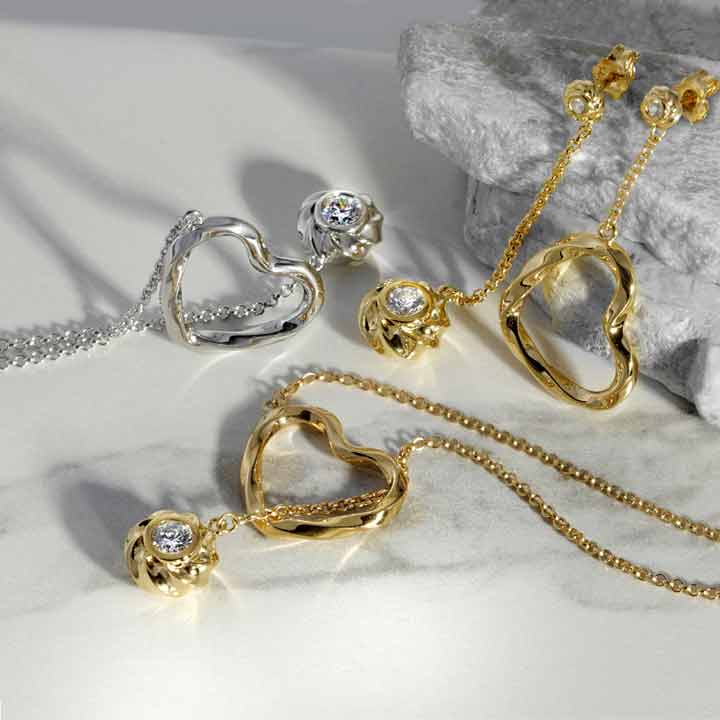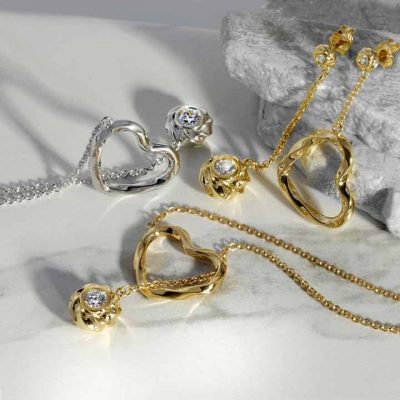 When you're shopping for jewelry, it helps to narrow down what material you're looking for. Although some people like the look of mixed metals, many people simplify their styling by sticking to one type for all their jewelry.
Many people base their preferred jewelry material off of their skin's undertone. This isn't to do with the color of the skin so much as the underlying shade. Cool toned people have subtle blue undertones, whereas warm toned people have a peachy base. There's a few ways to figure out if your skin leans towards warm or cool toned.
For instance, warm toned people will tan in the sun, whereas cool toned people will burn. Warm toned people's veins in their wrists usually appear more green, but cool toned people's veins look blue.
If you have blue, light green or gray eyes and your hair is blonde, brown, or black with platinum tones, you are probably cool-toned. And if your eyes are brown, green or hazel and your hair is gold toned auburn, brown or black? Then you are most likely warm-toned.
Most people who are warm toned find that the summery energy of gold jewelry looks most harmonious against their features. Warm toned women look amazing when wearing gemstones such as rubies and garnets.
However, the sparkle of silver perfectly complements those with a cool toned look. Those with blue undertones often enjoy wearing icy looking gemstones such as sapphires, diamonds or amethyst.
Rose gold is a versatile choice for either skin tone. Black rhodium looks stunning and striking on anyone with dramatic enough features to balance the intensity of the jewelry.
When deciding what earrings are right for you, it's not all about whether you're warm or cool toned. You can use that knowledge to choose a material. However, your personality, the boldness of your features, and the rest of your wardrobe also come into play when you're buying earrings.
If you're small, fine featured, and reserved, you will likely feel most comfortable wearing dainty stud earrings which don't drown out your natural beauty. Such earrings will add a feminine detail to a look without at all distracting from your features. These earrings usually go with most things and can be plain metal or feature a gemstone. Metal stud earrings in a creative shape such as a love heart, flower or triangle are very cute and subtle.
If you're bold, vivacious, or you simply have larger features you want to balance (such as big eyes, lips, or curly hair) go for artistic statement earrings. Small earrings will likely get lost against your natural beauty. You can play around with gold or rhodium plated earrings, gemstones, glass, and other materials. High quality dangle or drop earrings with interesting colors or design will draw attention to your face and add to any outfit.
What if you're going for something a little more pared back, but still like the look of bigger earrings? Hoops are a perfect choice. These are classic, sexy, and nod to a 1990s style. Because they're usually just plain metal, hoop earrings are versatile and can be either casual or a little more dressed up. If you want to get creative and spice up the look, try hoops adorned with small charms, gemstones, or beads.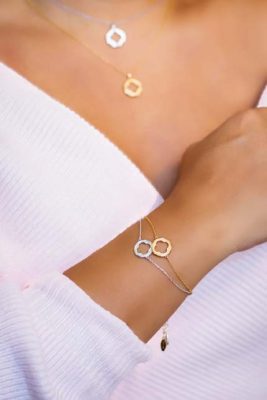 Bracelets will be the right style of jewelry for you if you have quite a feminine style. As they draw attention to the slimmest part of the arm – the wrists – bracelets are very slimming and flattering.
If you have a casual style of dress, stacks of bangles or bracelets are great. You can mix metals or styles as much as you want. For instance, a gold chain with a few silver bangles is gorgeous and pairs with anything. This look adds complexity to a style without looking overdressed.
For a professional or slightly more formal look, a plain band made of a precious metal is a timeless option. Go for a thin band of silver, gold or rhodium to look understated yet expensive. This style of bracelet can stand alone, and will help any outfit look polished.
For the more spiritual woman, try beads. Multiple bracelets of either small and delicate or big and bold beads are a beautiful earthy look. To impact the overall impression of the style, experiment with different colors, sizes and materials of bead.
No matter the occasion you're shopping for or your personal style, there will be a necklace right for you. Chains, pendants, chokers and many other styles all work with different outfits for different types of people.
One of the most versatile types of necklace is the chain. A high quality chain necklace in silver or gold is a timeless look that can add to many styles of outfit. With heels and a little black dress, it looks classy and expensive. With a blouse and pencil skirt, it looks sophisticated and work appropriate. A larger chain is currently a popular jewelry trend for nightlife wear. Chains almost never go out of style.
A pendant is also a very popular type of necklace. Depending on the details of the piece, they can make several different impressions. A gemstone on a chain is a familiar choice, and looks great with many personal styles. This is perfect staple jewelry for daily wear. An antique pendant, particularly if passed down through generations, can make an amazing necklace for a more dressed up occasion.
Another type of necklace, which has seen a revival since the 1990s, is the choker. A choker made from velvet or another fabric can be a lovely choice for those with an alternative look. Otherwise, a chain choker can be a beautiful and subtle addition to any outfit.
Chokers, pendants and chains also all layer together beautifully. If you're wanting a truly eye catching appearance, don't be afraid to layer up your necklaces and turn some heads.