Enamel on gold may seem like an ancient craft. And it is! Enamel jewelry dates all the way back to the times of early Persians, who called this art form meenakari. However, modern artists have found stunning ways to create exciting designer jewelry with enamel. It's perfect for a 21st century wardrobe.
Along with the Persians, many other ancient cultures used enamel in their art. Each group added their own technique and flair to the form. The Egyptians liked to use it to decorate stone objects such as pots. The Chinese perfected the cloisonné technique: filling gaps in a wire template with enamel to create a pattern. Other cultures, such as the Celtics, Romans and Greeks also worked with enamel. In medieval times, it became a popular material for jewelry such as crucifix pendants.
The bright hues on high quality jewelry make this material a striking addition to a necklace, ring or bracelet. Enamel jewelry holds a vibrant depth of color, and makes for modern, bold artistic statement pieces.
How is enamel jewelry made?
Unlike gemstones that are cut, polished then finished, enamel work involves the use of enamel glass that is applied to metal. The word enamel comes from the Old High German word smelzan, which means to smelt. At first, the enamel has a texture similar to baby powder. This is placed on a base metal and fused to it with high temperatures (1,380-1,560°F).
The heat of the fusion process and the metal oxide content of the enamel affect the quality of the piece. These factors play a role in the color's depth and brightness. Enamel formed at a high temperature is usually more durable and translucent. Lower temperatures create a softer, darker product. While this is often a pretty look, be aware that this type can be easy to tarnish.
This jewelry can be created in many different colors, styles, and designs. The complex and tricky techniques used by artists make enamel jewelry just that little bit more special. Some of the most well-known techniques include plique-a-jour, contemporary cloisonné and torch firing. Each achieves a unique and distinct design for the piece. Enamel jewelry can be highly ornate, depending on how carefully it is made.
How to style enamel jewelry
Enamel jewelry comes in a range of colors and styles. However, it looks most vivid when fairly large and in a bright color. This is why enamel jewelry makes a perfect artistic statement piece.
Enamel jewelry is a stunning look when you want your jewelry to really turn heads. The material usually feels casual and fun enough to wear every day. For a laid back weekday style, try enamel cast on sterling silver. You could wear dainty and stud earrings, or a necklace with a subtle enamel pendant.
With the right outfit, enamel jewelry also feels classy enough for an evening event. You can jazz it up by pairing your enamel with gold or rhodium plated jewelry. Try a feature necklace, such as a bib style, with enamel. Dangle or drop earrings in an elegant pattern or classy shape are also a stunning choice.
Enamel ARY D'PO jewelry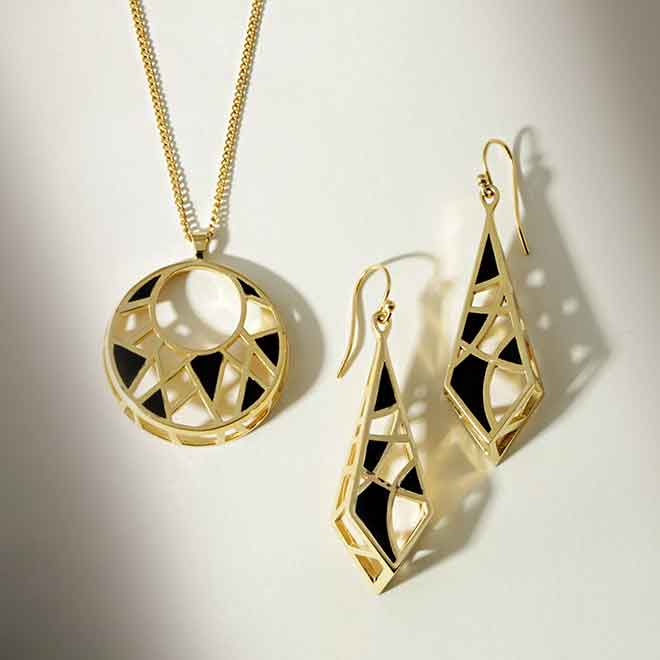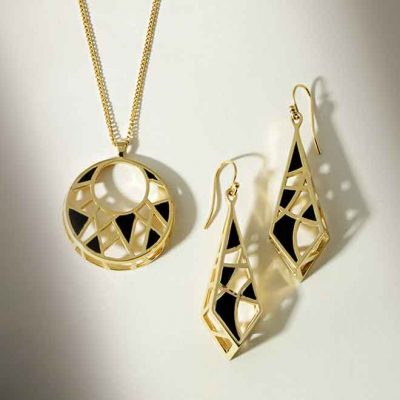 There is such a broad range of designs that can be achieved through the use of enamel. Each of these looks suit different women and are unique and stylish in their own ways.
The right artistic enamel jewelry can elevate your outfit and show off your personality. It will show the world how fascinating you are, boost your mood, and uplift your belief that dreams do come true!
With that goal in mind, ARY D'PO has created an elegant black enamel on gold collection. The Dream Collection features bold geometric shapes to echo the elegant art nouveau jewelry trends of the early 1900s. By wearing the svelte earrings or necklace from this line, you're bound to look like a dream come true!