Enamel on Gold – it may seem like an ancient craft as it dates back to the times of Ancient Egypt. However, with a bit of art and creativity, enamel jewelry can be excitingly decorative and fresh. Unlike gemstones that are cut, polished then finished, enamel work involves the use of powdered enamel glass that is applied to metal to give it a durable polished look. Enamel jewelry can be astoundingly intricate depending on how carefully it is fitted and controlled. Through enameling, different colors, styles, and designs can be achieved. Depending on the temperature and amount of metal oxides in the glass, enamel coatings vary in both translucency and color. Temperatures at which enamels are fused also determine the durability of enamel jewelry. Several techniques are used in enamel work. Some of them include plique-a-jour, contemporary cloisonné and torch firing, pencil and on dapped surfaces. Torch firing is a hot trend that involves the use of a high level of precision. This technique is revolutionary and opens the way for various other new approaches.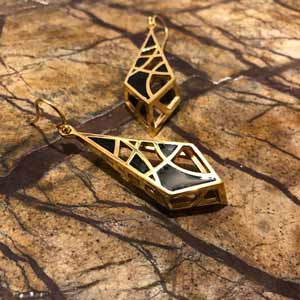 Use of enamel in jewelry making creates an opportunity to broaden design choices to suit different personalities, to be unique and stylish. Exquisite artistic enamel jewelry can complement your outfit and complete your personality, show the world how fascinating you are, boost your self-confidence and uplift your belief that dreams do come true!
Having that in mind, we've created our elegant black enamel on gold collection in geometric puzzle-like order and called it the Dream Collection – let all your dreams come true!
Shop our elegant, distinctive, and vibrant Dream Designer Jewelry Collection by ARY D'PO: Black Enamel on Gold.